StrongHearts Native Helpline Launches Advocacy Services for Victims of Sexual Violence
CC Hovie (Sault Ste. Marie Tribe of Chippewa Indians), Communications Manager, StrongHearts Native Helpline
Now in its fourth year of operation, advocates at StrongHearts Native Helpline (StrongHearts) have responded to thousands of calls from Native Americans and Alaska Natives seeking domestic violence and dating violence services and resources. Because there is an undeniable connection between domestic violence and sexual violence, in August StrongHearts added advocacy services and resources for victims of sexual violence.
"Sexual violence is one of many tactics that is used in domestic violence; it's used to exert power and control in a relationship and is very much connected to domestic violence, said StrongHearts Director Lori Jump (Sault Ste. Marie Tribe of Chippewa Indians). "It's much too common for our relatives and something that we found we just cannot ignore."
The dispiriting truth is that when compared to other races in the United States, Native women are twice as likely to experience sexual violence or rape and most likely at the hands of a non-Native. It's an extension of abuse that began with European contact and has continued to this day, adding up to over 500 years of abuse. This continued tool of colonization represents a lack of respect for Native peoples and an assault on humanity.
"We can trace many of the ills in our Native communities back to colonization," Jump said. "Native women were often violently targeted, degraded and terrorized as a way to undermine the very foundation of our communities."
"It's an atrocity that Native Americans continue to experience the highest rates of sexual violence across the nation and until now, there hasn't been a national culturally-appropriate service for them," said Anna Nicolosi, StrongHearts Operations Manager. "In response, we developed advocacy training to prepare our advocates to meet the needs that are unique to American Indians and Alaska Natives."
StrongHearts advocates completed specialized training about the dynamics of sexual violence including the impacts and effects of trauma. They also received training on reporting the crime, addressing health concerns and beginning the healing process. To prepare for providing support to survivors, advocates practiced real-life scenarios followed by discussion and feedback.
"We are really excited to be able to add this service," said StrongHearts Services Coordinator Joy Samuelson (Standing Rock Sioux Tribe). "Advocates continue to study and learn more about sexual violence education and safety planning."
Native Americans Are Disproportionately Affected
Sexual violence was introduced into our communities through colonization. As Native people, any form of violence such as sexual assault and sexual abuse is unnatural and goes against traditional teachings. Around the world, Indigenous peoples have been and still are being victimized by dominant civilizations. The impacts of colonization, and specifically rape still impact Native communities to this day.
Nationwide, someone in the U.S. is sexually assaulted every 73 seconds and every nine minutes that victim is a child. For Native Americans specifically, the picture is even bleaker.
American Indians and Alaska Natives are twice as likely to experience a rape/sexual assault compared to all other racial groups in the United States.
Every year an average of 5,900 American Indians ages 12 and older experience sexual assault.
41 percent of sexual assaults against American Indians are committed by a stranger; 34 percent by an acquaintance; and 25 percent by an intimate or family member.
On average, there are 433,648 victims (age 12 or older) of rape and sexual assault each year in the United States.
21 percent of transgender, genderqueer, or nonconforming (TGQN) college students have been sexually assaulted, compared to 18 percent of non-TGQN females, and 4 percent of non-TGQN males.
Millions of men in the United States have been victims of rape. Statistically, one out of ten rape victims is male.
Beyond those statistics remain the innumerable victims who do not report or cannot report sexual assault for any variety of reasons.
Effects of Sexual Violence and Possible Reactions 
After a sexual assault has occurred, the victim can experience a multitude of debilitating emotions. Processing trauma is never easy, but putting labels on the emotions can help put things into perspective. 
Fear is the most common victim reaction. The victim will associate the assault with certain sights, sounds, smells, thoughts, places, etc. For weeks or months after the assault, fear and anxiety can be triggered by any number of reminders of the assault. 
Guilty feelings may be the result of self-blame. Victims may think such things as "I shouldn't have been out that late." or "I should have dressed differently." They may even feel guilty about what they had to do in order to survive (they didn't scream, fight back or report the crime). It can also be a result of living in a society where victim-blaming is prevalent. 
Shock occurs when the victim feels numb and disconnected. It occurs when the victim just can't process what had happened to them. Victims who remain calm or can't cry is an indication in of itself that they are experiencing an emotional shock. 
Disrupted relationships often occur when the victim feels embarrassed or ashamed and becomes withdrawn and/ or depressed. This could lead the victim to avoid people, places, and things that remind them of the trauma. 
Post Traumatic Stress Disorder (PTSD) is a serious psychological disorder suffered by millions of people who have been exposed to extreme stress, violence or loss. PTSD can cause many trauma responses, from rendering a victim mute to living in a heightened state of panic. 
Reporting the Crime
According to The National Crime Victimization Survey, the majority of sexual assaults are not reported to the police. In fact, only 230 out of every 1,000 sexual assaults are reported to the police. That means about 3 out of 4 go unreported. The self-reported incidence of rape or sexual assault more than doubled from 1.4 victimizations per 1,000 persons age 12 or older in 2017 to 2.7 in 2018. Despite the increase in self-reports of rape and sexual assault, there was a decrease in reporting to police from 2017 to 2018. Forty-percent (40%) of rapes and sexual assaults were reported to police in 2017, but only about 25% were reported to police in 2018. Of the sexual violence crimes not reported to police from 2005-2010, the victim gave the following reasons for not reporting:
20% feared retaliation
13% believed the police would not do anything to help
13% believed it was a personal matter
8% reported to a different official
8% believed it was not important enough to report 
7% did not want to get the perpetrator in trouble
2% believed the police could not do anything to help
30% gave another reason or did not cite one reason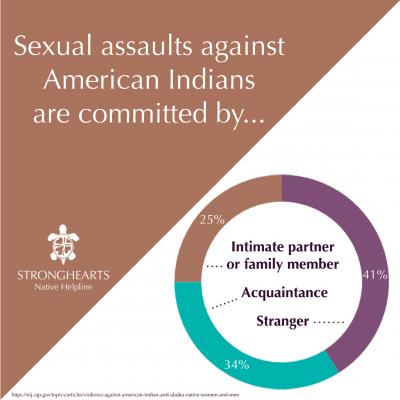 Native victim-survivors also face intersecting barriers to safety and justice like geographic isolation, lack of law enforcement, fear of being identified, historical mistrust of law enforcement and cross-jurisdictional issues when seeking help and gaps in culturally-based supportive services.
If the perpetrator is someone who the victim knows, the victim may feel confused and not realize that what happened was actually rape or sexual violence. Of the sexual violence crimes reported to police from 2005-2010, the survivor reporting gave the following reasons for doing so:
28% to protect the household or victim from further crimes by the offender
25% to stop the incident or prevent recurrence or escalation
21% to improve police surveillance or they believed they had a duty to do so
17% to catch/punish/prevent offender from reoffending
6% gave a different answer or declined to cite one reason
3% did so to get help or recover loss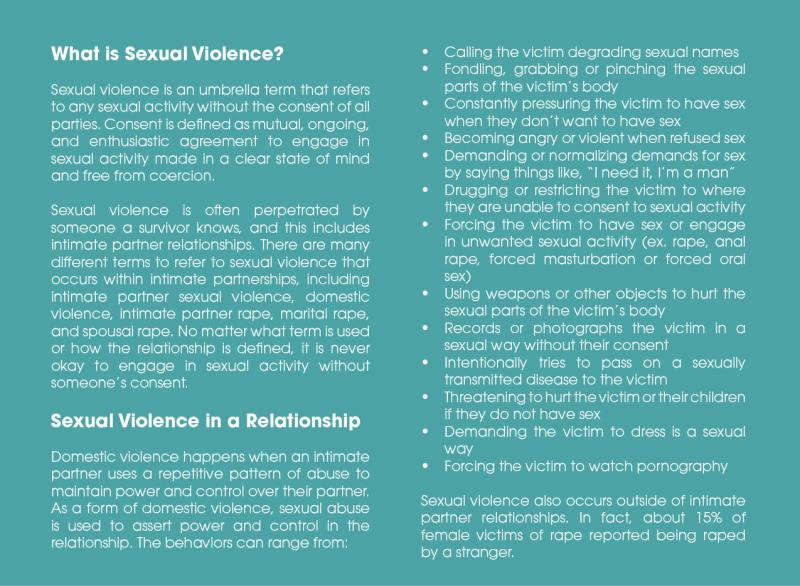 StrongHearts Advocates Can Help
StrongHearts Native Helpline advocates are trained to take a Native-centered, empowerment-based approach to every call or chat. Services are completely free, anonymous and confidential. For those experiencing or who have experienced sexual violence, advocates offer the following services:
peer support and advocacy
basic information about health options
safety planning
locating a local health facility or crisis center that is trained to care for survivors of sexual assault and offers services like sexual assault forensic exams
referrals to Native-centered sexual violence service providers that can assist with your next steps toward healing and recovery and long-term support
general information about jurisdiction and legal advocacy referrals
"This is such a sensitive and often unspoken topic among Native peoples and our main focus is to create a safe space for that initial dialogue," said Samuelson. "It's extremely brave to share your story, so we want everyone who reaches out to us to feel secure, validated, and empowered."
Help is available for victims of domestic, dating and sexual violence by calling 1-844-7NATIVE (1-844-762-8483) or visiting strongheartshelpline.org daily from 7 a.m. to 10 p.m. CT. Callers reaching out to StrongHearts outside of operating hours may connect with the National Domestic Violence Hotline by choosing option one. StrongHearts is a project of the National Domestic Violence Hotline and the National Indigenous Women's Resource Center.