The Danger Native Women Face: State Law Enforcement Killings
Jacqueline Agtuca, Editor, Restoration Magazine
In 2014, when 34-year-old, Jeanetta Riley (Suquamish) took out a knife and threatened to kill herself, her husband took her to a nearby hospital for help. Sandpoint, Idaho police officers responded and within 15 seconds of exiting their vehicle, shot and killed Riley, claiming her knife posed a threat. Riley was pregnant and the mother of three.1 
In 2016, after shoving 27-year-old Loreal Tsingine (Navajo) to the ground, a Winslow, Arizona police officer shot and killed Tsingine. With a history of mental health related issues, Tsingine was suspected of shoplifting and had allegedly brandished a pair of scissors at the officer.2 
In 2016, 32-year-old Puyallup tribal member Jacqueline Salyers was inside her car with her partner when two Tacoma, Washington police officers shot and killed her. The officers claim Salyers had intended to run them over with the car, a claim her family members heavily disputed. Salyers was pregnant and a mother of two.3 
In 2012, Karen Day-Jackson, a 45-year-old Shawnee mother and grandmother with a history of mental health issues, was shot and killed by Wichita, Kansas police officers. She had been wielding a knife and yelling at the officers, "shoot me."
Day-Jackson was a mother and grandmother.4 
The stories of Jeanetta Riley, Loreal Tsingine, Jacqueline Salyers, and Karen Day-Jackson are tragically similar. Each woman was shot and killed by police officers. Each had a history of mental illness or substance abuse. Two of the women, Riley and Salyers, were both pregnant and homeless. Each killing was ruled justified, meaning their killers paid no consequences. And all four women were Native American. And these are just four of the cases of police shootings of Native women. In these cases the families and tribal nations called for justice.
In the Salyers case, the tribal leadership and family members led a statewide campaign in Washington to pass police reform legislation mandating de-escalation training and other reforms. They also met with the Office of Tribal Justice at the U.S. Department of Justice to call for an independent investigation. Included in the calls for justice was the statement," Women Are Sacred." A tribe can be effective in ways an individual advocate or advocacy group cannot. "We have a trust relationship with the federal government, so we are a sovereign nation with the full weight of the United States behind us. We also have the recognition and respect of local governments," said former Puyallup Tribal Council Member Reynon."5 
Governor Jay Inslee in 2019, the Salyers' family and tribal leadership were present.6 "For tribes and Native People, this bill will clarify and strengthen the requirements of law enforcement agencies to notify us when one of our members is involved in one of these situations. And it will make sure that we have a voice at the table, that our voices are heard, and that our culture is reflected in the policies that will be adopted going forward."7 
State Law Enforcement Killings
The National Indigenous Women's Resource Center advocates strengthening local, tribal responses to domestic and sexual violence to increase safety for Native women within their Nations. Native women living off tribal lands face a different reality of systemic racism within state government justice systems, that are often unresponsive to violence against Native women. State law enforcement also commit acts of police brutality and shootings resulting in the death of Native women.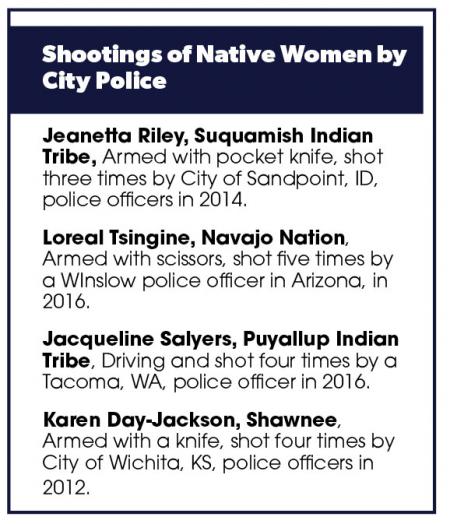 Native Americans are killed in law enforcement actions at a higher rate than any other race or ethnicity, according to CDC data from 1999 to 2015. A 2015 study by Claremont Graduate University researchers found that, of the 29 Native deaths by police examined, nearly half were people threatening suicide and experiencing other mental health crises.
Seventy-nine percent of these killings occurred off reservations in urban Indian communities where mental health clinics are funded at even lower rates than the underfunded onreservation facilities. As a result, police with limited or no mental health training have increasingly become the first responders to mental health crises.
"We recognize Native women suffer violence by state law enforcement—city police departments and county sheriffs." said NIWRC Executive Director Lucy Simpson. "Tribal communities have rallied to demand justice in cases of excessive force and police killing of Native women, and we join the movement to create responsive and meaningful change to the criminal justice system."
Militarized Policing of Indian Nations
From the perspective of many tribal nations, policing in the United States has always been problematic. "The historical record shows how Federal policy created a system that served the interest of the U.S. government and non-tribal citizens and failed to promote the ability of Indian nations to design and exert meaningful control over their own policing institutions."8 U.S. colonization of Indian nations was achieved through militarized strategies and occupation under the Department of War. In 1824, the Bureau of Indian Affairs was established within the War Department for dealing with Native Americans. A quarter century later, when the Department of Interior (DOI) was established, it became responsible for the management of American Indian, Alaska Native, and Native Hawaiian lands and the BIA.
Militarized policing of Indian nations includes a long history of brutality, rape, and killing of Native people. The United States, over centuries of ill-advised policy decisions, have continued to undermine and restrict the authority of Indian nations and Indigenous justice responses to safeguard the lives of Native women and tribal citizens. This federal system was not designed to promote the ability of Indian Nations to create meaningful tribal policing or response to conflict or crime. It was not until 1975, under the Indian Self-Determination Act, that Indian tribes could establish their own government functions by contracting with the BIA; however, the federal funding available in Indian Country to provide public safety and address the needs of victims is woefully inadequate.
"In the context of Indian Nations, NIWRC continues our efforts to remove legal barriers preventing the full sovereignty of Indian nations to safeguard the lives of Native women," said Elizabeth Carr, NIWRC Senior Native Affairs Advisor. "In addition, we advocate for increased federal funding of Indian Nations to develop Indigenous justice systems to resolve disputes and maintain stable tribal communities. NIWRC understands while individuals commit acts of violence against Native women, it is the systemic barriers that leave Native women vulnerable and unprotected."
Reform of State Policing
The U.S. Indian Relocation Program of the 1950s resulted in a massive migration of Native peoples from tribal lands to urban areas as part of the federal design to terminate Indian nations. The systemic racism experienced by Native peoples relocated to urban cities included police discrimination and brutality.
The killings of Indigenous peoples by city and county police is linked to and consistent with the history of U.S. colonization and federal policies to terminate Indian nations. The forced removal, violence, and death of Indian children during the U.S. boarding school era is just one example of such federal policies. The families and tribal nations of victims of police brutality and killings have demanded justice for decades.
The chronic lack of response to reports of missing and murdered Indigenous women is indicative of the dehumanized view that police have toward Native women. This view endangers Native women and future generations.
"NIWRC joins with the movement to reform and create responsive and meaningful local, city, county, and state police departments developed in cooperation with the communities served," Simpson said. "The continued efforts to shift funding from supporting a militarized police presence to community-based policing is necessary and long overdue."
Say Her Name
With the #SayHerName campaign for awareness of police violence gaining support, the names of Black women killed at the hands of law enforcement authorities are starting to be recognized nationwide. Now it is time to illuminate the systemic, widespread nature of unjust police responses. As we seek justice and lift up Black women's stories like Breonna Taylor and fellow people of color, let us also lift those of Native women unjustly killed, and make their names heard. Let us honor and say names of Native women such as Riley, Tsingine, Salyers, and Day-Jackson.
Through anti-racist, tribal sovereignty focused policy analysis and reform, systemic change can be achieved. To take meaningful action to address these injustices beyond responding to individual police abuse in single cases, NIWRC recommends engagement with urban Indian communities to identify and remove systemic barriers underlying patterns of abuse by state law enforcement.
Initial recommendations for organizing to address such needed reforms include:
Supporting calls for justice in police killings of American Indians.
Supporting the hiring of a police force representative of the service population, specifically dense Native American urban communities.
Acknowledging that cases of excessive force and shootings by state law enforcement further social tolerance and normalization of violence against Native women.
Recognizing and supporting the sovereign right of Indian Nations to self-government, including nonwestern, Indigenous justice-based approaches.
---
1. https://bit.ly/35QDEsQ; https://bit.ly/3ee0Hl5 
2. https://www.azcentral.com/story/news/local/arizona/2016/03/31/navajo-wo… 
3. https://www.thenewstribune.com/news/local/crime/article79049822.html 
4. https://www.kansas.com/news/local/crime/article1107650.html#:~:text=Kar…. 
5. https://inthesetimes.com/features/native_american_police_killings_nativ… 
6. https://indiancountrytoday.com/news/justice-for-jackie-gets-police-use-… 
7. http://news.puyalluptribe-nsn.gov/justice-for-jackie-is-justice-for-all… 
8. Wakeling, et al. Policing on American Indian Reservations, A Report to the National Institute of Justice. NCJ 188095. NIJ July 2001. https://www.ncjrs.gov/pdffiles1/nij/188095.pdf.