New Book Shares First-Person Contemporary Indigenous Stories from Across North America
Mallory Adamski (Diné), Director of Communications and Advancement, NIWRC
Newly released in October 2020, human rights oral history nonprofit Voice of Witness partnered with Haymarket Books to release How We Go Home: Voices from Indigenous North America, which shares twelve contemporary first-person stories in the long and ongoing fight to protect Native life, land, and rights. These narratives are shaped by loss, injustice, resilience, and the struggle to share space with settler nations, speaking to the legacy of colonization, intergenerational trauma, genderbased violence, and the crisis of murdered and missing Indigenous women and girls.
By amplifying Indigenous voices and forging space for Native narrators to tell their stories in their own words, the book is a powerful tool for building connections across communities and resisting the misinformation and historic and present-day erasure around contemporary Indigenous experiences in North America.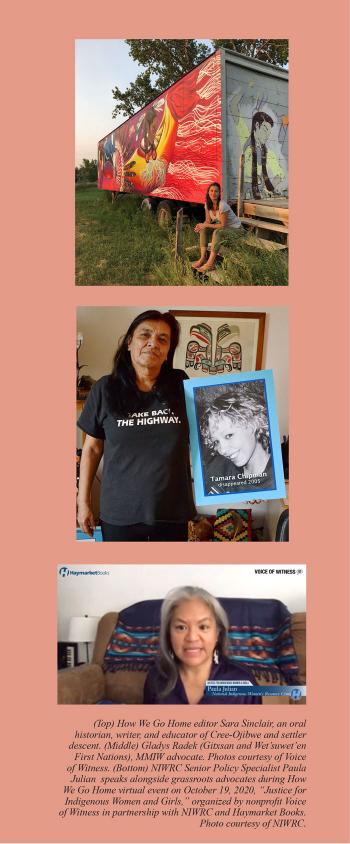 Narrators in the book include Gladys Radek (Gitxsan and Wet'suwet'en First Nations), a survivor of sexual violence whose niece's disappearance led her to become a family advocate for the National Inquiry into Missing and Murdered Indigenous Women and Girls (MMIWG) in Canada; Jasilyn Charger (Cheyenne River Sioux Tribe), who kickstarted a movement of Water Protectors at Standing Rock that roused the world; Ashley Hemmers (Fort Mojave), who addresses issues of intergenerational trauma, health care, tribal sovereignty, and rebuilding community as the tribal administrator on the Fort Mojave Reservation; Marian Naranjo (Santa Clara Pueblo), who led Santa Clara and nearby pueblos to document the environmental and cultural consequences of living next to Los Alamos National Laboratory; and more.
Narrator Gladys Radek survived sexual violence in the foster system and later lost her niece, Tamara Lynn Chipman, who went missing in 2005 at age twenty-two along the notorious Highway of Tears in Canada. This inspired Gladys to become a community activist and eventually a Family Advocate for the National Inquiry into MMIWG.
"The families' voices need to be heard," Radek said. "Each of our family members knows what the problems are in their communities, whether it be poverty, addiction, or the lack of social services.
Editor Sara Sinclair, an oral historian, writer, and educator of Cree-Ojibwe and settler descent, writes, "Over the three years I spent interviewing for this book, in cities and on reserves and reservations across the continent, I heard many stories that illuminated how the heightened risk of violence to Indigenous women and girls is yet another consequence of decades of government policies that have impoverished and fractured Indigenous communities. I also met many women, like Gladys, who are fighting for justice for the continent's countless missing and murdered Indigenous women and girls."
For educators and advocates, Voice of Witness developed corresponding free curricula for How We Go Home: Voices from Indigenous North America, available for download online to incorporate Indigenous narratives and perspectives into classrooms. To purchase How We Go Home and access free lesson plans, visit voiceofwitness.org/how-we-go-home