Justice Ginsburg and Safety for Native Women
Mary Kathryn Nagle (Cherokee Nation), Pipestem Law, Counsel to NIWRC
For many in Indian Country, the passing of Justice Ginsburg this fall was bittersweet. Although she had become an iconic superpower of justice and righteous dissent for American women and other disenfranchised populations, her jurisprudence in Indian law was, at times, quite problematic. It is a bit ironic, then, that the final opinion bearing her name was McGirt v. Oklahoma, issued on the last day of the last term in which she sat as a Justice. It is only ironic, however, if you do not consider the entire arc of her Indian law jurisprudence.
As Native women advocates working to restore sovereignty and eradicate violence against Native women, I think we must look back on Justice Ginsburg's legacy with the lens of reality, but also respect. It is true that, earlier on, she authored some decisions, based on flawed interpretations of Indian law, that caused great damage to tribal sovereignty and arguably left Native women less safe. But by the end of her tenure, she had educated herself on the sovereignty of Tribal Nations and the need for safety for Native women. She had gone out of her way to visit our Nations, our citizens, our leaders, and our artists. In a country where very few law schools teach their students anything about Indian law, in a country where our Nations have been erased from the textbooks, she went out of her way to educate herself.
It is true that, in 1997, Justice Ginsburg authored Strate v. A-1. Sixteen years after the Court issued Montana, Ginsburg considered whether tribal courts had jurisdiction to adjudicate a personal injury tort claim arising from an accident that occurred between non-Indian parties within the border of a reservation. Unfortunately, she relied on the Court's flawed reasoning in Montana to conclude that the tribal court could not exercise this jurisdiction. Based on the rationale "identified in Montana," Justice Ginsburg concluded that "the civil authority of Indian tribes and their courts with respect to non-Indian fee lands generally does not extend to the activities of nonmembers of the tribe."
Justice Ginsburg's opinion in Strate has caused great harm to Tribal Nations seeking to regulate the conduct of non- Indian individuals and corporations doing business on tribal lands, as non-Indians began to cite Justice Ginsburg's opinion in a number of tort lawsuits where non-Indians engaged in harmful behavior, but hoped to escape the consequences, on tribal lands. Time and time again, bad actors relied on Strate to argue against tribal jurisdiction. Time and time again, lower federal courts applied Justice Ginsburg's decision in Strate, thereby allowing non-Indians to engage in tortious conduct on tribal lands with no consequence.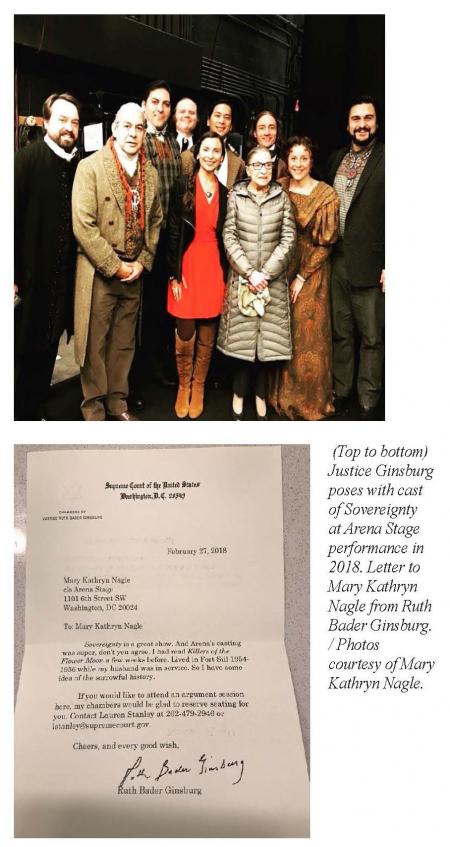 Until 2015. In 2015, the Dollar General Corporation relied on Justice Ginsburg's decision in Strate to argue that the Mississippi Band of Choctaw Indians ("MBCI") Tribal Court did not have jurisdiction over the corporation—whose non-Indian store manager had repeatedly sexually assaulted a thirteen year old Choctaw boy on the reservation while working at Dollar General's store—because, under Strate, tribal courts do not have jurisdiction over non-Indians who commit torts on tribal lands. Specifically, Dollar General told the Supreme Court that, according to Strate, "from the earliest days of incorporation, tribes have been expected to turn to the states and the Federal Government to remedy the harmful conduct of nonmembers." According to Dollar General, citizens of Tribal Nations are the only Americans who do not have a right to seek justice in the courts of their own government, but must instead turn to a foreign government in the quest for justice. This argument, of course, has been repeatedly used against Native women and children victims of domestic violence and sexual assault with great success— causing serious harm. Imagine if citizens of Kansas had to go to Colorado to seek justice when they have been raped? Very few could afford the time or economic costs to seek justice. That is the outcome—but of course, that is also the desired result of those who seek this discriminatory rule of law.
Dollar General v. Mississippi Band of Choctaw Indians was argued in December 2015, and by all counts, many expected the Court to follow Justice Ginsburg's decision in Strate and strike down the MBCI's exercise of jurisdiction over a non- Indian sexually assaulting a Choctaw child on tribal lands. NIWRC, and many other Native women advocates and organizations, came to the steps of the Supreme Court to pray for justice. I think I speak for all of us when I say our prayers were heard.
At the end of the 2015 Term, the Court issued a one-line opinion, stating that the judgment of the Fifth Circuit Court of Appeals was upheld by a vote of four to four. The Court was at a standstill, since with the passing of Justice Scalia in February 2016, there was not a ninth Justice to break the tie. This tie upheld the lower court's judgment, which had been in favor of the MBCI and of tribal jurisdiction.
Which way did Justice Ginsburg vote? We will never know for sure. But everyone who was at the Supreme Court that day and heard the argument, and listened to the questions, is pretty sure she was one of the four who voted in favor of tribal jurisdiction—and against the application of her own decision in Strate.
Dollar General was a significant turning point. And then, nearly twenty years after Strate, in 2016, Justice Ginsburg wrote the majority opinion in United States v. Bryant, where the Court upheld the constitutionality of the Habitual Offender Provision (§ 117(a)) of the Violence Against Women Act ("VAWA"). In writing the majority opinion in Bryant, Justice Ginsburg acknowledged the extraordinarily high rates of domestic violence Native women experience, and that due to the tribal, state, and federal jurisdictional patchwork created by legislation and prior Supreme Court precedent, many repeat abusers fell through the cracks and escaped sentences of any real consequence prior to the enactment of VAWA § 117(a) in 2005.
Section 117 creates federal criminal jurisdiction over individuals who have at least two prior, valid domestic violence convictions. In Bryant, the Supreme Court rejected the defendant's assertion that prior, valid tribal court convictions could not give rise to federal criminal jurisdiction when the previously convicted individual commits a third offense if and when the prior convictions were obtained in a tribal court without the provision of counsel. Justice Ginsburg, however, upheld the inherent sovereign right to make their own criminal laws and enforce them, with regards to their own citizens, regardless or any interpretation of the U.S. Constitution. Notably, she wrote that as "separate sovereigns pre-existing the Constitution," the Sixth Amendment does not apply to tribal courts, and moreover, the Indian Civil Rights Act ("ICRA") provides the equivalent of the rights in the United States Constitution's Bill of Rights.
Justice Ginsburg's decision in Bryant acknowledged the incredibly high rates of violence against Native women, and, most importantly, upheld the inherent authority of Tribal Nations to exercise criminal authority and address this crisis. Bryant is a very far cry from Strate.
What had changed? What took Justice Ginsburg from the Justice that authored Strate to the Justice that authored Bryant? By the end of her time on the Court, she had taken the initiative to visit Indian Country. She had, in her own free time, gone to see plays written by Native playwrights—including one specifically that focused on the impact of the restored tribal criminal jurisdiction in the 2013 re-authorization of VAWA (Justice Ginsburg went to see Sovereignty at Arena Stage in February 2018). She visited Indian Art Market in Santa Fe where she visited with tribal leaders and witnessed the incredible work on Native artists.
And I truly believe she educated herself on the connection between sovereignty and safety for Native women. As advocates for sovereignty, Justice Ginsburg teaches us to never give up. Justice, for Tribal Nations and our citizens, is not a liberal issue. It is not a conservative issue. It is an ignorance issue. We have been erased and lawyers are not taught that our Nations pre-date the United States and its Constitution.
The fact that Justice Ginsburg, in her final days, understood sovereignty and safety for Native women is not the result of an excellent legal education. It is the result of our advocacy, our perseverance, and the power of our true stories. If anything, the revolution of her jurisprudence demonstrates our resilience.
Rest In Power, Justice Ginsburg.