First Sexual Assault Survivors Memorial in the U.S. Established in Minnesota
Rebecca Balog, Program Coordinator, MIWSAC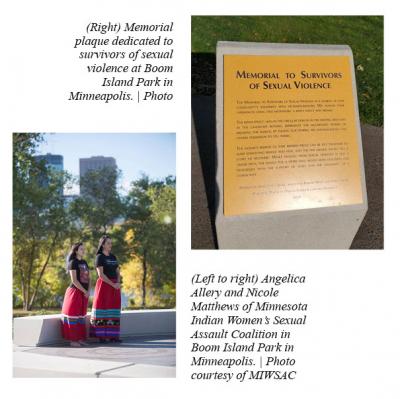 On the morning of September 30th, after months of planning and coordinating with other organizations and donors, staff of the Minnesota Indian Women's Sexual Assault Coalition (MIWSAC) visited the nation's first permanent Memorial to Survivors of Sexual Violence located at Boom Island Park in Minneapolis, Minnesota. This recently completed memorial was designed to create a space of healing and dialogue as well as show community support and solidarity for survivors of sexual violence.
The online dedication for this new memorial, "Survivors Memorial Dedication Ceremony," took place on October 10th and included words from MIWSAC Executive Director Nicole Matthews.
"This is the first of its kind," Matthews said. "This memorial is so incredibly important. Survivors past, present, and future will forever have a place to come to where they can see visually that they are believed and they are not alone. MIWSAC is honored to be a small part of this memorial, and grateful for the acknowledgment and inclusion of our Indigenous survivors."
To watch dedication video, visit bit.ly/351GNFy. If you need support, please call the StrongHearts Native Helpline at 1−844-762-8483 or the National Sexual Assault Hotline at 1-800-656-HOPE (4673) to be connected with a trained staff member from a sexual assault service provider.
To join learn more about the Memorial to Survivors of Sexual Violence, visit survivorsmemorial.org.