After COVID-19 Scare, NIWRC'S Annette Scalpcane and Family Still Recovering
Victor Flores, Originally Published in Billings-Gazette
More than 13,000 Montanans have recovered from COVID-19. More specifically, those people tested positive for the disease caused by the novel coronavirus, did not die from it and no longer have to quarantine, per Centers for Disease Control and Prevention guidelines.
The experience of COVID-19 was not nearly that simple for four family members in Lame Deer.
Keanu Scalpcane was asymptomatic. His mother, Annette Scalpcane, who works at the National Indigenous Women's Resource Center, developed relatively minor symptoms. Keanu's sister and Annette's daughter, Tasia Scalpcane, got so dehydrated she took a trip to the ER. Tasia was pregnant at the time, but the virus did not cause any major complications. Her son, who was born last month, is healthy.
The coronavirus was much worse for August "Tiger" Scalpcane, Annette's husband, the father of Keanu and Tasia and the athletic director at Lame Deer High. Tiger was taken to Billings Clinic, where he spent several lonely days wondering if he would recover.
"I've never been that sick before in my life," Tiger told The Billings Gazette and 406mtsports.com. "It's traumatizing what you go through. The pain. The fevers."
The Scalpcanes, who contracted COVID-19 in mid-August, feel fortunate. This disease has killed more than 215,000 Americans, and Tiger was almost one of them. His recovery was a rare piece of good news during a trying 16 months for the family.
'The flu on steroids'
The Scalpcanes were careful during the first six months of the pandemic. Both of Tiger's parents are more than 70 years old, and Annette's are in their 60s. One of Tasia's daughters has asthma. Keanu's 2-year-old son has health issues stemming from a premature birth. Maybe the coronavirus wasn't as serious as it seemed, they thought, but they weren't going to take any chances with their loved ones' health.
They all wore masks, constantly washed their hands and avoided most people, including friends and older family members. Tiger disinfected his truck after every shopping trip to Billings. He went to work, but Lame Deer did not (and still doesn't) have in-person classes or sports because of COVID-19 (the Morning Stars' fall season was later canceled).
Tiger has tried to retrace his steps, but he can't remember anybody he came in contact with who knowingly had the disease. All he knows is that he got it, passed it to his family members and went through a hellish week.
On Aug. 15, Tiger thought his allergies were acting up. His nose was runny, his eyes were watery, he frequently sneezed and he felt a bit feverish. The next day, he had a slightly upset stomach.
Aug. 17 was when Tiger realized he probably had COVID-19. His body ached like never before. He had shortness of breath.
His fever intensified. He got chills. He felt so weak, he had a hard time walking around the house. "It was like the flu on steroids," Tiger said.
Tiger got a rapid COVID-19 test on Aug. 18, and the results confirmed his fear. Annette, Keanu, Tasia and other close contacts were tested the same day. While the first three tested positive, nobody else did. They were especially relieved to hear Keanu's 2-year-old son, Kyren, tested negative (three times) after he spent five days in the hospital with pneumonia, which is often caused by COVID-19.
The four infected Scalpcanes immediately quarantined, which meant Tasia had to stay away from her 8- and 6-year-old daughters (her grandmother took care of them while Tasia was in quarantine). Tasia and Annette developed milder symptoms than Tiger, but the disease still tired them out, so Keanu's asymptomatic condition was especially valuable. A former National Guard member and coal miner, Keanu was used to activity and routine. He cooked and cleaned throughout the quarantine. He made sure his family members got up and about. He tended to their horses.
"It was that repetitiveness from him that was very helpful. Sanitize, clean, put your mask on if you're not feeling good," Annette said. "He was our rock."
While his family members recovered, Tiger's symptoms worsened. On Aug. 22, his family took him to the Crow/ Northern Cheyenne Hospital. Doctors determined he had pneumonia and a dangerously low oxygen level, so he was transported to Billings Clinic that night. The doctor there told him that if he had waited another day to go to the hospital, he might not have survived, Tiger said. That's how low his oxygen was.
The good timing didn't guarantee a recovery.
"This could go either way," the doctor told Tiger. "Some people come out of it, some people don't."
Doctors treated Tiger with steroids, which helped get the pneumonia out of his lungs, but severe symptoms persisted. Tiger coughed up so much phlegm, nurses gave him a bucket. He developed agonizing chest pain and felt too weak to even walk to the bathroom.
Tiger had to go through all of this by himself. Doctors and nurses would occasionally check in on him and respond if he requested them, but they kept their distance. Health-care workers who treat COVID-19 patients are wary about catching it not just for their own health, but to prevent hospitals from being understaffed and so they don't bring it back to their loved ones.
This is also why Tiger's family members couldn't be in his hospital room. Because Tiger was so sick, Annette worried he couldn't give the doctors and nurses clear enough information about his condition. She believed she could help them better, and she wanted to be there for her husband. Instead, she had to sit in her car or home. She talked to Tiger over the phone and through video chat, but those conversations couldn't replace being by his side.
"It was scary," Annette said through tears. "I had to pray, and that's where I found my strength."
She, Keanu and Tasia also received support from family, friends and other community members during Tiger's hospital stay. Without that, "I don't think I could have made it through," Annette said.
Tiger started to feel better the night of Aug. 24. Two days later, his doctors ran tests and were surprised he was holding up so well so soon after such severe symptoms. His oxygen level was normal, his wind was back and his cough had mostly disappeared. He was released from the hospital that day.
"(I cried) happy tears," Annette said. "I told him I missed him, and I told him I was glad he was healthy. I was glad he was coming home."
By that weekend, Tiger felt like himself again. In the two months since, he has not felt any lingering effects. "I can't believe I went through all that," Tiger said. "It definitely was one of the worst experiences of my life. Not the most, but one of the worst."
'Work's not done'
The worst experience of Tiger's life happened on June 12, 2019, when his son, Keeshawn, took his own life at the age of 15.
Tiger thought about Keeshawn during his lowest moments with COVID-19. He also thought about his brother, Shane Ewing, who was hit by a car and died in 2009. Doubts crept into Tiger's head during his three days at Billings Clinic.
"I was like, 'Well, if this happens to go the bad way, I'm going to be at peace with it because I really miss my brother and I really miss my son,' " Tiger said. "In the Cheyenne way, there are no words for goodbye. We believe that you go over to the next camp, the Happy Hunting Grounds. … I said, 'Well, if this is my time, I'm going to be at peace with it. I'll just join my other relatives at the Happy Hunting Grounds.'
"I was just trying to keep myself balanced and grounded in the hospital. You've got to be able to look at it both ways. We're always taught that only the rocks live forever." After Keeshawn died, Tiger's cousin told him, "Your work's not done here yet." Tiger thought about that as he coughed in his hospital bed.
Annette, Keanu and Tasia were daily reminders of the work to be done. They checked in constantly, and they sent photos of his grandchildren. His step-siblings also passed along pictures of their children. Some of Tiger's loved ones are in the next camp, but more are in this one.
People sometimes ask Tiger how he keeps going after all the pain he's suffered. "I don't even know how I can think or how I can function, but obviously I've got some strength there," he said. "My biggest strength is my family."
'Not a hoax'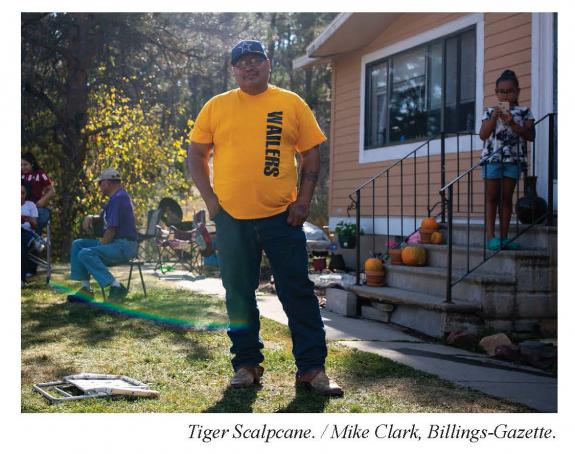 Before he got COVID-19, Tiger wondered if it was even real. Since March, the coronavirus has dominated the news and caused American life to shut down for months, but it's been difficult for many people to detect. Other crises, like a natural disaster or a terrorist attack, provide visible wreckage and visceral images. The coronavirus is invisible and attacks the inside of human bodies. Its victims are mostly contained within hospitals, care homes, prisons and other places that cameras can't access.
The scale of COVID-19 can also be hard to grasp. The United States has reported more than eight million cases of the disease, and Montana recently surpassed 20,000 positive tests. Those numbers make up less than 3% of both the country's and state's populations. Even accounting for the other people who have gotten COVID-19 without being tested, the vast majority of Americans have likely yet to contract it. Many don't know anyone who's died from COVID-19 or even developed symptoms from it. This, plus rampant misinformation, has contributed to denial of the disease's severity or existence. COVID-19 is not as deadly as diseases like Ebola, but it's much more severe than illnesses like the common cold. The bulk of people who contract the coronavirus survive, but it's the third leading cause of death in the U.S. this year. Most of the deceased had other health issues (that's true for people who die of other illnesses such as the flu, for which there is a vaccine, unlike COVID-19), were elderly and/or lived in poor communities, such as Indian reservations.
Lame Deer is located on the Northern Cheyenne reservation, and its residents make up a large chunk of Rosebud County's 700-plus cases and 20 deaths caused by COVID-19. Those numbers were lower before August, so many residents like Tiger knew no one who had the disease.
Tiger's close call wasn't the only reason his perspective on COVID-19 changed. His aunt and uncle died from it, as did a good childhood friend. Lame Deer is a small, tight-knit community, and many people he knows have also lost loved ones because of the disease.
"It's just heartbreaking," Tiger said. "There's a lot of grief here already."
Since their recoveries, the Scalpcanes have encountered people who don't wear masks, who frequent crowded places, who share social media posts calling COVID-19 a hoax manufactured for political reasons.
"I take offense to that. I take it personally," Tiger said. "Now that I've experienced it and what we're going through now, I get upset. It's not a hoax. It's real."
While Tiger and Keanu have not suffered after effects of COVID-19 (that they know of), Annette and Tasia have. Some foods and drinks, including coffee, don't taste the same to Tasia. Before getting COVID-19, Annette would try the food she was cooking and adjust ingredients accordingly. Now, she needs Tiger to taste for her.
All four Scalpcanes have technically recovered, but that term ignores Annette's and Tasia's weakened taste buds. It doesn't detail Tiger's traumatic experience. It doesn't include the grief they've felt when a family member or friend has died of COVID-19.
The Scalpcanes get frustrated by people who deny or downplay the pandemic, but they don't wish them ill. They simply want those people to take it seriously before it's too late. "I can't change their perspective or their mind, but I can pray for them and I can hope that it doesn't hit their home," Annette said. "It's serious and it's taking lives, and I would not wish this on anybody."