The "Not Invisible Act of 2019," Legislation to Increase Coordination Efforts to Address the Crisis of Missing, Murdered and Trafficked Native Women
The Not Invisible Act of 2019 is legislation aimed at addressing the crisis of missing, murdered, and trafficked Native people by engaging law enforcement, tribal leaders, federal partners, and service providers and improving coordination across federal agencies. This bipartisan bill will establish an advisory committee of local, tribal and federal stakeholders to make recommendations to the Department of Interior and Department of Justice on best practices to respond to the crisis of disappearances, homicide, violent crime, and trafficking of Native Americans and Alaska Natives.
H.R. 2438 is the first bill in history to be introduced by four enrolled members of federally recognized tribes. The bipartisan backers include Rep. Deb Haaland (D- NM), and Reps. Tom Cole (R-Okla.), Sharice Davids (D-Kan.), and Markwayne Mullin (R-Okla.).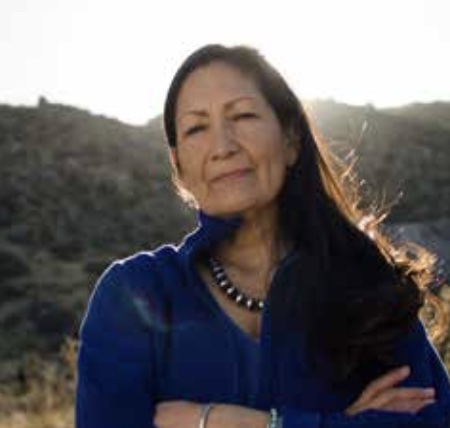 "Women are disappearing and dying in Indian country. We must act." —Rep. Deb Haaland
The Not Invisible Act, S. 982, also has bi-partisan support and was introduced by U.S. Senators Catherine Cortez Masto (D-NV), Lisa Murkowski (R-AK), and Jon Tester (D-MT). "Human trafficking is a horrifying reality across the state of Alaska and is disproportionately affecting our Alaska Native communities. This legislation paves the way for greater collaboration between federal agencies, law enforcement, and elected tribal officials, ensuring Alaska Natives have a voice in developing methods to end these horrible crimes. Through partnerships, coordination, and pooling resources we can turn the tide of women and girls falling victim to sex trafficking," said Senator Murkowski. "I am proud to work with Senator Cortez Masto to build upon our efforts to shine a spotlight and address the issue of missing and murdered indigenous women and drive legislation that will help end human trafficking of our American Indian and Alaska Native populations once and for all."
Native women and girls are disproportionately likely to become victims of sex trafficking, contributing to the crisis of missing and murdered indigenous women and girls. While there are some federal programs and resources that can be directed to address the problems of violent crime in Indian Country and of Native Americans and Alaska Natives, there is no overarching plan or strategy to do so. The Not Invisible Act amends federal law to increase the coordination needed to begin to address the crisis of missing and murdered Native women.
The Not Invisible Act will:
Require the Secretary of the Interior to designate an official within the Office of Justice Services in the Bureau of Indian Affairs to coordinate violent crime prevention efforts across federal agencies.
Require the Secretary of the Interior, in coordination with the Attorney General, to establish an advisory committee on violent crime composed of members including tribal, state, and local law enforcement, service providers, representatives of relevant federal agencies, tribal leaders, and survivors and family members.

The Committee will identify legislative, administrative, training, and staffing changes to increase reporting and prosecutions of relevant crimes.
The Committee will develop best practices for tribes and law enforcement to better collect and share information across systems and agencies.
The Committee will make recommendations to the DOI and DOJ on what more the department can do to combat violent crime.
"Our Native communities need more support to combat human trafficking and stop violent crime across Indian Country," said Senator Cortez Masto. "We need stronger partnerships and programs to properly address this epidemic of violence. By ensuring that there is better coordination between the federal government, law enforcement, and tribal governments and leaders, all parties can work together to find the best strategies to respond to this crisis.
"We are grateful for the support of The Not Invisible Act of 2019 (H.R.2438), a bipartisan bill to increase national focus on the silent crisis of missing and murdered Indigenous women," said Principal Chief Bill John Baker. "We at Cherokee Nation, a matrilineal tribe, support this effort and are thankful for the leadership, including the two Representatives from Oklahoma, for taking the lead on this critical issue. It is crucial that we not wait any longer to raise awareness about violence against Native Americans, especially women and children. The statistics are shocking."1
"A lack of communication and coordination between the federal government and tribal communities in cases involving missing, murdered, and trafficked indigenous women has slowed law enforcement and delayed justice," Senator Tester said. "We have to do better addressing this crisis, and this bipartisan bill gives the tribal, local, and state leaders - the folks who understand it best - a seat at the table to work the federal agencies to more effectively combat it."
The Not Invisible Act is supported by the National Indigenous Women's Resource Center (NIWRC). For full text of the S. 982 legislation, visit: https://www.congress.gov/116/bills/s982/BILLS-116s982is.pdf.
---
1. https://www.indianz.com/News/2019/05/08/bill-john-baker-the-not-invisib…