Editor's Note | Vol. 16 | Issue 2
What about the women? Have you seen my daughter? Sister? Mother?
In 2008, Restoration covered the murder of Victoria Eagleman, from the Lower Brule Sioux Tribe, located in SD. Terri Henry and I joined Tillie Black Bear, Roxanne Sazue, Karen Artichoker, Brenda Hill, Carmen O'Leary, and so many others on a walk for justice for Vicky. It was a life-changing reality check. As a movement, we had just won the passage of the Safety for Indian Women Act in VAWA 2005, and it seemed change was coming. Yet sitting and listening to June, Vicky's mother, talk about the days following her disappearance—all of the changes we won clearly fell short of what was needed. June previously worked at White Buffalo Calf Women's Shelter, one of the first Native women's shelters in the country. June knew what to do. June did everything possible. She did what I would have done if it were my daughter. June said, "Vicky was just going to get milk for the kids for dinner." Driving back to Rosebud was hard. It was a sinking feeling that it would take decades, lifetimes, generations to overhaul this system that has never protected Native women, and that many more lives would be taken.
In 2013, Malinda Limberhand on the Northern Cheyenne reservation also tried to report her daughter Hanna Harris as missing. The similarities in the response of the system between Vicky and Hanna are so close that it is a gut punch. Malinda was told, "Hanna is just too scared to come home." Like June, Malinda was told she could search for Hanna herself. And, like in Vicky's case, Malinda and the community did find Hanna, but it was too late. Hanna's murder was also close to the movement in that Lame Deer is the home office of NIWRC. Malinda and Hanna are our community members.
In 2008, Restoration covered Vicky's murder through her mother's words.1 And, since 2008, it has covered the crisis of MMIW consistently over the years. The outrage of the families, the tribes, and so many others across the United States and the world has finally elevated the issue from a local level to a national level. From a family responsibility to a Congressional responsibility and United Nations responsibility.
Now that the injustices are in the public's eye, has the response of the system changed? The answer is a resounding no, it has not changed. Kimberly Loring Heavy Runner's recent testimony before the Senate Committee on Indian Affairs hearing on MMIW described the same failures in her sister's disappearance and murder.2 Ashley Loring Heavy Runner went missing June 12, 2017, on the Blackfeet Reservation. The family received the same response Malinda and June received. They were not taken seriously and told: "Ashley is of age and can leave whenever she wants to."
From Vicky's disappearance on July 28, 2006, to Hanna's disappearance on July 4, 2013, to Ashley's on June 12, 2017, little has changed, the system's failed response remains the same. During this period of more than a decade, hundreds of Native women and girls have gone missing and have been murdered.
Over the last two years, much attention has centered on law enforcement failure to issue a police report and track cases of MMIW. Both issues are deserving of Congressional and public scrutiny. What is not receiving the same attention is the reality that the entire system fails Native women. Not issuing a missing person's report, conducting a search, and immediately responding after a disappearance is the end result of a system that has failed to provide a society that is safe for Native women in their homes and in public. And one that is safe on and off tribal lands. The system does not respond to cases of violence against Native women because it is not designed to respond to all of the injustices leading up to the abductions and homicides of Indian women. The ill-conceived policies, violence, maltreatment, and neglect that have led to centuries of injustice are acknowledged in two apologies—the 1998 Apology to Native Hawaiians and the 2009 Apology to Native Peoples. Sadly, the injustices continue to this day, as cases are still not taken seriously as reflected in all of the disparities Indian women and girls experience in this country prior to and after a disappearance.
Congressional champions for Native women in both the House and Senate are now demanding accountability, have proposed changes, and amendments to federal law. We hope that Savanna's Act, the Not Invisible Act, and the Studying the Missing Indian Act are just the beginning of the reforms to come. These congressional champions  understand the dangers and pitfalls of the current criminal justice response to MMIW. As a national movement, it is crucial to express that reforms must address the entire spectrum of violence Native women experience—birth to death. Indian tribes have a unique legal relationship to the United States as stated by Congress in the findings of the VAWA 2005, Safety for Indian Women Title—the unique legal relationship of the United States to Indian tribes creates a federal trust responsibility to assist tribal governments in safeguarding the lives of Indian women.3 Beyond criminal justice reform, Congress must recognize and honor their trust responsibilities such as providing adequate healthcare, educational and economic development resources, and safe housing to properly address the multifaceted and complex issue of MMIW.
A deeper and broader response to the crisis of MMIW is needed. While increasing the response to MMIW cases is important, prioritizing attention to providing advocacy and support to women and girls to prevent abductions and murders is critical. Support is needed at the frontline where women and girls are being killed. There are currently less than 50 Native Women's shelters across the country and no tribal rape crisis centers. Victims urgently need this advocacy and support. Support from the federal government for these much needed services in addition to criminal justice reform will help save Native Women's lives.
In the reauthorization of every VAWA, Congress has provided amendments to restore the authority of Indian tribes while also providing increased resources to assist Indian tribes toward this goal. Yet it has not been enough. The 2019 VAWA Reauthorization Act, H.R. 1585 passed in the House on April 4, 2019, recognizes the concerns and includes the recommendations of Indian tribes to enhance the tribal response to the spectrum of violence against Native women and hopefully, the beginnings of a preventive response to this crisis of MMIW. Now is the time for the Senate to do the right thing and pass a Senate version of a bill identical to H.R. 1585.
"When I reported my daughter missing, the chief of police told me, 'She's probably drinking and too scared to come home. I was told I could search for Hanna myself. We did the search and found Hanna, but it was too late. Having a dedicated resource in the Department of Justice and a requirement that law enforcement takes a missing person report could have helped my daughter."—Malinda Limberhand, 2019
Printed on the pages of Restoration are eleven years of reporting on the crisis of MMIW. We cannot shed enough tears for the sacred women and girls lost to violence and hatred. We send our prayers to the families of those lost. We honor our sisters as have their relatives, Indian tribes, and communities across the country by the vigils, walks, marches, and so many other social justice actions. And together, we are organizing to stand against the violence and create the changes needed. We pray these changes come this year through the reauthorizations of VAWA, and FVPSA, the tribal amendments to VOCA, and other lifesaving bills now before Congress.
"We are a movement of resistance."—Tillie Black Bear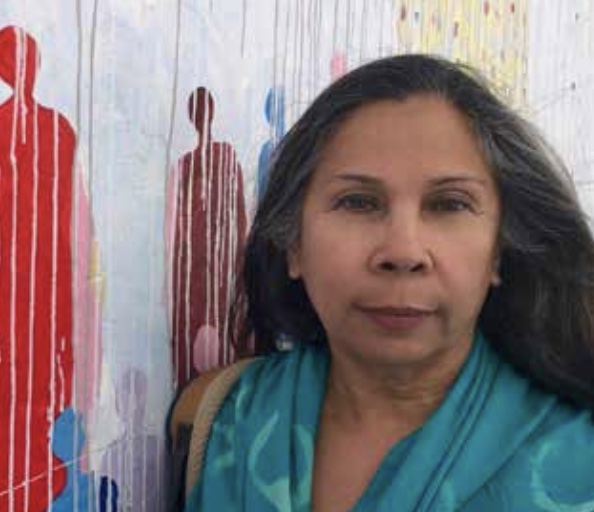 Jacqueline "Jax" Agtuca, Editor, Restoration