International Update | Vol. 16 | Issue 2
By Jana L. Walker and Christopher Foley, Attorneys, Indian Law Resource Center
United Nations Permanent Forum on Indigenous Rights
On April 24, 2019, Alaska Native Women's Resource Center, Indian Law Resource Center, National Congress of American Indians, and the National Indigenous Women's Resource Center held a panel discussion at the United Nations in New York, Violence against Indigenous women in the United States: How Indigenous nations and women are leading the movement to end the epidemic of violence in Indian country and Alaska Native villages. This was a side event at the annual session of the UN Permanent Forum on Indigenous Issues, one of the United Nations' bodies specifically tasked with examining matters affecting, indigenous peoples around the world including their human rights.
Terri Henry, a member of the Permanent Forum on Indigenous Issues, opened the panel with a review of the international human rights framework that protects Indigenous women's rights. "When crimes against indigenous women are not being investigated or prosecuted as zealously as crimes against non-indigenous women, then there are racial equity rights that are implicated." Calling for law reform to better protect indigenous women, Ms. Henry added that "non- discrimination standards are at the center of the human rights system and also the UN Declaration on the Rights of Indigenous Peoples, which recognizes the right of Indigenous peoples and individuals to be free from any kind of discrimination."
Paula Julian, Senior Policy Specialist for National Indigenous Women's Resource Center, spoke about the need to continue grassroots organizing and law reform work to indigenize federal law to reflect the needs and realities of American Indian and Alaska Native women. She drew attention to the legislative and policy victories Native women and nations have won, including the tribal provisions in VAWA 2013 and the 2009 apology by the United States Congress in which Congress acknowledged "years of official depredations, ill-conceived policies" and explicitly apologized for "many instances of violence, maltreatment, and neglect inflicted on Native peoples by citizens of the United States" throughout U.S. history. While emphasizing the importance of these victories, Ms. Julian urged the audience to continue pressing the United States for concrete actions. "As citizens of our countries and of the world, we are responsible for holding our governments accountable," she said. "Apologies and promises are worthless unless we hold our leaders accountable, and provide direction with solutions rooted in Indigenous voices, languages, teachings and laws."
Alaska Native Women's Resource Center's Executive Director Tami Truett Jerue concluded the discussion by noting how United States laws, even laws benefitting tribes in the lower-48, continue to fail to protect Alaska Native women. She called for jurisdictional changes to allow Alaska Native villages to better protect the women and girls in their territories. "Our mothers are our hearts. Our children are our hearts. We must have the right to safety."
Besides educating UN staff and indigenous advocates about these issues, the speakers offered two recommendations to the UN. First, they called on the Permanent Forum to propose an international expert group meeting to study and discuss missing and murdered Indigenous women as a complex international phenomenon that needs a multi-faceted response from the UN. "We know that this is not a problem unique to the United States and Canada," said Chris Foley, staff attorney at the Indian Law Resource Center. "It is a violation of indigenous women's human rights that is occurring worldwide, and it is very often connected with human trafficking, with issues of femicide and legal impunity, and with colonialism and discriminatory criminal justice systems." Secondly, panelists urged the UN to adopt new rules to improve the ability of Indigenous peoples' representative institutions, including tribal and village governments, to participate in UN meetings on matters affecting them.
"Our governments have the expertise, the resources, and the legitimacy to speak about our needs, but the UN needs to create space for our leaders to advocate directly for us and the UN needs to give our governments a status that respects them as rights- holders and global actors," said Foley.
International Covenant on Civil and Political Rights
In April 2019, the UN Committee on Civil and Political Rights, presented the United States with a list of issues about its implementation of the International Covenant on Civil and Political Rights (ICCPR). The Committee is a UN human rights treaty body responsible for monitoring the implementation of the ICCPR by those countries that have ratified it. The Committee listed several requests concerning issues affecting indigenous peoples, including but not limited to "steps taken to combat the incidence of missing and murdered indigenous women" and comments on the high levels of violence against Indigenous women. The United States has one year to submit a response. The Committee's full list of issues for the U.S. are available at https://undocs.org/pdf?symbol=en/CCPR/C/USA/QPR/5.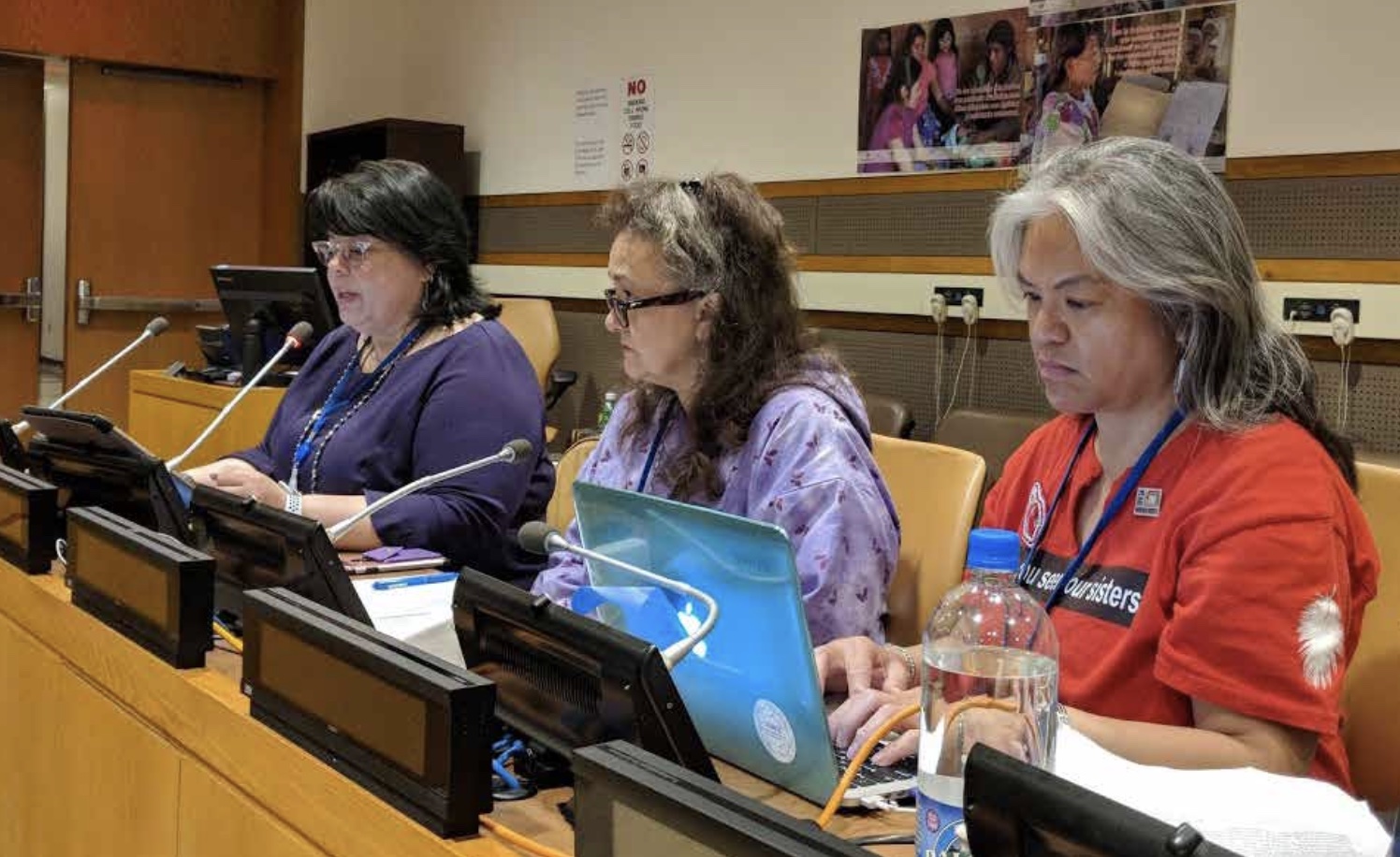 Looking Ahead
Human Rights Council
The UN Human Rights Council works to enhance the promotion and protection of human rights and to investigate human rights violations. During its 41st session in Geneva, Switzerland on June 24 – July 12, 2019, the Council will hold a day-long discussion on women's rights, including panels on violence against women in the world of work, the rights of older women, and women's rights and climate change. 
The Council's 42nd session on September 9-27, 2019 is expected to include a half-day discussion of indigenous peoples' rights. Further information about these sessions is available at https://www.ohchr.org/EN/HRBodies/HRC/Pages/Sessions.aspx.
Expert Mechanism on Human Rights
The Expert Mechanism on Human Rights functions is the implementing and monitoring body for the UN Declaration on the Rights of Indigenous Peoples. As a subsidiary body of the Human Rights Council, the Expert Mechanism offers indigenous peoples a dedicated access point to the workings of the UN Human Rights System. The Expert Mechanism meets each summer in Geneva for one week. This year's session will take place July 15-19. Among other topics, the provisional agenda for the session includes a panel discussion on indigenous women in power, as well as study and advice on indigenous peoples' rights in the context of borders, migration and displacement. For more information about the session visit https://www. ohchr.org/EN/Issues/IPeoples/EMRIP/Pages/Session12.aspx.
Note: For further information or assistance with meeting registrations or participation, please contact the Indian Law Resource Center at mt@indianlaw.org.