Urban Indian Health Institute Partners with NIWRC to Strengthen GBV, MMIWG Projects
By Mallory Adamski, Diné, Managing Editor, Restoration Magazine
Native-led organizations combine efforts to provide advocacy and data collection resources for tribal and urban Native programs and law enforcement agencies
As advocates look toward a brighter future in 2021, a new wave of opportunities and collaborations begin to take shape—chief among them, a unique partnership aligning the efforts of Urban Indian Health Institute (UIHI) and the National Indigenous Women's Resource Center (NIWRC). The two organizations are partnering to provide high-quality public health reports, trainings, toolkits, and other materials addressing gender-based violence (GBV) and missing and murdered Indigenous women and girls (MMIWG) with a goal of having the widest possible reach in urban areas and Tribal communities.
Based in Coast Salish lands—also known as Seattle, Washington—Urban Indian Health Institute is a Tribal Epidemiology Center that serves tribal people currently living off Tribal lands in urban areas nationwide. In 2020, UIHI received emergency CARES Act funding through the Centers for Disease Control and Prevention to address the emerging increase in intimate partner violence stemming from the COVID-19 pandemic. Recognizing a collaboration would bolster their efforts with subject matter expertise, expanded reach, and expert insight, UIHI reached out to NIWRC.
"This critical partnership really builds on each organization's strengths—Urban Indian Health Institute has the data expertise, and NIWRC is uniquely positioned to assist with our community connections and knowledge of tribal sovereignty," said Lucy Simpson, NIWRC Executive Director and a citizen of the Navajo Nation. "Both organizations share the same value for Indigenous cultural framework and understand the importance of lifting up the voices of Native survivors of violence, as well as developing the next generation of Native advocates."
We spoke with Abigail Echo-Hawk, MA (Pawnee), who serves as the Director of Urban Indian Health Institute and the Chief Research Officer at Seattle Indian Health Board to discuss the partnership further and UIHI's work to recognize and respect the unique cultural contexts of American Indian and Alaska Native people.
Webinar: Decolonizing Data - Strengthening Community Voices to Take Action for Our Missing Relatives

In partnership with the National Missing and Unidentified Persons System (NamUs), Urban Indian Health Institute offered a training webinar where you can learn how to enter your missing Native loved ones' information into the NamUs database.
NIWRC: What community issues is Urban Indian Health Institute working to solve through this partnership?
Abigail: We know that GBV affects Native communities at staggeringly high rates. This includes MMIWG, sexual assault, and other forms of physical and emotional violence. The COVID-19 pandemic has made 
these problems worse, but serious gaps in data collection systems impede the ability of government agencies at all levels to adequately support Native communities. We have found agencies either don't record race and ethnicity at all or lump Native-identified individuals into an "Other" category with other races making it difficult to disaggregate the data. Because of these issues, the crises of GBV and MMIWG affecting Native people "disappear" into the data. The communities know what is happening to them—they are living it—but they can't "prove it" to decision-makers or agencies.
Together, NIWRC and UIHI are working to build public health capacity for surveillance, evaluation, assessment and training at law enforcement agencies and urban and tribal programs to address GBV in the COVID-19 pandemic and beyond. By changing the way law enforcement agencies collect and use race and ethnicity data, we hope to make the issues of GBV and MMIWG more visible. By supporting and strengthening urban and tribal GBV programs, we are partnering to grow culturally based services and evaluation tools for our relatives. Through education on sexual assault exams, we hope more survivors will feel comfortable to make the choice to access the care they deserve. The crisis of MMIWG and GBV began more than 500 years ago with colonialism and will take innovative collaborations and partnerships rooted in Indigenous knowledge to address it. Violence is not our tradition.
NIWRC: What is data sovereignty, and why is it important in the work to end violence against Native women generally and more specifically with regard to the MMIWG crisis?
Abigail: The principle of data sovereignty underlies all our work, especially around MMIWG. At its core, it is an expression of tribal sovereignty. It has been defined as the authority of tribes to govern the collection, ownership, and application of their data. But we know that tribes and urban Indian communities haven't had access to MMIWG data making it difficult to understand the full impact of the crisis.
Our previous work identified a key underlying issue that prevents tribes and urban Indian communities from having access to data on MMIWG. Law enforcement agencies are not collecting the race and ethnicity of victims in a cohesive way, if at all, and frequently have not established relationships to share data with tribes and urban Indian communities in a meaningful way. This lack of comprehensive data creates an environment where the violence experienced by Native people is effectively made invisible.
This is why Indigenous data sovereignty is critical to combating MMIWG—by improving the way law enforcement and other agencies collect and report back race, ethnicity, and tribal affiliation, we can better measure the true scope of the problem. With hard data in hand, tribes and urban Indian communities can make the case for better prioritization, funding, and other resources to address this crisis. It is also a part of reclaiming traditional values of gathering information to be used to improve the wellbeing of future generations. We are decolonizing data, for Indigenous people, by Indigenous people.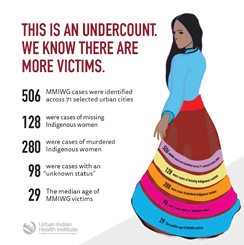 NIWRC: There is a leadership/mentorship component of this partnership between the organizations. Can you talk about what this work involves and why it's significant?
Abigail: I have been blessed to be mentored by many Native women including Cecilia FireThunder, Patsy Whitefoot, and Julie Johnson. These women followed in the footsteps of their ancestors as they openly shared knowledge to support and grow young leaders. In these experiences, I learned that supporting and passing knowledge to the next generations is our responsibility as Indigenous people. In forming this partnership with NIWRC, Lucy Simpson and I discussed our mutual dedication to fulfilling this joyous responsibility. We recognized the vast knowledge base and collective experiences of the leaders, and team members at UIHI and NIWRC provided us a unique opportunity to provide this mentorship to Native women who are early in their careers to assist in building the skills necessary to become strong advocates.
NIWRC and UIHI will be sharing resources with the intention of building our mentoring efforts forward in a good way. We have included young Native women in the project and intend to give them direct support and opportunities, including preparing them to take on leadership responsibilities that allow them to share their knowledge in influential spaces. We also recognize and value what we learn from them as we spend this time together building relationships. It is essential to focus on healing for all Native women from our elders to our youth. Teaching and strengthening the next generation of advocates is a key part of that as we respond to and prevent the ongoing MMIWG and GBV crisis.
NIWRC: What resources and awareness activities should advocates be on the lookout for over the next few months?
Abigail: This partnership is already doing incredible work. In February, we will be releasing information on how to support Native sexual assault survivors, and later this year we will be releasing a toolkit for law enforcement agencies to improve their data collection practices, an informative video on what to expect during a Sexual Assault Nurse Examiner (SANE) visit, and reports on the impact of COVID-19 on domestic violence 911 call response in cities across the U.S.
Lastly, there is an effort underway to declare May 5th National MMIWG Awareness Day, and we encourage communities to get involved! We encourage readers to connect with local Native organizations, UIHI, and NIWRC about signing on to this effort.
UIHI Offers Free One- Year Print Subscription to NIWRC's Restoration Magazine

Urban Indian Health Institute is offering a free 1-year annual print subscription to Restoration for survivors and supporters. 
Creating a Path Forward
NIWRC is dedicated to removing the structural barriers embedded in the federal government's response to the coronavirus pandemic and the MMIWG crisis. The current response is failing and to move beyond this point, foundational issues must be addressed. This partnership between NIWRC and UIHI to increase accurate data reflective of Native women in their context of tribal sovereignty is essential to this process of change.
"Our goal with this partnership is to produce the information needed to quell the doubts about the MMIWG crisis and improve the response beyond individual cases," Simpson said.