April is Sexual Assault Awareness Month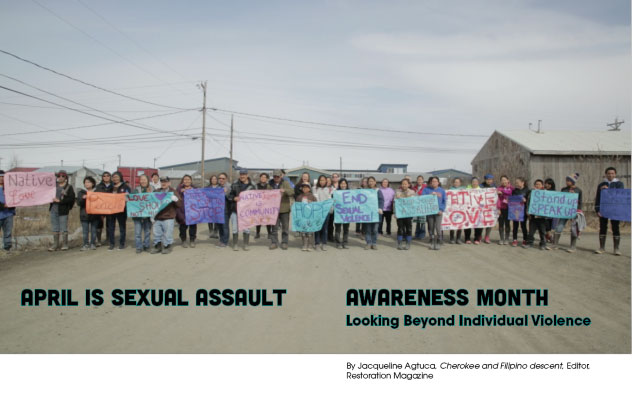 Thousands of Native women and children suffered and continue to suffer rape and sexual abuse due to U.S. government policies and federal laws regarding American Indian Nations.
Women and girls are sexually abused by U.S. government employees—the military, personnel of medical facilities, prisons, and schools.
Thousands more suffered sexual abuse at the hands of men who held positions of control over Native women and children by U.S. government authorization or contracts, such as programs or schools operated by religious institutions or non-profit contractors. This abuse is documented by the legal actions and stories of survivors who, in their struggle for justice, faced denial or opposition from government agencies and religious institutions. These heroines are often supported by their families and communities, but also many times stand alone.
Rape and sexual abuse are intertwined with the colonization of Indigenous peoples and the development of the United States. This connection, when acknowledged, is often thought of as the past—a time long ago.
"The ongoing connection between sexual abuse of Native women and colonization remains largely hidden from the public," said Lucy Simpson, Executive Director, NIWRC. "We need to understand the systemic and structural foundation of the statistic that 1 of 3 Native women will be raped in her lifetime."
The same government infrastructure—federal laws, policies, and institutions—targeting and permitting sexual abuse of Native women in the 1800s continues to exist in 2021. To remove these structural inequalities requires a shift in understanding and advancing changes to end sexual violence.
Sexual Assault Awareness Month 2001 to 2021, Challenging Systemic Barriers to Safety
Sexual Assault Awareness Month was first observed in 2001, twenty years ago.
While many reforms have been achieved over the last two decades, most reforms have not reached Indian Country and Native Hawaiians. A primary focus of reform to sexual violence has rested on the criminal justice system with only minimal success. The U.S. Attorney's office declined to prosecute 64% of sexual assault cases across all reservations from 2013-2018. The challenge for the movement is to understand: what is necessary to change this response? The ongoing answer from tribal leaders and the movement is the recognition and support for Indigenous responses based in the tribal community and government—not to increase federal or state government oversight and management.
Similarly, reforms within the healthcare system are minimal for Native women. Sexual Assault Examiner (SAE) and Sexual Assault Response Team (SART) programs have been shown to improve both the care of survivors of sexual assault and criminal justice outcomes in sexual assault cases. SAEs and SARTs are instrumental in facilitating immediate access to appropriate healthcare and other services for survivors and minimizing re-victimization by the justice system. A 2014 study used GIS mapping to evaluate the proximity of trained forensic examiners to 650 census-identified Native American lands. The study found that more than two-thirds of Native American lands are more than 60 minutes away from the nearest sexual assault forensic examiner.
"This Sexual Assault Awareness Month, we honor those Native women challenging the systemic response to sexual assault," Simpson said. "As a social justice movement, we must address the structural barriers that continue the vulnerabilities of Native women and children to rapists and allow abusers to go free."
Honoring Native Women Who Took Action to End Sex Abuse
In 2021, it is important to reach beyond individual violence to raise awareness of social permissions that uphold the system that allows sexual violence to happen generation after generation. This SAAM, we uplift Native women who struggled against systemic, structural permissions for such abuse. Their efforts to achieve justice in their individual cases are inspiring and courageous. They challenged systemic barriers, policies and laws permitting such abuse to make all women safer.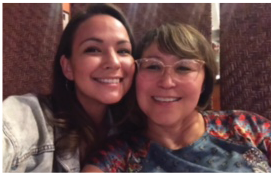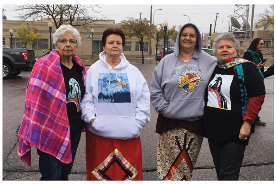 In 2005, Lavetta Elk, (Lakota, Pine Ridge Indian Reservation) successfully sued the United States for sexual assault by a U.S. Army recruiter under the "Bad Men" clause of the Treaty of 1868 between the Sioux Indian tribes and the United States.1 It states, "If bad men among the whites. . . shall commit any wrong upon the person or property of the Indians, the United States will...reimburse the injured person for the loss sustained." For the first time, the decision ruled that the Treaty may be relied on to recover "pain and suffering" damages against the United States—mental, emotional, or physical damages.
In 2003, Apugen, (Elsie Boudreau), Algaaciq Tribe (St. Mary's, Alaska) sued the Archdiocese Catholic Church for sexual abuse of a Jesuit Priest and challenged the on-going abuse of the clergy in the public eye. She is the founder of Arctic Winds Healing Winds.2 "The whole premise behind the Catholic Church and their mission with the Native people, with Indigenous people, was to strip them of their identity," Boudreau said. "And so sexual abuse was one way. I think it's intentional when you have an institution that is aware of problem priests, perpetrator priests, and moves them to places where they believe that people are 'less than,' where they believed the people there would not speak out."3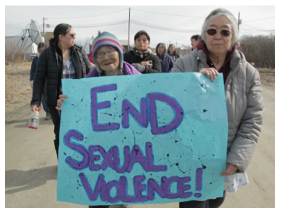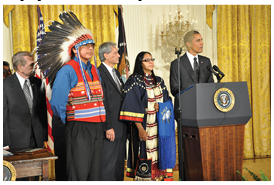 In 2010, Lisa Marie Iyotte (far right, third from left), Ta Wacinya Waste Win (Her Good Plume Woman), courageously stood to tell her story of sexual assault and how the Tribal Law and Order Act would correct the systemic barriers she faced. On July 7, 2010, introducing President Barack Obama, Lisa shared how the Act could change the response of the Department of Justice to victims of rape.4 Through her words Lisa challenged the federal government to understand, amend old laws and create new ones to make Native women safer.
In 2010, Louise Charbonneau Aamot (above, second from left) and eight of her sisters filed lawsuits against the Catholic Diocese of Sioux Falls in Sioux Falls, South Dakota, seeking church accountability for sexual abuse. The sisters formed an advocacy group called 9 Little Girls (named for Aamot and her sisters) to raise awareness of the abuse of Native children at Catholic schools on reservations (see story, pg. 33).
In 2017, elder Winnefred Hunt (above, on right), help to organize and shared her story at the first sexual assault conference in the Yup'ik region. By courageously speaking out, Winnefred opened the way for challenging the culture of silence within villages and making sexual violence a community issue.
––––––––––
1 https://bit.ly/35UHmm4
2 Elk v. United States, Court of Federal Claims, Case No. 05-186L.
3 https://bit.ly/3nZrlS2 . See also https://bit.ly/38XtY2e
4 https://www.youtube.com/watch?v=h4K1UYCC0dQ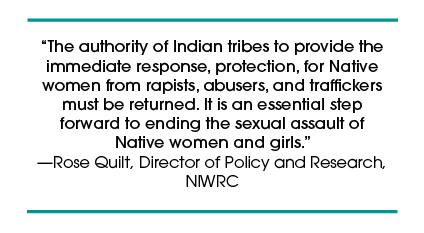 Organizations Founded by Native Women Challenging Systemic Permissions
In addition to heroic individual efforts, Native women have birthed national organizations such as the Minnesota Indian Women Sexual Assault Coalition and the National Indigenous Women's Resource Center to inform and challenge systemic barriers.
"MIWSAC has worked for nearly two decades to address sexual violence and sex trafficking in Tribal communities," said Nicole Matthews, Executive Director of the Minnesota Indian Women's Sexual Assault Coalition. "Whether it is policy, advocacy, education, research, or public awareness, our work is rooted in the voices of survivors."
"NIWRC launched the Violence Against Women Sovereignty Initiative to defend the legal victories won under the Violence Against Women Act. We have now filed eight amicus briefs in cases before the Supreme Court," said Cherrah Giles, Muscogee (Creek), Chairwoman, NIWRC Board of Directors. "The first case was in support of the Mississippi Band of Choctaw Indians authority in the sexual assault of an Indian child. The employer of the white store manager, Dollar General Corporation, argued the tribe had no jurisdiction over the accused assailant because he was non-Indian. The Court upheld the authority of the Indian tribe."
Government Systemic Permissions For Sexual Violence Against Native Women
The United States apologized on behalf of the people of the United States to all Native Peoples for the many instances of violence, maltreatment, and neglect inflicted on Native Peoples by citizens of the United States.5
Through the authority of the government, laws and policies were created that separated Native women from all other women in the United States. Approximately 34% of Native women are raped in their lifetime, and nearly half will experience sexual violence other than rape within their lifetime. When Native women are raped, they are more likely to experience other physical violence during the attack, their attacker is more likely to have a weapon, and they are more likely to have injuries requiring medical attention.
Early U.S. law explicitly permitted sexual violence against Native women. It reflected the perspective that American Indians did not require protection because of their race and status as political wards of the United States. Today many of these laws and policies continue to be embedded in government infrastructure, particularly the Departments of Justice and Health and Human Services. At the systemic level, there is a failure to protect Native women from sexual violence and ongoing sexual abuse. This systemic response provides social and cultural permissions to rapists, abusers, and traffickers.
––––––––––

Rising to Challenge Systemic Barriers Within the Justice System
One of the strongest forms of support to honor survivors is demanding the justice system hold sexual assault offenders accountable. Indian tribes and advocates have worked hard with national allies and Congressional champions to reauthorize the Violence Against Women Act (VAWA).
"Each reauthorization of VAWA has chipped away at systemic barriers," said Rose Quilt, Confederated Tribes and Bands of the Yakama Nation, Director of Research and Policy, NIWRC. "In 2013, we won—restored— the partial authority of Indian tribes to prosecute non- Indians who sexually assault Native women in cases of domestic violence within tribal jurisdiction. These are steps in a process to tear down systemic barriers."
Unfortunately, 2020 Congressional negotiations to reauthorize VAWA stalled in the Senate. SAAM 2021 provides the opportunity to inform members of Congress at their district offices of the urgency to address sexual violence against Native women and how VAWA will increase protections and services for Native women. Reauthorization of VAWA (House Bill 1585 and Senate Bill 2843) is urgently needed.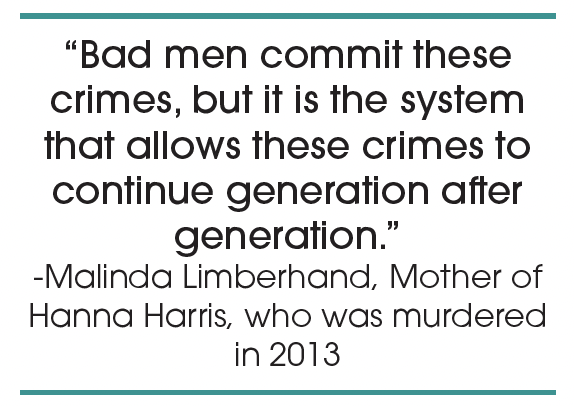 Justice for Native Survivors Act (House Bill 3977 and Senate Bill 288) are important marker bills that, if passed, would enhance the authority of Indian tribes to prosecute non-Indians who sexually assault Native women within tribal jurisdiction. The bills will amend the Indian Civil Rights Act of 1968 to extend the jurisdiction of tribal courts to cover crimes involving sexual violence, trafficking, and other crimes.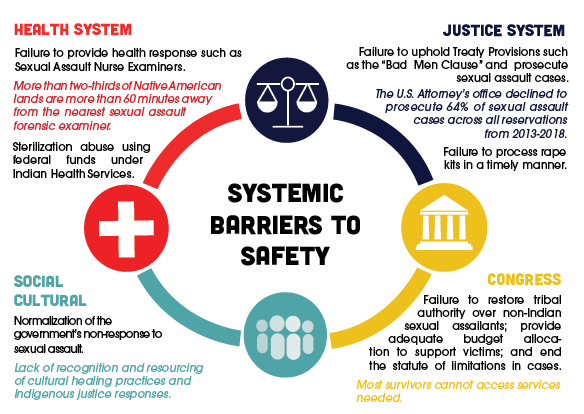 A New Administration and Action Plan
Awareness activities during April are strong statements of support for survivors. Activities calling for justice such as walks, marches, vigils, prayer circles, and other events throughout April reflect tribal community statements honoring survivors of rape and sexual abuse. These activities can also be a pathway for informing the new administration.
In 2021, public awareness efforts centered on needed reforms can inform and propel the new administration to make the systemic changes necessary to end the legacy of government permissions of sexual violence against Native women. The laws and policies first established during the Indian Wars were genocidal and must be cast out of governing systems in 2021.
President Joe Biden, during his long tenure as a U.S. Senator, championed addressing sexual violence through VAWA. Then-Senator Biden championed the inclusion of three historic reforms—increasing tribal funding under VAWA 2000, creation of a Tribal Title within VAWA 2005, and the restoration of tribal jurisdiction over non-Indian offenders within VAWA 2013. President Biden understands and has acted for more than two decades to support safety for Native women.
The new Biden-Harris administration has the potential to lead a public reckoning of how the United States permitted sexual violence against Native women. The administration will face challenges to meet this demand. An essential ingredient to change over the next four years is the continued groundswell of the grassroots calling for foundational reforms.
This April, Sexual Assault Awareness Month provides the opportunity for the beginning of a new standard of accountability by President Biden for the entire executive branch of government. The President can require by Executive Order each department to develop plans in consultation with Indian tribes to address sexual violence, including resources to support such goals.
Like past executive orders requiring plans for consultation with Indian tribes, each department can be charged with developing plans to adopt new policies and action to support Native survivors of sexual violence across departments. What a different world it might be if the Federal Departments charged with responsibilities in the lives of Native women—Justice, Health and Human Services, Housing, Education, Interior—developed affirmative plans to support victims and survivors of sexual violence.
Sexual Violence Against Native Women Must Become a Priority
Sex offenders should not have a hall pass because of their race or status as federal employees or social standing. Survivors need the support of federal departments and should be protected. The federal response to the following questions must change:
Why did the United States fail to prosecute the white store manager accused of multiple counts of sexual abuse of a child in the Dollar General case?
Why did the U.S. Army fail to prosecute the army recruiter for sexual assault of Lavetta Elk?
Why do victims of clergy abuse, like Elsie Boudreau and the Charbonneau sisters,6 have no recourse but to bring their own lawsuits against their clergy assailants?
Why do child victims of doctors and employees of Indian Health Services, like Stanley Weber7 and Pedro Ibarra-Perocier,8 wait decades for justice?
Why are Native women forcibly sterilized? And why are they left to seek justice on their own?9
––––––––––
6 https://bit.ly/39IM7Ak
7 https://bit.ly/2LM78C6
8 https://bit.ly/2LLqPdf
9 https://bit.ly/3iqXFfe