SCOTUS Update: Spotlight on United States v. Cooley in the U.S. Supreme Court
Mary Kathryn Nagle (Cherokee Nation), Pipestem & Nagle Law, Counsel to NIWRC, and Andie Sweeden, (Cherokee Nation), Legal Intern with Pipestem & Nagle Law
Less than a year has passed since Tribal Nations and sovereignty advocates (or, as Oklahoma Attorney General Hunter refers to us, "Sovereignty Hobbyists")1 celebrated the historic win in McGirt v. Oklahoma. Now the fight to protect the Violence Against Women Act of 2013 (VAWA) has reached the United States Supreme Court once again. Throughout the COVID-19 pandemic, the National Indigenous Women's Resource Center (NIWRC) and Pipestem & Nagle Law have remained vigilant in our commitment to the VAWA Sovereignty Initiative—a project focused on the defense of the constitutionality and functionality of all VAWA tribal provisions. United States v. Cooley, the next case of the NIWRC's VAWA Sovereignty Initiative, has the potential to jeopardize the ability of Tribes to fully implement VAWA's restored jurisdiction and, ultimately, jeopardizes the safety of hundreds of thousands of Native women and children living on tribal lands.
In Cooley, the Ninth Circuit concluded that tribal law enforcement may not detain a non-Indian suspect based on "reasonable suspicion" alone despite the fact that "reasonable suspicion" is the standard that applies when federal and state law enforcement effectuate what is known as a "Terry stop" nationwide. (Terry v. Ohio is a case where the Supreme Court found that an officer may conduct a limited in scope, warrantless search if he has a reasonable suspicion a crime has been committed. Terry stops typically involve law enforcement pulling over and searching a vehicle). If the Ninth Circuit's decision is left in place, tribal law enforcement will only be able to detain a non-Indian suspected of committing a crime if and when it is "obvious" or "apparent" that the non-Indian is committing a crime. Because domestic violence is often a crime that is not "obvious" until it turns deadly, this standard is very dangerous.
The underlying facts of the case are pretty straightforward. Joshua Cooley and his young child were parked on the shoulder of U.S. Route 212, within the boundaries of the Crow Reservation in Montana. Importantly, U.S. Route 212 and the Crow Reservation are located in Big Horn County—a county infamous for the 32––and counting–– missing or murdered Native American women or girls whose families have not seen justice. At around one in the morning, a Crow Police Department Officer noticed Cooley's vehicle and stopped to ensure everything was okay, as the area had bad cell phone reception. When the Crow Police officer knocked on Cooley's window, Cooley had bloodshot eyes and appeared to be agitated. As the officer continued questioning Cooley due to the inconsistency of his story and explanation for why he would be parked on the side of a highway at one in the morning, he noticed Cooley's mood shift to one that indicated he may use force. Noticing firearms within Cooley's reach and accompanied with his erratic behavior, the officer ordered him out of the vehicle. The officer escorted Cooley and his child to the patrol car and began to search the vehicle. Finding a pipe and bags of methamphetamine, the Crow tribal law officer called for federal backup. Cooley was ultimately charged by the United States Attorney in the District of Montana with possession with intent to distribute and possession of a firearm in furtherance of a drug trafficking crime.
Following his charges, Cooley moved to suppress the evidence obtained by the Crow police officer, arguing the officer was acting outside the scope of his jurisdiction as tribal law enforcement when he seized Cooley and searched his car, in violation of the Indian Civil Rights Act. The District Court granted Cooley's motion, finding that tribal law enforcement cannot detain a non-Indian on a state or federal right-of-way unless it is apparent at the time of the detention that the non-Indian has violated state or federal law.
––––––––––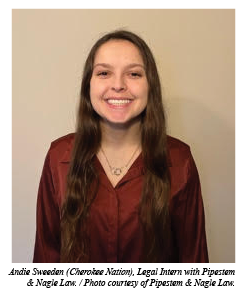 The United States appealed, and on March 21, 2019, the Ninth Circuit Court of Appeals held that the Crow police officer was acting outside the scope of his jurisdiction when he seized Cooley and conducted a reasonable suspicion Terry stop because Cooley was a non-Indian traveling within reservation boundaries. The Ninth Circuit found that Tribal Nations are without the authority to effectuate a reasonable suspicion Terry stop on a non-Indian located on a public right-of-way, within a reservation until or unless tribal law enforcement witness an "obvious" or "apparent" violation of state or federal law.
Fortunately, on November 20, 2020, the United States Supreme Court granted the government's petition for a writ of certiorari and will hear oral arguments for the case in the next term. The Court will consider whether the Ninth Circuit erred in finding that the Crow police officer lacked authority to seize and search Cooley. If upheld, the Ninth Circuit's standard would eliminate the authority of tribal law enforcement to conduct a reasonable suspicion Terry stop on a non-Indian traveling within reservation borders, and replaces that authority with a framework that requires tribal law enforcement to ascertain whether the non-Indian is engaging in conduct that is "apparently" or "obviously" criminal—a standard no state or federal law officer ever has to meet. This ridiculous standard led the NWIRC to file an amicus brief informing the Supreme Court of the errors in the Ninth Circuit's judgment. The brief notes that:
[U]nder this vague and ambiguous "obvious" or "apparent" standard, if a law enforcement officer is patrolling Fort Peck's Reservation—where the Tribe has implemented VAWA's SDVCJ—and he sees a Native woman with severe bruising on her face and extremities, does that make the situation sufficiently "apparent" or "obvious" to detain her non-Indian husband for questioning? Or must the officer wait until the Native woman suffers a more severe injury, such as a stab wound or broken leg, or a homicide, before the commission of the crime becomes sufficiently "obvious" to justify detainment or an investigation?2 
Furthermore, the NIWRC's brief demonstrates the disparate impacts the Ninth Circuit's decision will have on Native women if the decision is allowed to stand.
For example, more than 95 percent of Native American and Alaska Native victims of sexual violence experience violence by a non-Indian perpetrator, while only 21 percent experience violence from a Native partner. The Ninth Circuit's decision requiring law enforcement to determine if a non-Indian's criminal conduct is "apparent" or "obvious" puts Native women in even greater danger.
The NWIRC's brief is joined by 11 VAWA-implementing Tribes and 44 non-profit organizations who are committed to justice and safety for Native women and girls. Comprised of and informed by Native women, these tribal coalitions and victims' rights organizations understand better than anyone what is necessary to protect our Native women and children across the country. No matter how the Supreme Court rules in Cooley, one thing is certain: we will continue to work hard to ensure the safety of Native women for generations to come.
––––––––––
2 NIWRC Amicus Br., 11-12.