Lifting the Voices of MMIW Family Members
Patricia Whitefoot, sister of 29-year-old Daisy Mae Heath (Yakama Nation/Warm Springs Tribe) who went missing in 1987
Shix patchway, inmima tiinma. Inknash wanikshash Twapat, kuu pashtinwitkiy Patricia Whitefoot. Kwalaaninam ashanisha National Indigenous Women's Resource Center. (Good day, my friends and relatives across Indian Country. My Indian name is Twapat, (name of my great-great grandmother) and my English name is Patricia Whitefoot. My heart is happy on this day in fulfilling the vision of the National Indigenous Women's Resource Center in remembrance of our loved ones) I am a life-long resident of White Swan, WA, on the Yakama Indian Reservation in South Central Washington. As citizens of the Yakama Nation, our family has lived and continues our migratory way of life in the vast Columbia River basin of the Northwest. In following the traditional ways of ancestors, we are able to sustain our livelihood, where family roots are deeply embedded.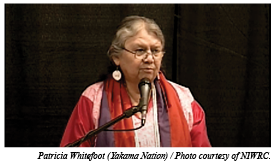 In early fall of 1987, our youngest sister, Daisy Mae Heath, age 29, (Yakama Nation/Warm Springs Tribe) was reported missing. Daisy was the youngest of six sisters, who was raised by our maternal grandparents, along with extended family. As a ranching family raised in Medicine Valley along the Cascade Mountains, we were nurtured in our Indigenous way of life. Daisy Mae and another younger sister, Beverly, who later passed away, lived with me and supported me in rearing my children and also helping with our many nieces and nephews.
As a lively young woman, it wasn't unusual for Daisy to leave for extended periods to spend time with friends or family on the Yakama and the Warm Springs Reservation in Oregon. Daisy would travel to the Columbia River bordering Washington and Oregon to visit and fish with family. Or she would travel to play basketball or softball in the Northwest, where she excelled in sports as an All-Star and MVP player. As an energetic and fiercely determined young woman, Daisy was able to fend for herself, if needed. On October 29, 1987, Daisy Mae was reported missing. She has been missing over 30 years. During this time, there were other women from our rural community of White Swan who were murdered or went missing.
As young children, we were also impacted by historical and intergenerational trauma, grief and loss of loved ones due to war or foster home placement, forced assimilation, bias in schools, and inadequate health care. Our grandmother as a young child had been forced to attend the Ft. Simcoe Military School near White Swan. Similarly, my sisters and I also attended the local Indian Mission boarding school, due to the poor health of our grandparents. In August 1986, our beloved grandmother passed on, and previously Daisy's infant daughter succumbed to Sudden Infant Death Syndrome. Years earlier, our mother passed away when we were children.
As legislation is considered at the state and federal level, it's imperative that our family voices are shared, heard and respected, particularly as it pertains to our families and loved ones who endure this crisis daily for years in silence. As families of missing and murdered women, we simply seek calm and peace, a sense of justice, and healing of our hearts.
Patricia Whitefoot, Sister of Daisy Mae Heath
Listen to Patricia Whitefoot's Women Are Sacred Talk on missing Native women: bit.ly/3a689yp
. . .
Sadie Warbelow, Granddaughter of Nancy Ellen Joe, who was murdered in 1974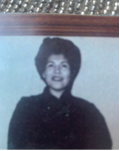 Nancy Ellen Joe
The surface of your pain you have endured is a tale to tell.
The way your face would light up when you talked about what you love.
That is what people will forever remember.
That is the face you show the ones you love.
The pain you'd hide from others is a deep ocean in which not a soul shall know the pain.
Yet you smile as if yesterday's pain is something that is gone.
The days go on, the years, the centuries.
Yet, the generations after you will forever remember your strength.
Your picture bears a smile, which will never fade.
—Sadie Warbelow, Granddaughter of Nancy Ellen Joe
. . .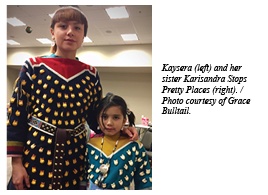 Grace Bulltail, Aunt of 18-year-old Kaysera Stops Pretty Places who went missing and was murdered in August 2019
"She would have been 19 this year, and those responsible for ending her life must be brought to justice. Now eighteen months after her disappearance and murder, my hope and prayer are that our call for justice for Kaysera will shed a light on the injustices that our Native families face not just in Big Horn County, but all across the United States." —Grace Bulltail
. . .
The Guy Family, family of Laverda Sorrell (Diné), who has been missing since July 2002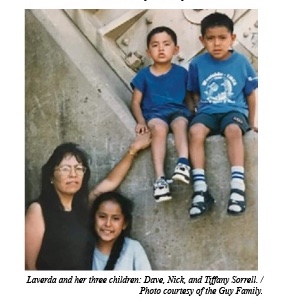 Her smile and laughter
Her kindness and love
Her compassion and strength
are memories that will stay with us forever
Hopefully one day, the grief, the anger
and the "not knowing" will not.
—The Guy Family
. . .
Malinda Limberhand, Mother of 21-year-old Hanna Harris, who was murdered in 2013
I want to thank all of you for honoring missing and murdered Indigenous women. Together we are raising our voices to call for justice for our Native women and girls. We are saying to this state, country, and the world that the lives of Native women and girls are important.
Hanna went missing on July 4, 2013. Like in so many cases of missing Native women, the system was slow to respond. She was just 21 years old. Her future was stolen and her beautiful son denied his mother. We as her family, friends, and community had to conduct the search for Hanna. And this is what happens across Indian tribes when a Native woman or girl goes missing or disappears. This failed response is not acceptable and must change.
This is not a new problem. It is an old problem. Traditionally, Native women were respected. Today, we face levels of violence greater than any other group of women. This violence touches every family. Every tribe has Native women who are missing or have been murdered.
Acceptance of violence against Indian women is not new. It goes back to the Indian wars and the boarding schools when violence was used by the government. It is an old problem that we continue to live with today. Bad people commit these horrible crimes against Native women, but it is the system that allows it to happen generation after generation. This needs to stop. The system must change.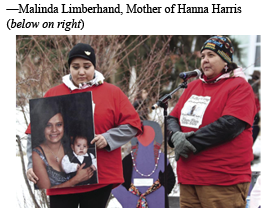 As a mother, nothing will replace the loss of my daughter, but I know that by organizing for the National Day of Awareness, we can create changes that will help others. And Hanna and so many others will not be forgotten.
In 2021, we must continue to organize for the National Day of Awareness for Missing and Murdered Native Women and Girls on May 5, along with this year's week of community actions, to shed light on this horrible reality.
As a mother of a Native woman who became one of the missing and murdered, I am committed to organizing to make these changes happen. I do this for my daughter and all our missing and murdered Native women. Please join or organize and take action as part of the National Day of Awareness. And take pictures and post your actions on social media. Tell the world of these crimes!
—Malinda Limberhand, Mother of Hanna Harris