Advocacy for Sexual Assault Survivors During COVID-19
Nicole Matthews, White Earth Band of Ojibwe, Executive Director, Minnesota Indian Women's Sexual Assault Coalition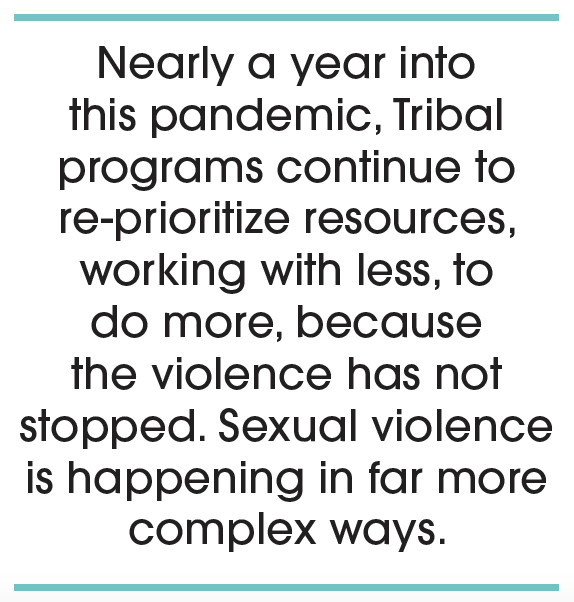 During the COVID-19 pandemic, sexual violence and exploitation continue to rise, behind doors that open less often, and in an online world that has permeated our everyday living more than ever before. Travel limitations, shelter in place orders, and virtual work or learning spaces are not even new to us. Housing and shelter challenges have required newly shared households, yet our time out-of-the-home has nearly disappeared. This can be a risk factor for additional violence. Nearly a year into this pandemic, Tribal programs continue to re-prioritize resources, working with less, to do more, because the violence has not stopped. Sexual violence is happening in far more complex ways, and therefore, as Advocates, we are calling upon our most creative thinking.
The Minnesota Indian Women's Sexual Assault Coalition works with Tribal Advocates in Minnesota and across the country. The stories we hear highlight the complexities that survivors are facing, as well as the Advocates and Programs who support them. As a Tribal Coalition and Technical Assistance provider, we have shifted nearly all services to a virtual environment.
We moved our free, Native Focused, 40-hour Sexual Assault Advocacy Training to a digital platform. Expanding access to this culturally meaningful curriculum has made it accessible to anyone interested in supporting Native survivors. Last October, 339 people registered. Our next offering will begin March 2, 2021. All are welcome! Find out more at www.miwsac.org.
Providing advocacy in a virtual world is difficult enough, but some are the sole Advocate in a large community with an increased need for services, or in a community with limited technological capacity. This has stretched people to their limits. Offering specific time and space set aside for Tribal Advocates to connect virtually through weekly calls at 10 a.m. has provided support for debriefing and creative problem solving when staff is short, on quarantine, or even furloughed.
On the national scale, our work on sex trafficking in both Tribal and Urban Indian communities continues to adapt to the new ways that trafficking is presenting as well as to the barriers that seem endless when connecting with survivors and with community partners.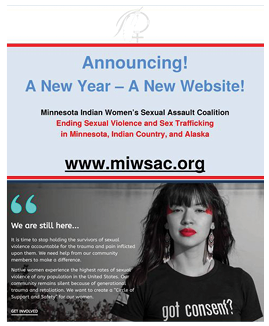 At the intersection of sexual violence and sex trafficking is Missing and Murdered Indigenous Women & Relatives. As Executive Director of MIWSAC, I serve as the Vice Chair of Minnesota's MMIW Task Force. The Task Force report, released in December 2020, includes several mandates to address this important issue. Among these mandates is a call for a State MMIW Office, which the Governor has proposed in his recently released budget. This office would work with state agencies, Tribes, and partners to produce an annual dashboard and ensure that the work of the Task Force continues to move forward. The full Task Force report can be found at: bit.ly/2N8zKG7
Navigating this difficult time requires connection, community, creativity, and collaboration. Thankfully, we are a movement made of creative Advocates who know how to adapt and shift to respond to challenging situations. While we look forward to the day that we will all be together in person, we are grateful for the ways that we have been able to connect and the things that we have learned over this last year.
Pandemics are not new to us. Our resilience and spiritual practices will continue to guide us.