StrongHearts Native Helpline Looks Back at 2020
By CC Hovie, Sault Ste. Marie Tribe of Chippewa Indians, Communications Manager, StrongHearts Native Helpline
StrongHearts Continues to Expand to Meet the Needs of Native Victim-Survivors
Over the past year, the pandemic destabilized the work environment just as StrongHearts Native Helpline advocates began to gear up and increase advocacy. The pandemic created an urgency to meet the needs of Native Americans and Alaska Natives who already suffer the highest rates of domestic, dating and sexual violence in the United States.
"Not only did we meet our goals and deadlines, but we also navigated through the pandemic by transitioning into a fully remote operation," said StrongHearts Director Lori Jump (Sault Ste. Marie Tribe of Chippewa Indians). "The team at StrongHearts demonstrated an unwavering commitment to provide culturally-appropriate advocacy to victim-survivors across the nation."
First Quarter
In February 2020, the first round of new hires brought in eight additional positions when the StrongHearts administrators stepped up advocate training to include and enable online chat advocacy.
Advocates successfully implemented chat advocacy in May of 2020. This new method of contact resulted in increased accessibility for individuals who may be hearing impaired and/or those who are uncomfortable with calling the helpline or unable to vocalize a call for support.
In the first quarter of 2020, when the pandemic was taking hold of the American public, StrongHearts saw a drop in the number of callers. However, StrongHearts' online presence continued to grow, demonstrated by an increase in the number of people navigating the website and social media impressions.
"We suspect that the increased need was still there, but the pandemic created yet another obstacle to safety by requiring victims to shelter-in-place with their abuser," said StrongHearts Communications Manager CC Hovie (Sault Ste. Marie Tribe of Chippewa Indians). "Instead, we've seen a noticeable increase in online activities as Native American victim-survivors continued to seek support."
Second and Third Quarter
During the second and third quarter of 2020, StrongHearts initiated a mass marketing campaign to increase awareness and create a greater presence in Native communities. Meanwhile, the number of contacts continued to grow when administrators again amped up their training modules in August 2020 to include sexual violence advocacy.
Sexual violence advocacy is a component that addresses the horrific rates of sexual violence in Native communities. In fact, Native Americans suffer the highest rates of sexual violence among all ethnicities, genders and age groups.1 Sadly, the vast majority of perpetrators are non-Native, which lends support to the belief that sexual violence is an extension of colonization that began with European contact.
Fourth Quarter
In November of 2020, StrongHearts received its 10,000th call. December saw nine additional staff members that included more advocates and a chief financial officer. These new employees were hired to gear up for around-the-clock hours of operation.
"The most ambitious year to date was navigated without a stumble. We kept up with our benchmarks and met our deadlines," concluded Jump. "We will continue to strive to meet the needs of our people and all who reach out to us for help."
By The Numbers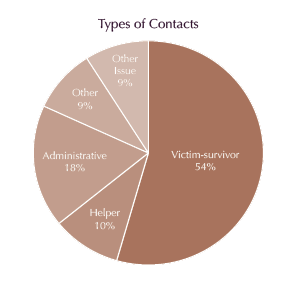 In 2020, StrongHearts advocates answered 3,074 calls and 406 chats. The types of abuse disclosed by Native intimate partner violence (IPV) victims are broken down into six categories and listed in order of prevalence:
87% Emotional Abuse
78% Physical Abuse
31% Financial Abuse
19% Digital Abuse
19% Sexual Abuse
10% Cultural Abuse
Prevalent Issues
Native IPV victims are facing many hardships that further complicate domestic, dating and sexual violence. In order of prevalence, victims identified having the following issues:
54% experience abuse at the hands of a non-Native partner
39% disclosed they or their abusive partner have child dependents
12% of Native victim-survivors have been strangled by their abusive partner
12% disclosed being stalked
11% disclosed experiencing cultural abuse
7% of Native victim-survivors say their abuser has access to a firearm
Disparities in Shelters and Provider Services
The truth is that Native peoples have long been ignored and have suffered unimaginable abuse without remedy. 
The disparities in the number of Native vs. non-Native shelters and service providers demonstrate the shortfall of Native specific resources.
Compared to the 1,544 non-Native shelters2 across the nation, there are only 56 specifically for Native peoples.3 There are 3,643 non-Native service providers across the nation, compared to only 257 that provide services specifically for Native peoples.
While Native peoples suffer some of the highest rates of domestic and sexual violence, the lack of Native-centered resources continues to be a major hurdle. At StrongHearts, we know that finding a culturally-specific resource can be hard, which is why we exist.
2021 New Service Launches
To address inequities and better serve Native Americans and Alaska Natives, StrongHearts continues to expand services. On February 19, 2021, StrongHearts expanded operations by offering advocacy services seven days a week, 24 hours a day. Text advocacy launched on April 1, 2021.
Like online chat advocacy, text advocacy increases accessibility for individuals who may be hearing impaired and those who may be uncomfortable or unable to vocalize a call for support. As the pandemic continues and victim-survivors in abusive relationships are forced to shelter-in-place with their abusive partners, it becomes even more vital to offer multiple communication options so victim-survivors can decide what is a safe and appropriate option for them.
"We are eager to expand our services to reach every Native victim-survivor who needs it," said Jump. "StrongHearts will continue our work until all of our relatives have the resources they need and are safe from violence."
As American Indian and Alaska Native communities continue to navigate the isolating effects of COVID-19, 24/7 expanded operations and text advocacy will allow those experiencing domestic and sexual violence to connect with a highly trained advocate whenever they need free, anonymous and confidential support. Call or text 1-844-762-8483 or for 24/7 one-on-one chat advocacy visit strongheartshelpline.org.
   StrongHearts Has a New Website
Launched on March 12, 2021, the new site is dynamic and engaging and reflects a diverse Native population. With the new design, the end-user experience has been greatly improved and is more secure than ever, in addition to adding more safety features that protect victim-survivors. Visit the new website at strongheartshelpline.org.