Oak Flat | Chi'chil Biłdagoteel
By Zinaida Carroll, IT and Communications Assistant, NIWRC
The Spiritual Connection of Indigenous Women to the Land and its Crucial Role in the Apache's Battle for Sovereignty
"We are sitting on a female mountain."1–Wendsler Nosie Sr., Apache, Leader of Apache Stronghold
"In order to protect our women, we protect Mother Earth because She gives life to us, just as we give life to our children." –Vanessa Nosie, Apache, Leader of Apache Stronghold 
Chi'chil Biłdagoteel is a life-giver. Acorn trees provide sustenance, streams flow through her valleys, and songbirds, fox, deer and other wildlife feast on her abundance. Apaches have lived, worshiped and cared for these lands since time immemorial. Their identity, their sovereignty, is tied to maintaining this connection with Mother Earth, Nahagosan. Chi'chil Biłdagoteel remains a center of identity and culture for many Native Tribes, including the San Carlos Apache, Tonto Apache, White Mountain Apache, Yavapai Apache, Yavapai Prescott Indian Tribe, the Gila River Indian Community, the Saltwater Pima Maricopa Indian Community, Pueblo of Zuni, Hopi Tribe, and more.
It is a place where Ga'an, "messengers," reside to connect the Creator, Usen, with people in the physical world. Only here can prayers reach the Creator directly.2 Because of this sacred connection, Chi'chil Biłdagoteel is the place where many ceremonies must take place, such as the Sunrise Ceremony, Holy Ground ceremonies, and sweat lodge ceremonies. It is also on this land that Apache people gather sacred medicine plants, minerals, and wildlife for these ceremonies. The "sacred spring waters that flow from the earth with healing powers," and many of the plants, cannot be found elsewhere.3
Over a century ago, Apache people were exiled from their ancestral lands within the abundant land of Chi'chil Biłdagoteel––now known as Oak Flat, part of the Tonto National Forest in Arizona––and forcibly held within the boundaries of the San Carlos Reservation.
Since then, the Federal government and private businesses have been attempting to keep the San Carlos Apache from their homeland indefinitely by mining this sacred site. For the past decade, San Carlos Apache advocates, other Native tribes, and non-Indian allies have been protesting the most recent attempt: the construction of a copper mine that would turn Oak Flat into a 1.8- mile wide, 950-foot-deep sinkhole.4
In written testimony to Congress in March of 2020 to call for the protection of Chi'chil Biłdagoteel, Naelyn Pike (Chiricahua Apache) shared the details of her Sunrise Ceremony––her transition into womanhood. In doing so, she called on the world to understand this crucial connection between Indigenous identity and land. In preparation for her ceremony, she gathered acorns and other plants from the sacred land to prepare a meal for her godparents. On the first day, she went to build a wikkiup, where she would stay for several nights, waking up with the sun. She danced with her relatives. She danced to the sun, the Creator. She hit her cane to the ground to awaken the Ga'ans from the mountains, bringing them back to life. She danced with the Ga'ans, tears flowing down her face.5
On the fourth day, Naelyn became "the white-painted woman."6 Her godfather and the Ga'ans painted her face with glesh, white clay from the ground, representing her entrance into a new life. This special clay molded the prayers of the ceremony into her. Her godmother wiped her eyes, and as she opened them, she "looked upon the world not as a little girl, but a changed woman." She cried together with her family. On the final day, her grandmother took her to a stream, where she could rinse away the glesh.
Destroying Oak Flat would be an act of violence against Native women. It would strip young women of their Sunrise Ceremony, the sacred ritual which connects them to the land and helps build their identity as Apache women. As described by Brenda Hill (Siksika), Director of Training & Technical Assistance, NIWRC, "Our people are the land. Our women are the land." Building this mine at Oak Flat would finalize this centuries-long cultural genocide of the Apache people by completely destroying their ancestral lands beyond repair.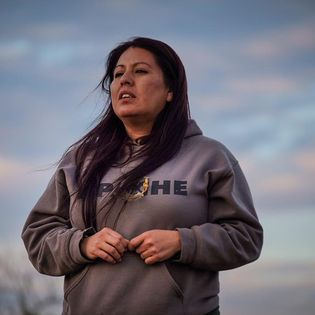 "My family was able to give her that ceremony––to place her roots there and directly tie her to Oak Flat. So as a mother, if it gets destroyed, and we know that that ceremony paves the way of their life for the rest of their life, now my worry is: what's going to happen to my daughter? Because we believe strongly in that ceremony. Will that make her life harder? Will it bring some kind of devastation in her life? [...] When her and her sisters have children, are they going to be able to take their children there and ground them and root them?"
–Vanessa Nosie (Apache), Leader of Apache Stronghold
Apache Stronghold: Protecting Oak Flat Through Spirituality
Naelyn Pike, at age 13, was the youngest person to testify in Congress to defend Oak Flat. She is now 21. Since then, she has continuously testified before Congress, calling upon the world to respect her ancestors and her relatives' connection to Oak Flat and ensure her "culture is protected for [her] children and [her] children's children."7
Through the organization Apache Stronghold, Naelyn joins her grandfather, Wendsler Nosie, former Chairman of the San Carlos Apache Tribe, mother Vanessa Nosie, and other relatives in fighting for Oak Flat. Apache Stronghold is at the center of the fight to protect Oak Flat: through organizing runs and protests, submitting letters to Congress, filing lawsuits, and most importantly, by returning to Chi'chil Biłdagoteel for prayer and ceremony. Apache Stronghold has been advocating for the protection of Oak Flat for over a decade, and for the past seven years they have organized a 45-mile sacred run from Old San Carlos to Oak Flat.
For Naelyn, Wendsler, Vanessa, and the rest of the Apache Stronghold, "It's not a movement, it's a way of life."8 In November 2019, Wendsler Nosie took a sacred run to Oak Flat, and has lived there ever since. He vows not to leave until it is protected.9
When Mr. Nosie moved back to his ancestral lands permanently, he described to his daughter Vanessa that he felt shackled–shackled to unfulfilled treaties and trust responsibilities with the U.S. government. When she left her father at Oak Flat, Vanessa began to feel the shackles herself. She decided then to take on organizing the sacred run to make sure what her father had started did not die.
Before her first run, Vanessa described to her supervisor that she felt like she was in an abusive relationship and she "was waiting for that hour for him to go to sleep" where she could take off and run. In running back along that same route her ancestors walked in exile from Chi'chil Biłdagoteel to Old San Carlos, Vanessa began her process of healing––began to feel the weight of the shackles loosen.
Vanessa believes that in order for true healing to occur, there must be acknowledgment of the deceit of Indigenous people upon which the United States was built. "We are still living it today. Our religion and our identity are still being ripped from us," she said. Apache Stronghold is fighting for this recognition, so that lasting protections will be brought into law to protect Native sovereignty.
Oak Flat's Legal and Legislative Battle
Plans to mine Oak Flat were specifically denied by Eisenhower, and dozens of attempts failed in Congress.10 In 2016, Oak Flat was added to the National Register of historic places. However, in 2014, the late Senator John McCain slipped a section transferring land from the Forest Service to Resolution Copper, a joint venture of foreign mining giants Rio Tinto and BHP, into a must-pass defense spending act.11
Under this resolution, the Forest service gives Resolution Copper over 2,000 acres of Federal land in exchange for more than 5,000 acres currently owned by the company across Arizona. Before this is final, the Forest Service must approve an Environmental Impact Statement. This was set to happen in early March. However, the Federal government rescinded this environmental impact on March 1st, delaying the process for a few months.
In January, before the release of the final environmental impact statement, Apache Stronghold filed a lawsuit and an emergency injunction to block the land swap, citing violations of the 1852 Treaty of Santa Fe and violations of their freedom of religion. The treaty specifically states that the United States government will pass laws governing the Apache territory "conducive to the prosperity and happiness of said Indians."12
Regardless of the trust responsibility of the Federal government to protect Oak Flat laid out in the treaty, U.S. District Judge Steven P. Logan blocked the suit, citing that Apache Stronghold does not constitute a Tribe. He stated that even if the 1852 Treaty did form the trust relationship between the Federal government and the Apache people, the U.S. government still has the power to ultimately decide Indian affairs. In addition, McCain's "midnight-rider" bill purportedly wiped out any legal claim the Apaches had to Oak Flat.13 
Logan also denied the 1st Amendment claim. Using previous court rulings in which claims of violations of Native religious rights were denied, the Federal judge stated that only if the government was withholding benefits to a Tribe—like unemployment—or if they were coerced into violating a religious belief would the federal government be able to step in.14
After the Apache's lawsuit was denied, a non-profit law firm for cases regarding freedom of religion, Becket Law, stepped in to file an appeal with the 9th Circuit of Appeals.15 It is no coincidence that the Federal government rescinded the Final Environmental Impact less than six hours before they were due to respond to this appeal. In doing so, the Federal government effectively avoided having to reckon with this blatant denial of its trust relationship with Indian tribes.
On March 1st, the Appeals court stated that providing an emergency stay on the land swap would be "premature."16 This means Apache Stronghold's case to prevent the destruction of Oak Flat is still up for appeal in the 9th circuit and will proceed on the court's original published schedule.17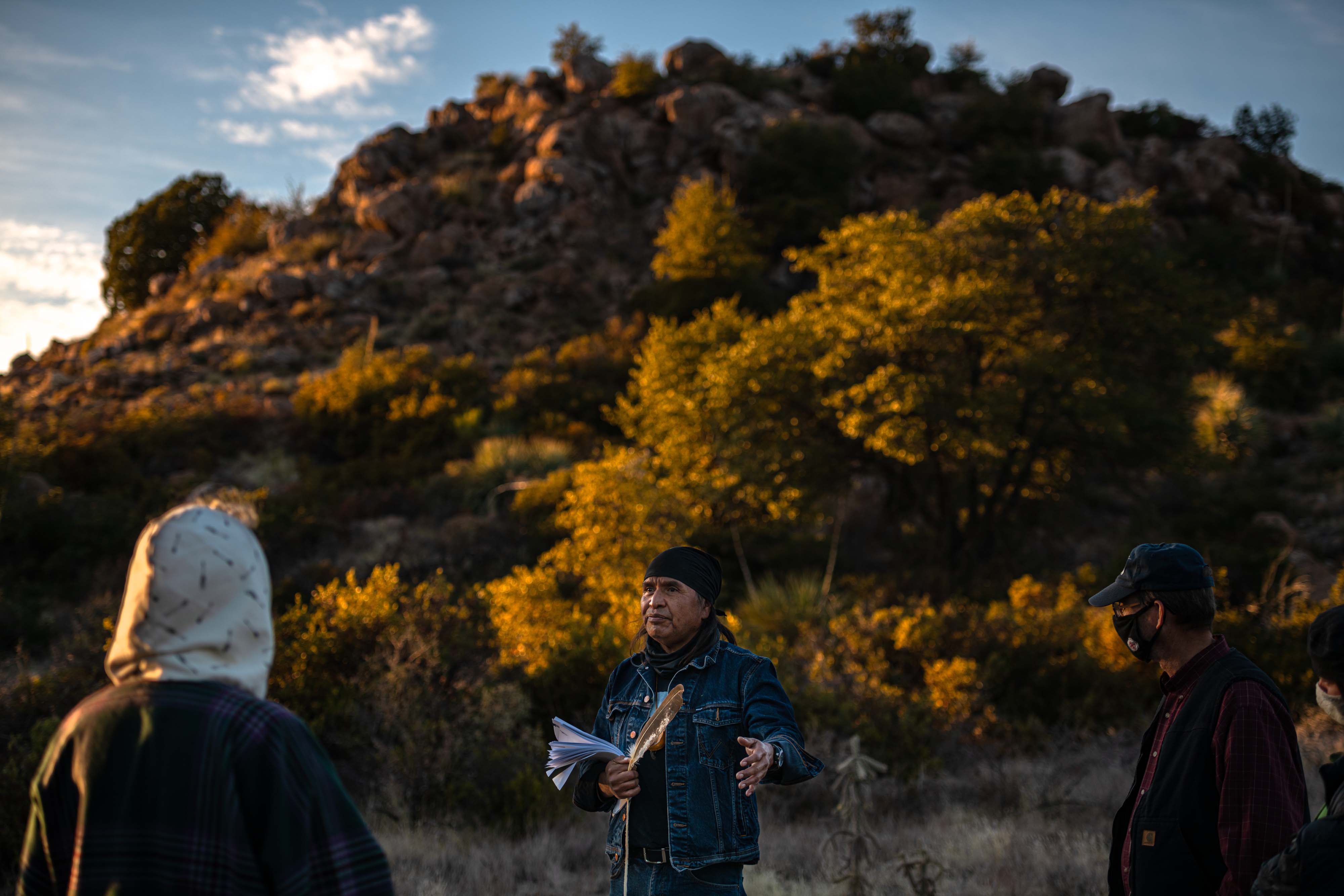 "How will the future Apache girls and boys know what it is to be Apache, to know our home when it is gone?"
–Naelyn Pike, Chiricahua Apache. March 2020, written testimony to Congress
Implications
Wendlser Nosie, in his past two years living at Oak Flat, has already begun to notice devastating changes to the wildlife. The sacred streams where young women traditionally would bathe can no longer be used because the water is contaminated. The oak trees that produce acorns––a process that takes centuries––which provided sustenance for Apache people and are still used in coming of age ceremonies, now look discolored, their branches weak and breaking.18
In May 2020, the same company who is attempting to destroy Oak Flat, Rio Tinto, blew up an Aboriginal sacred site in Australia, Juukan Gorge, prompting the CEO to resign.19 This site originally belonged to the Puutu Kunti Kurrama and Pinikura (PKKP) and was over 46,000 years old––one of the oldest Aboriginal sites left standing in Australia.20
The destruction of this site was a devastating blow to what remained of Aboriginal history and culture in Australia. Rio Tinto has attempted to extinguish some of its fires, by discussions of appointing Indigenous board members, having an Indigenous advisory group, and replacing their CEO. However, Rio Tinto is expected to destroy 124 more Aboriginal sites.21 And, Rio Tinto is still pushing through mining Oak Flat. Their empty promises of 'creating relationships' and 'never again' are not enough.22
The implications of destroying Oak Flat cannot be genuinely understood without looking at the context, history, and relationships of Indigenous people to the land. Similarly, collaborating with a company like Rio Tinto cannot be understood without recognizing their very destructive history and relationship with Native peoples.
In the Apache Stronghold's court case (Apache Stronghold v. United States of America), the District Court of Arizona had the potential to define whether Indigenous sacred sites meet the "substantial burden" requirements of the 1993 Religious Freedom Restoration Act, which Judge Logan denied. Now that the case is up for appeal, the implications of the decision become even greater. The U.S. government could be standing at a crucial turning point in how it chooses to respect Indian Religious Freedoms23 and Indigenous sovereignty.
Since 2009, the National Congress of American Indians (NCAI) has passed seven resolutions in opposition to legislation attempting the transfer of Oak Flat to Resolution Copper. NCAI President, Fawn Sharp (Quinault Nation) made clear the trust responsibility of the U.S. government to respect Apache's calls to protect Oak Flat during her testimony on April 13, 2021 at the House Natural Resources subcommittee's hearing on H.R. 1884, Save Oak Flat.24
In a powerful statement, Sharp responded to a question about whether negotiations about Oak Flat would be possible between the Apache and Resolution Copper: "If we can monetize our spiritual health, if we can monetize that which the Creator gifted to us, if we can monetize our very identity … that would create a path where all Indigenous people risk even surviving another generation."
Lasting Protection for Oak Flat
The government must create lasting protections for this sacred land. They must recognize the consequences of leaving Oak Flat in the hands of Resolution Copper, not only environmentally and spiritually for the Apache people, but also for Indigenous religious freedoms, the federal trust responsibility, and Native sovereignty on a larger scale.
Rep. Raúl M. Grijalva (D–AZ) re-introduced the Save Oak Flat (H.R. 1884) bill into the House of Representatives on March 15, 2021. This bill aims to repeal the section that Senator McCain slipped into the must-pass defense spending act. On March 23, 2021, Senator Bernie Sanders (I–VT) re-introduced the Senate Companion Bill (S.915).
Through Save Oak Flat, Rep. Grijalva and Senator Sanders urge Congress to grant lasting protection of Oak Flat, respect Native sovereignty, and protect Indigenous beliefs the same way it does other religious liberties.
It is crucial we urge our members of Congress to co-sponsor the bill and pass it into law.
The Apache Stronghold marchers who crossed the U.S. from Arizona rally at the The Capitol in Washington, D.C., July 22, 2015. (Photo courtesy of © Robert Meyers/Greenpeace).

Ask your members of Congress to co-sponsor the Save Oak Flat Act: bit.ly/2OSGFnU
Check out Apache Stronghold's website for an updated list of actions to support Oak Flat: bit.ly/3sslxma
---
1 https://bit.ly/3xDmXOv 3xDmXOv
4 https://bit.ly/3nERLdk (p. 13)
6 Ibid.
7 Ibid.
8 Interview with Vanessa Nosie, April 16, 2021.
11 Section 3003 of the Carl Levin and Howard P. "Buck" McKeon National Defense Authorization Act for Fiscal Year 2015 https://bit. ly/3y3gjBh
18 Interview with Vanessa Nosie, April 16, 2021.
---