The Risk Firearms Post to Indigenous Women
By Kelsey Turner, NIWRC Restoration Fellow
VAWA 2021 Firearm Amendements
A bill for the 2021 reauthorization of the 1994 Violence Against Women Act (VAWA) passed the House of Representatives on March 17.
H.R. 1620, also known as the Violence Against Women Reauthorization Act of 2021, contains critical amendments to the current legislation affecting Native peoples. It builds upon VAWA 2013 to further restore jurisdiction to Indian nations to prosecute non-tribal members for sex trafficking, sexual violence, child abuse, elder abuse, assault against law enforcement, and stalking. This would improve accountability for acts of violence perpetrated on tribal lands. The bill also includes additional funding for culturally specific services for communities of color, as well as increased funding to the Rape Prevention & Education Program.1
But now the legislation is struggling to gain bipartisan support in the Senate. To pass the Senate, the bill needs 10 Republican votes in addition to all 50 Democratic votes to reach the 60-vote threshold. But these 10 votes may be hard to achieve, as Senate Republicans are largely opposed to the legislation. A key reason for partisan division on VAWA reauthorization comes down to one key issue––firearms.
Closing the Boyfriend Loophole
H.R. 1620 contains provisions that restrict convicted abusers' access to firearms. VAWA's current definition of intimate partner violence includes current or former spouses, current or former cohabitants, and people who share a child in common. This definition excludes dating partners, meaning that people convicted of abusing, assaulting, or stalking a dating partner are still legally allowed to purchase a gun.2 The 2021 Violence Against Women Reauthorization Act intends to close this "boyfriend loophole" by extending existing gun restrictions to include dating partners convicted of abuse or stalking.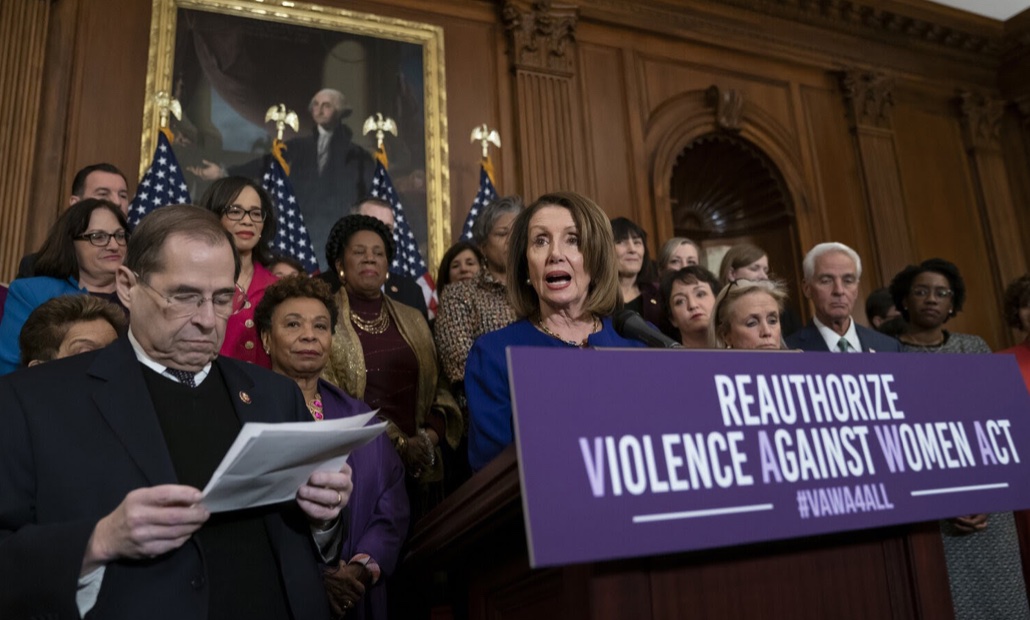 According to the National Coalition Against Domestic Violence, "approximately half of intimate partner homicides are committed against dating partners, and that percentage is expected to rise as relationship patterns change and people cohabit at a later age, marry at a later age, and have children at a later age."3 A reauthorization that closes this loophole is therefore crucial in order to strengthen VAWA and protect victims of dating violence.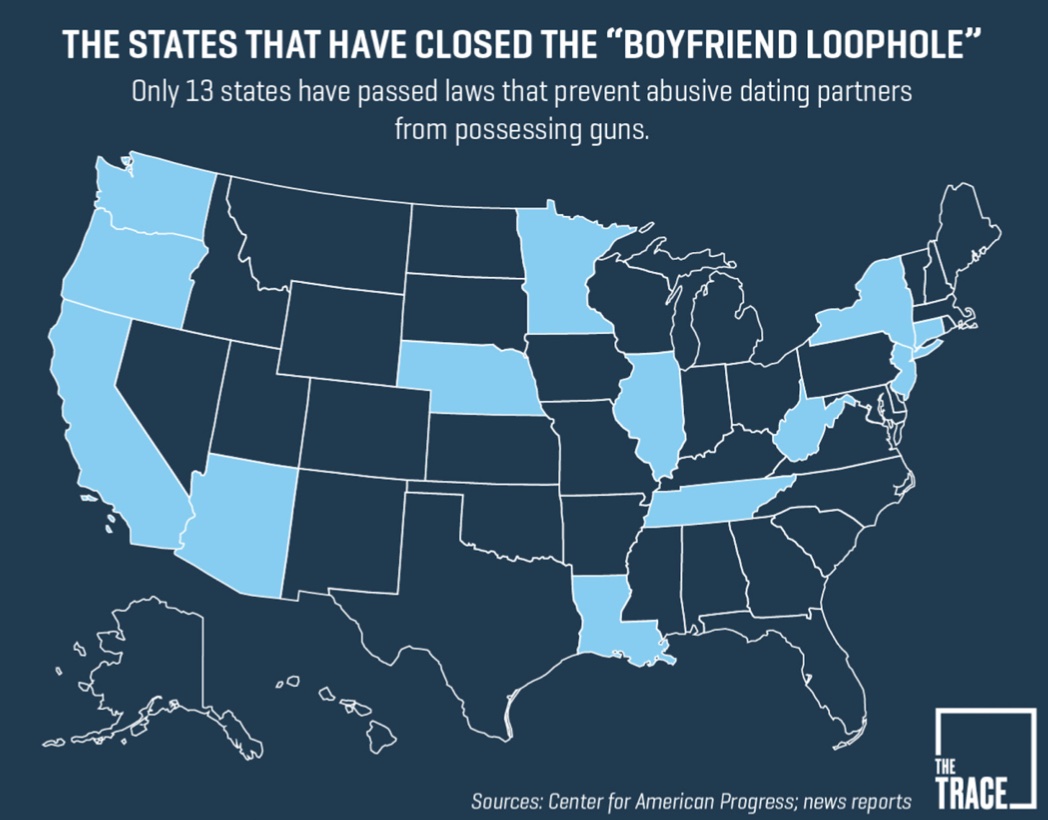 The Deadly Link Between Domestic Violence and Firearms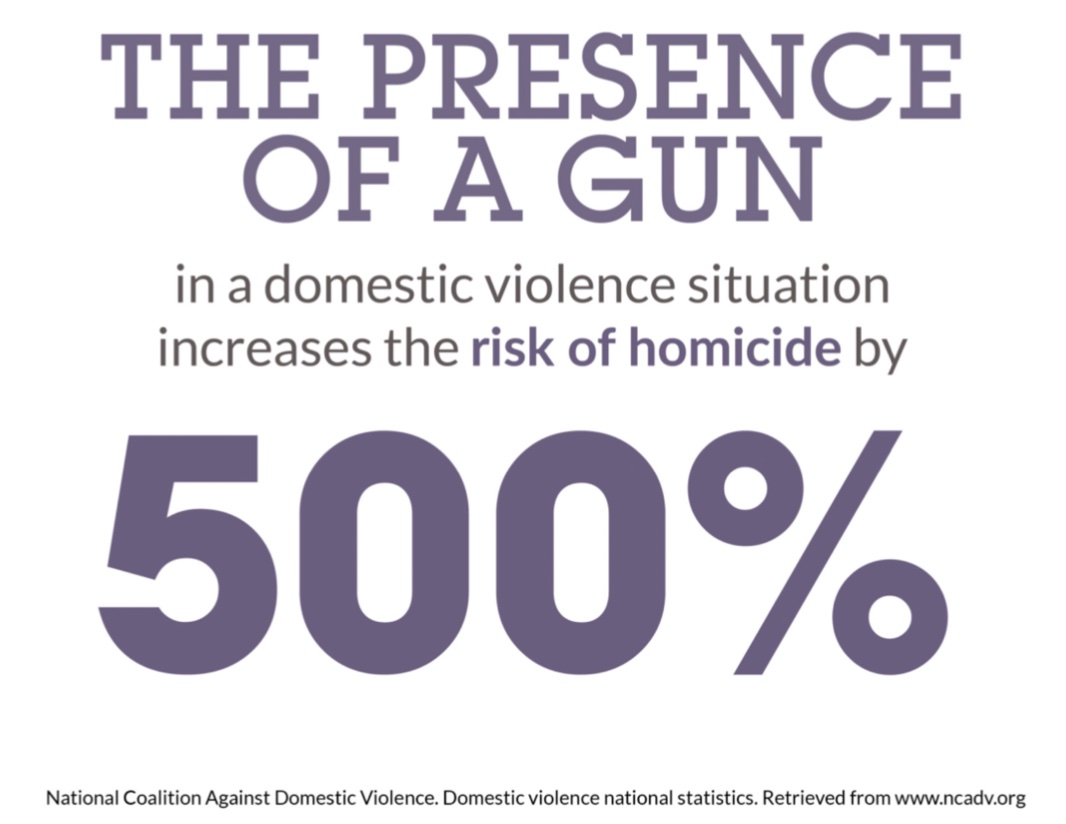 Abusers' access to firearms poses a huge threat to women in situations of domestic violence. About half of all female homicides are committed by intimate partners. Most of these homicides are carried out with a firearm. According to the National Coalition Against Domestic Violence, a male abuser's access to a firearm increases the risk of intimate partner femicide at least five-fold. Domestic violence incidents involving firearms are twelve times more likely to result in death than incidents involving other weapons or bodily force.4
These tragic and needless deaths have only increased during the pandemic, as lockdowns further confined women to their homes and firearm sales reached a record high in 2020. In a recent survey of domestic violence programs, 50% reported that firearm-involved domestic violence had increased in their communities during the pandemic, and one-third reported that intimate partner homicides in their communities had increased.5
As shown by these statistics, the link between firearms and death by intimate partners is undeniable.
The Threat of Firearms to Native Women
Serious gaps in federal domestic violence and gun legislation place Native women at heightened risk of firearm death. A 2017 CDC report found that 55.4% of homicide cases involving American Indians and Alaska Natives were at the hands of an intimate partner. 38.8% of American Indian and Alaska Native women who were murdered by an intimate partner were killed by firearm.6 Native women face continuous challenges in the removal of weapons from abusers, despite these abusers being prohibited by federal law from owning or having a gun.7 This is due in part to tribes' unreliable access to federal criminal databases, such as the National Crime Information Center (NCIC), which store information about individuals who are prohibited from purchasing firearms. "Historically access to this information has been frustrated in tribal communities, which has implications in both tribal and urban settings," reported Caroline LaPorte, former Senior Native Affairs Advisor at the NIWRC, in her 2019 article "MMIW and the Need for Preventative Reform."8
To address tribes' inability to access these databases, the Department of Justice launched the Tribal Access Program (TAP) in 2015. TAP helps protect tribal members by ensuring the exchange of data across national crime information systems to selected federally- recognized tribes. Tribes with access to NCIC through TAP9 have successfully prevented hundreds of instances of unlawful purchase of firearms.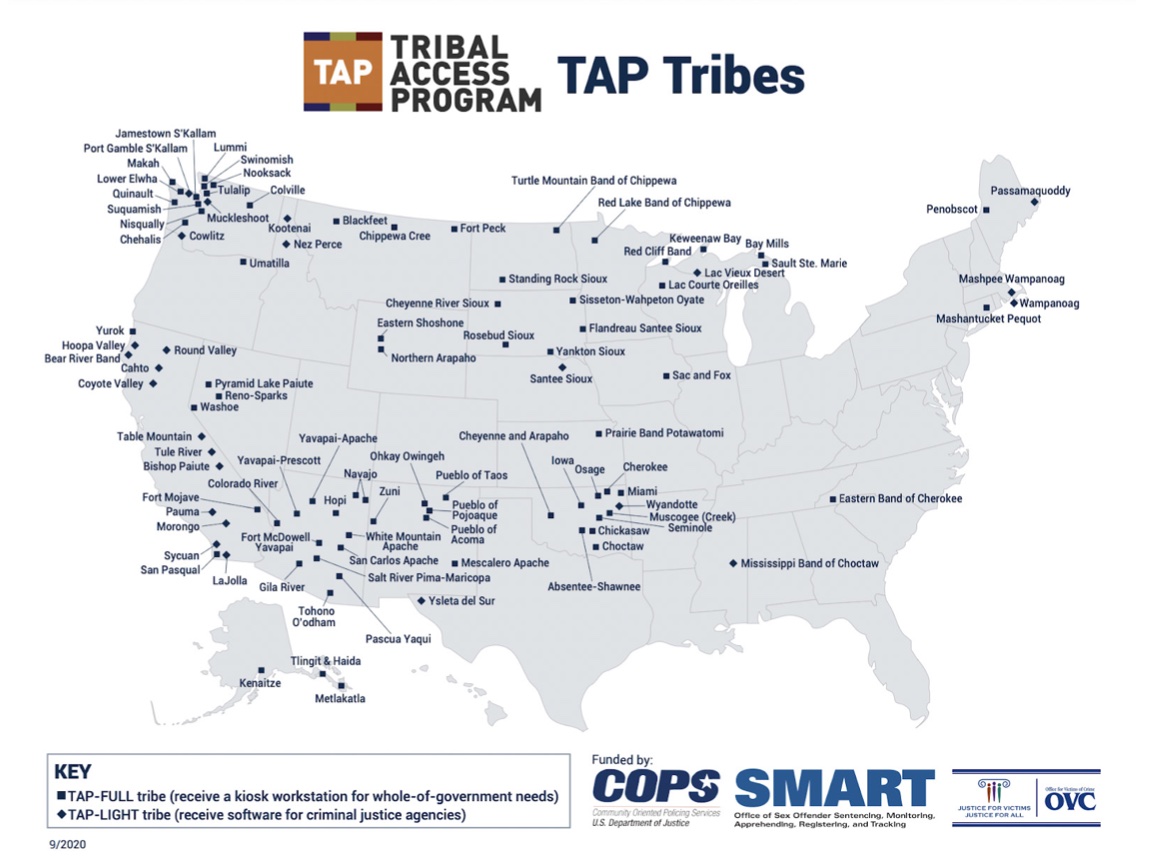 However, LaPorte pointed out that "not all tribes have access to NCIC through TAP and not all orders or convictions are entered in through other means. This is a serious public safety issue."10 Additionally, current VAWA legislation fails to fully recognize the sovereign authority of Indian tribes to convict non-Indians within tribal justice systems. Tribal court convictions only qualify under VAWA if they meet the federal statutory requirements of a "misdemeanor crime of domestic violence" under the Gun Control Act of 1968.11
Because the intersection of tribal-state-federal laws creates everyday challenges for Native women to access the justice system, domestic violence offenders often continue to purchase and possess weapons that threaten the lives of Native women.12
To truly protect Native women from domestic abuse and sexual assault, VAWA must be reauthorized in 2021. Reauthorization must include provisions that restrict abusers from accessing firearms and restore tribal criminal jurisdiction over non-Indians regarding all domestic violence crimes.
Correcting Misconceptions: Second Amendment Rights Are Not At Risk
Because the Violence Against Women Reauthorization Act of 2021 contains provisions restricting abusers' access to firearms, the National Rifle Association (NRA) has come out in opposition to the bill. Consequently, many Republican Congresspeople have claimed that citizens' Second Amendment rights are under attack.
It is in large part due to the NRA's pushback that the previous VAWA reauthorization bill, H.R. 1585, failed to pass the Senate in 2019.13 Two years ago, the NRA wrote a letter to Congress opposing H.R. 1585 for the same firearms provisions that are now under debate in the 2021 reauthorization act.
The notion that VAWA reauthorization contradicts Second Amendment rights, however, is misguided. "The statements in the NRA's letter mischaracterize the law and belittle the safety of survivors of domestic violence, dating violence, and stalking," the National Task Force to End Sexual & Domestic Violence said in response to the letter.14
For example, the NRA stated that H.R. 1585 would require any person convicted of any misdemeanor to permanently lose their right to possess or purchase firearms. This is not true. In reality, federal firearm prohibition is narrowly tailored to apply only to people who have been convicted of specific domestic violence crimes. VAWA reauthorization would simply extend this prohibition to people convicted of dating violence and stalking. Additionally, this prohibition is not permanent––most people can have their records expunged under state law if they have not committed additional crimes of domestic violence in subsequent years.15
Protecting citizens' right to own guns and protecting victims of domestic and sexual violence are two separate issues, and they are not incompatible. For example, Indigenous peoples, particularly in Alaska, rely on hunting rifles for survival. The Alaska Department of Fish and Game website states that "Subsistence hunting occurs throughout Alaska all year long and is central to the customs and traditions of many cultural groups in Alaska. For most rural Alaska Residents, subsistence hunting is critical to their nutrition, food security, and economic stability."16
Access to firearms, therefore, is a crucial part of life in Alaskan communities. But apart from the state's reliance on firearms for hunting, it is important to note that Alaska also has the highest rate of gun deaths in the country.17 In Alaska, 11.9% of gun homicide victims are American Indian/Alaska Natives, compared to 4.1% white victims. Between 2015 and 2019, 16 women were fatally shot by an intimate partner, and 46% of female intimate partner homicide victims were killed with a gun.18
Given Alaska's high rates of gun homicides, reauthorization of VAWA is vitally necessary to better protect Alaska Native women in situations of violence. So long as hunters do not commit acts of domestic violence, their access to hunting rifles is in no way impacted by VAWA's proposed firearms provisions. The purpose of reauthorizing VAWA in 2021 is not to take guns out of the hands of tribal people practicing subsistence activities who need guns for their survival. Rather, it is meant to prevent people with a proven record of abuse from accessing firearms.
Take Action Now
Federal legislation has come a long way in protecting Native women from domestic and sexual violence. But there is still a long way to go. The Violence Against Women Reauthorization Act of 2021, if enacted, would represent a significant advancement by better preventing abusers from threatening and killing their intimate partners with firearms. For many Native women across the country, the passage of this legislation is literally a matter of life or death. You can support reauthorization by educating your Representatives to vote YES on the bipartisan Violence Against Women Reauthorization Act of 2021 (H.R. 1620) introduced in the U.S. House of Representatives on March 8, 2021.
---