A 'Fierce Voice'
Mallory Adamski, Diné, Managing Editor, Restoration Magazine
Interior Secretary Deb Haaland Poised to Lift Indigenous Voices to the Table
Imagine a world where a Native woman who looks like you is named to one of the highest offices in the land. For millions of Native women and girls in the United States, this vision became reality when now-Secretary of the Interior Deb Haaland (Laguna Pueblo) received Senate confirmation for her role on March 15, 2021, by a vote of 51-40. The vote sealed her place in history as the first Indigenous person ever to hold a U.S. Cabinet secretary position. Suddenly, the mountain didn't seem so high, the next step on the ladder that much closer, the once-closed door opened wider for Native women everywhere.
In December 2020, President-elect Joe Biden nominated Rep. Deb Haaland (D-New Mexico) to lead the U.S. Department of the Interior, a direct advisory position to the presidency. The move was met with fierce opposition by pro-fossil fuel Republicans, followed by harsh scrutiny of her past criticism of the GOP for their climate, energy and natural resources views,1 but Haaland handled the furor with grace—a fierce woman to behold.
"Growing up in my mother's Pueblo household made me fierce. I'll be fierce for all of us, our planet, and all of our protected land," Haaland wrote in a tweet in response to Biden's announcement of her nomination. "I am honored and ready to serve."2
Haaland is a member of the Pueblo of Laguna and a 35th generation New Mexican. Her life experiences helped shape her values and political decisions, giving her first-hand knowledge of the types of issues Native people and New Mexicans face in their daily lives. As a single mother, she relied on food stamps at times and struggled with homelessness and food insecurity, struggling to put herself through college and later law school.3 Today, she and her child—both graduates of the University of New Mexico—are still paying off student loans.4
In a press release, the Biden-Harris Transition team said Haaland "is a barrier-breaking public servant who has spent her career fighting for families, including in Tribal Nations, rural communities and communities of color. Currently serving as Vice Chair of the House Committee on Natural Resources, Haaland will be ready on day one to protect our environment and fight for a clean energy future."5
A Return of the Matriarchy
Haaland's identity as a Laguna Pueblo woman is a stark contrast with the Interior's legacy of oppression toward Indigenous people, making her nomination to the highest level of decision-making in the department historic in and of itself. Many tribal leaders, Native organizations, and community members rallied behind Haaland's nomination, hopeful that her confirmation would represent the beginning of a new era in the federal government's historically bureaucratic relationship with tribal nations.
"Native people, advocates, and allies from around the country have been working tirelessly to support and uplift [Haaland] and we couldn't be more proud of her," Crystal Echo Hawk, founder and executive director of IllumiNative, told Al Jazeera in March 2021.6 Echo- Hawk added that Haaland, one of the first Indigenous women elected to the U.S. Congress in 2018, is "a powerhouse and history maker who will fight to ensure Native issues and voices are heard."7
Ahead of Haaland's confirmation, Fawn Sharp (Quinault Nation), National Congress of American Indians President and President and Chief Executive Officer of the Quinault Indian Nation, wrote in an op-ed for Indian Country Today, "After centuries of invisibility, the best and brightest of Indian Country are rising to the highest positions of leadership across the United States government. This moment is long overdue […]."8
Haaland now heads the U.S. Department of the Interior (DOI), established in 1849 and oversees 500 million acres of surface lands along with 1.7 billion acres of U.S. shores. This includes approximately 56 million acres of land held in federal trust for tribes and individuals.9
Most tribal lands are trust land. The Bureau of Indian Affairs (BIA) provides services to 1.9 million American Indian and Alaska Natives of the 574 federally recognized tribes and villages.10 The BIA also has administrative authority over tribal trust lands, which also include national monuments and lands that have been sacred to Indigenous tribes for thousands of years, as well as land in the Arctic National Wildlife Refuge's coastal plain.
Despite what should be a mutual relationship, the DOI-tribal relationship remains largely contentious and highly politicized, given the federal government's historical legacy of attacking and oppressing Indigenous tribes, lands, cultures, and families. With each passing administration, the DOI has been largely complicit in the removal, dislocation, and genocide of Indigenous people and tribal nations. For generations, through the actions of the Interior, the federal government has taken millions of acres of land from tribes and forcefully assimilated thousands of Native children into white culture by way of residential schools.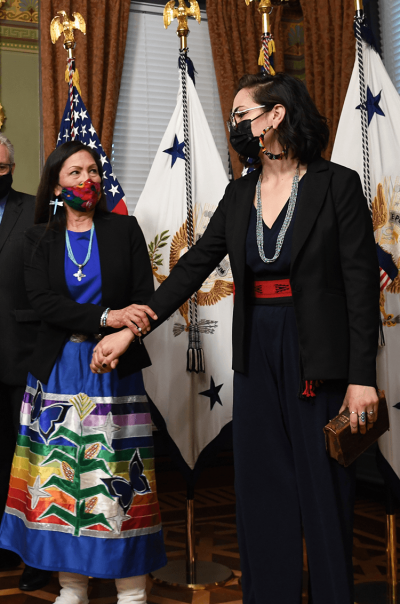 A potential beacon of hope and change, Haaland's new position as Interior Secretary could help lift Native voices to the forefront of the Administration's U.S.- tribal relations. In an interview with Native America Calling, Sault Ste. Marie Tribe of Chippewa Indians Chairman Aaron Payment noted that although the relationship between Native peoples and the Department of the Interior has ebbed and flowed throughout different presidencies, "It has been a paternalistic relationship, make no mistake."
"I think that we're going to move in a new direction that is going to be respectful and to amplify the Native voice so that the relationship between the federal government and tribes is going to be more like the state department and the relations with foreign countries," Payment said. "And I believe, because I know in her heart, I've heard her speak about this, is that she is going to facilitate that different ideology about how we communicate. Decisions should not be made for us; they should be made with us."
Haaland is no stranger to making moves in new directions. Her existence has increased the representation of Indigenous people on the national legislative stage. In 2018, she, along with Rep. Sharice Davids of the Ho-Chunk Nation (D-Kansas) shattered the once-impenetrable glass ceiling for Native women and girls when they were elected as the first two Native American women to serve in Congress.
Although Haaland served in the House of Representatives for only two years, she already had an extensive and historic political career. After serving as New Mexico's Native American vote director in former President Barack Obama's 2012 reelection campaign and as chairwoman of the Democratic Party of New Mexico's Native American Caucus from 2012 to 2013, Haaland became the state chair of the New Mexico Democratic Party in 2015. She was also the first Native person to be elected to lead a party in any senate.
"For the first Native person to be a Native woman to have broken that glass ceiling, to reach that level, is so inspiring because it says to all Native women, our little Indian girls across the country, that they can achieve anything," Sault Tribe Chairman Payment said on Native America Calling. "Debra Haaland is fierce, and she wants us to be fierce. It's so exciting when we think about our nieces and our relatives that we can accomplish anything because of her example."
Spotlighting Missing and Murdered Indigenous Women
"Everyone is in this country deserves to feel safe in their communities, but a long history of violence against native people has led to the disappearance and murder of Native Americans at alarming rates."

—Deb Haaland, October 2020
During her two years in Congress, Haaland focused on environmental justice, climate change, family-friendly policies, as well as tackling the crisis of missing and murdered Indigenous women (MMIW). On September 30, 2020, House Speaker Nancy Pelosi signed Rep Haaland's Not Invisible Act as well as the bipartisan Savanna's Act, both of which aimed to address the MMIW crisis.
"Everyone in this country deserves to feel safe in their communities, but a long history of violence against native people has led to the disappearance and murder of Native Americans at alarming rates," said then-Congresswoman Haaland in a statement published by Indianz.com in October 2020.11 "Today, we celebrate two huge steps to combat the missing and murdered indigenous women's crisis, an effort led by survivors, activists, and Native women across the country. My Not Invisible Act and Representative Norma Torres' Savanna's Act are historic steps that will begin the long road ahead to finally stop our sisters, daughters, neighbors and friends from going missing without a trace."
As expected, Secretary Haaland is already making strides to address the MMIW crisis in her new role, carving out the foundation for a new Missing and Murdered Unit (MMU) within the Interior's Bureau of Indian Affairs Office of Justice Services to help coordinate interagency work and investigations involving missing and murdered American Indian and Alaska Native people.12
According to the Interior, the MMU builds on the existing work of the Operation Lady Justice, a task force formed under the Trump administration in 2019 to pursue unresolved cases.13 The new unit is expected to provide resources and prioritize missing and murdered cases of Indigenous people to hold perpetrators accountable and provide closure for families.
"We are only a few months into the new Administration and already Secretary Deb Haaland is championing the voices of Indigenous families who have long been calling for justice for their missing and murdered relatives," said Rose Quilt (Yakama), Director of Policy and Research for the National Indigenous Women's Resource Center (NIWRC). "We will continue to advocate to our federal partners to commit to centering Indigenous voices on tribal issues like MMIW and sovereignty as Haaland has done. She is setting the stage for change for the U.S.- tribal relationship, and no one should be leading that conversation more than a Native woman."
Protecting Our Earth Mother
The Interior Department also has oversight over the United States' natural resources, national parks, endangered species habitats, and several oil and gas drilling sites—all of which are increasingly becoming key factors in the world's fight to combat climate change. Rather than continuing the Interior's long-time support for fossil fuel development, Haaland is expected to use her position to transform the department into a promoter of renewable energy and policies to mitigate climate change.
Haaland has highlighted climate change as a challenge that she will work to address as Interior Secretary and has shown dedication to this issue throughout her political career. In 2016 as New Mexico's State Party Chair, Haaland traveled to Standing Rock to stand in solidarity with the Native community against the Dakota Access Pipeline to protect tribal sovereignty and the environment. 
"Tribal consultation is the cornerstone of building trust and honoring our government-to-government relationship," said Haaland at Standing Rock in 2016. "It's imperative that our tribes have a seat at the table, and that their voice is respected. The resolution to this issue must be found peacefully to protect the cultural and natural resources of the Standing Rock Sioux tribe."14
Environmental justice is crucial in addressing the disproportionate impacts of climate change on low-income and minority communities, who often bear the brunt of environmental harms such as contaminated air and drinking water. Each passing year, Native communities endure increasingly unprecedented climate change-fueled wildfires, particularly across the western U.S.
Transforming the Interior in a new direction will not be an easy task—especially given the former Trump administration's directive to the Interior to rush the approval of oil and gas leases in the Arctic National Wildlife Refuge, home to caribou that local tribes hunt for food. Federal leases granted by one presidential administration are notoriously difficult for later administrations to break.
In response to Haaland's confirmation as Interior Secretary, the New Mexico Oil and Gas Association, a coalition of more than 1,000 oil and natural gas companies and individuals operating in the state of New Mexico, issued a statement reminding her of the contributions made by oil and gas leasing to the state's annual budget.
"Oil and gas development is critical to our state, and federal leasing alone provides New Mexico's budget with $1.5 billion annually—funds our public schools and healthcare will continue to depend upon for the foreseeable future," the statement read.15 "We are eager to do our part to proactively combat climate change and ensure our state and nation continues to be a leader in the safe, responsible production of oil and natural gas."
Haaland is poised to take the climate crisis head on, though is committed to "strike the right balance" as the Interior manages energy development and seeks to restore and protect the nation's sprawling federal lands.16 Throughout her career, she has pledged to counteract climate change, keep fossil fuels in the ground, and to fight for clean energy.17
"Indigenous rights and the fight for climate justice cannot be separated, and I will fight for tribal nations across the country who are battling the fossil fuel industry in their backyards," she wrote during her campaign for Congress.18
As part of the Biden Administration's Climate team, Haaland issued two Secretarial Orders in April to establish a climate task force within the Interior and to restore transparency and accountability within the department's decision-making process. According to a statement by the Interior, Haaland's second order revokes a series of Secretarial Orders issued in recent years "that tilted the balance of public land and ocean management without regard for climate change, equity, or community engagement."19
Upholding Indigenous Women's Leadership
As an Indigenous woman-led organization, the staff of the National Indigenous Women's Resource Center honors Deb Haaland, her achievements, and her voice in support of tribal sovereignty and to address climate change and the MMIW crisis.
While her confirmation as Interior Secretary symbolizes a significant milestone in the historic relationship between tribal nations and the federal government, we must remember that one person alone cannot change the fate or culture of a nation.
Collectively, we must stand with Deb Haaland in her efforts to protect Indigenous communities, tribal sovereignty, and our Earth Mother. These issues are organically intertwined and understanding the connection between these issues is the foundation of the movement for the safety of Native women.
"Deb Haaland's difficult journey and the strength she has shown throughout it all is inspirational to Indigenous women around the world," said Lucy Simpson, NIWRC Executive Director and a citizen of the Navajo Nation. "Native women can lead, and Haaland's role within the Interior Department represents what it looks like to uphold the courage, bravery and knowledge of Indigenous women–a return to our Indigenous tradition of valuing women as sacred."