A Retrospective On Stronghearts Native Helpline
Ericca "CC" Hovie (Sault Ste. Marie Chippewa), StrongHearts Communications Manager
The story of StrongHearts Native Helpline began in 2012 when the National Indigenous Women's Resource Center and the National Domestic Violence Hotline began discussing the need for a domestic violence hotline to support Tribal communities across the United States.
 
With input from Tribal leaders, a Native women's council, domestic violence experts, and the Family Violence Prevention and Services Program, the two organizations began laying the groundwork to develop a Native-centered hotline staffed by advocates with a strong understanding of Native cultures, as well as issues of Tribal sovereignty and law.
 
Their vision became a reality in March 2017 when the NIWRC established StrongHearts Native Helpline in Austin, Texas. The city of Austin is home to the National Domestic Violence Hotline, which provided infrastructure and technology to support its early development. StrongHearts is made possible with support from the Administration on Children, Youth and Families, Family and Youth Services Bureau, U.S. Department of Health and Human Services, and Verizon.
StrongHearts, which is available nationwide, is a culturally-appropriate, anonymous, confidential service dedicated to serving Native American survivors of domestic violence and concerned family members and friends. By dialing 1-844-7NATIVE (1-844-762-8483) daily from 7 a.m. to 10 p.m. CST, callers can connect at no cost one-on-one with knowledgeable Native advocates who can provide lifesaving tools and immediate support to enable survivors to find safety and live lives free of abuse.
 
As a program of NIWRC, StrongHearts Native Helpline receives ongoing advocacy training, financial oversight, as well as technical support and mentorship in the areas of technology, communications, and policy development from NIWRC.
"When victims can't access services, more specifically, services that understand their unique worldview and culture, it leaves little room for healing and restoration," said StrongHearts Director Lori Jump (Sault Ste. Marie Tribe of Chippewa Indians). "Our people are strong and resilient, but it is crucial that we create spaces where survivors of violence feel safe and empowered to make the best decisions for themselves and their families along their healing journey, wherever it leads. We are here for our relatives. No one should have to face violence alone."
 
1,000 Call Milestone
In October 2018, in time for Domestic Violence Awareness Month, StrongHearts Native Helpline announced that they received their one-thousandth call. It was a key milestone in the work to support those facing intimate partner violence, though StrongHearts recognized these calls were only beginning to scratch the surface of violence in Tribal communities.  
 
"Every call speaks to the bravery of our people in breaking the silence of violence in our homes, families, and communities," said Elizabeth Carr (Sault Ste. Marie Tribe of Chippewa Indians), NIWRC-StrongHearts Senior Native Affairs Advisor.
 
"Because more than four in five Native Americans experience violence in their lifetime, there is a clear need for a national, confidential, and tailored resource like StrongHearts to support Native victims," added Carr. "However, we cannot do this work without the help of our relatives. Every call to StrongHearts speaks to the need for more resources for Tribally-run services for victims in Indian Country and Alaska Native communities."
 
In 2016, the National Institute of Justice released a study indicating more than 1 in 3 American Indian and Alaska Native women and men had experienced violence within the past year. Of those who had experienced violence, a third of Native women and 1 in 6 Native men were unable to access the supportive services they needed.
 
StrongHearts advocates take calls from victims, survivors, family members, friends, service providers, youth, and elders—anyone who is impacted by violence and needs help. Domestic violence affects everyone in the community and each generation.
 
"We encourage anyone who needs to talk to reach out to us," Carr said. Every story matters."
StrongHearts Selects Minneapolis-St. Paul Metro Region as New Home
In November 2018, StrongHearts Native Helpline moved from Austin, Texas, to its permanent home in Eagan, Minnesota, a city in the Minneapolis–Saint Paul metro area.
 
"We are proud to call Minnesota StrongHearts' home because of its rich Native history, Native population, and its status as a hub for Native-led organizations," Jump said.
 
Organizations in Minnesota are also known for being very proactive and progressive in the work that is being done around domestic violence, which goes hand-in-hand with basing StrongHearts' operations in a supportive environment with a built-in network that fits StrongHearts' mission and goals.
 
StrongHearts Expanded Hours of Operation
On its second-year anniversary in March 2019, StrongHearts Native Helpline announced the expansion of its hours of operation, which increased from 9 a.m. to 5 p.m. CST, Monday through Friday, to 7 a.m. to 10 p.m. CST, seven days a week. The expansion allowed StrongHearts to serve more of those impacted by domestic violence and dating violence in Tribal communities across the U.S.

 "After hearing from so many tribes and advocates about their community needs, we were pleased to expand our operating hours to better serve Native survivors and their families," Carr said. "Domestic violence impacts our relatives every hour of every day, so it's critical for us to be available as much as possible.
 
Over 2,500 Calls Received
In March 2019, StrongHearts reached a second milestone of receiving more than 2,500 calls since its opening, from victims, survivors, concerned family members and friends, service providers, and more, helping to close a gap in culturally-appropriate resources for those facing abuse.
 
Expansion of Services in 2020, More Than $2.7 Million in Federal Grants
In October 2019, within three years of launching its collaborative program, the National Indigenous Women's Resource Center (NIWRC) announced that it received two new grants from the Office of Victims of Crime under the United States Department of Justice. The combined total of $2,768,168 earmarked for StrongHearts Native Helpline will enhance services over the next three years.
 
This new funding will extend StrongHearts operating hours to 24 hours a day, develop advocacy training and services to assist survivors of sexual violence, and implement digital chat services to increase accessibility and address caller safety.
 
"We know in remote areas, some victims may not have phone service or may fear their abusive partner overhearing them in an attempt to call, so providing a digital chat service option is crucial for increasing access for everyone in our communities," Jump said.
The awards were provided by the Office of Victims of Crime Advancing the Use of Technology to Assist Victims of Crime solicitation and the Field-Generated Program to Improve Services for Victims of Crime.
 
"Since the very beginning, StrongHearts staff listened to the critical needs of Native communities across the country and identified the need for 24-7 operations," said Lucy Simpson, Executive Director of NIWRC, which will continue to oversee the StrongHearts program. "Now, with these two awards, we will realize the collective vision of having a dedicated Native helpline to serve survivors of violence in a culturally-rooted way at all hours of the day and night."
 
StrongHearts Marks Three Years of Service and More Than 7,000 Calls Received
In March 2020, StrongHearts Native Helpline marked its third year of operation by providing a safe, anonymous, and confidential helpline for American Indians and Alaska Natives affected by domestic violence. Over 7,715 callers have reached out to StrongHearts in its three years of operation.

According to StrongHearts' data, the severity of victims' experiences is telling. More than 7 out of 10 callers experiencing abuse reported experiencing more than one type of abuse (75.4 percent), including physical abuse, emotional abuse, sexual abuse, financial abuse, digital abuse, cultural abuse, and other complex situations. Over a third of victim-survivor callers reported a child being involved in their situation (41 percent). The top service referral requested by victim-survivors were shelters and legal advocacy.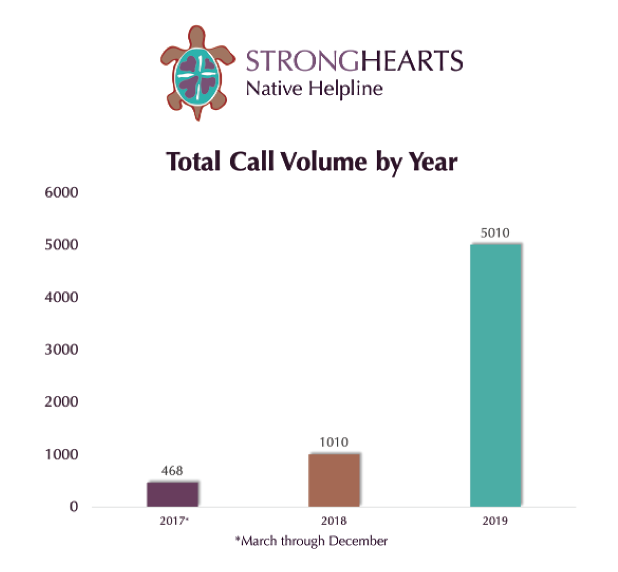 On the Horizon
"We've come a long way since the start, but we still have a long way to go," Jump said. "We were tasked with developing a helpline that would meet the unique needs of Native populations and recognized cultural sensitivity was a key component to building trust within Native communities."
 
American Indians and Alaska Natives face many barriers to safety and justice, including geographical isolation and distrust of law enforcement. A complicated judicial system with cross-jurisdictional issues is another barrier to seeking help and/or reporting when a crime has occurred.
 
"We are taking calls, sharing resources, and providing access to services that promote healing," Jump concluded. "We continue to grow and look forward to meeting the needs of Native Americans and Alaska Natives in the years ahead."
 
StrongHearts recently launched online chat advocacy. Sexual violence advocacy and 24-7 operating hours launch dates will be announced soon. Check the website at strongheartshelpline.org or follow StrongHearts Native Helpline on Facebook, Twitter, and Instagram for the most current information.