MMIWG | National Day of Awareness Building a Resistance Movement to Normalization of Violence Against Native Women
Jacqueline Agtuca
Government inaction is the fuel beneath the surface of the crisis of missing and murdered Indigenous women and girls (MMIWG). The jurisdictional barriers provide a revolving door for abusers and predators to swing into and exit Tribal communities with impunity. To shift the gears from 'inaction' to 'action' requires governmental accountability. Social tolerance further fuels violence against Native women, their disappearances, and murders. As many community members say of domestic violence, rape, and abuse: 'I thought it was normal.'
The coronavirus (COVID-19) pandemic has, in a large way, paused efforts on national issues of grave concern, including advocacy for MMIWG. In light of the social restrictions, we were asked as a movement: how do we continue to impact the government to improve their response to the crisis of missing and murdered Native women and girls? Silence is not an option, while in-person gatherings and events, where direct, close, physical contact is expected, still remains a risk.
Amid a chaotic government response, this year's May 5th National Day of Awareness occurred during a time of social restrictions, shelter-in-place orders, and curfews, all while thousands were diagnosed with the virus and have ultimately succumbed to the disease.
"With the health and well-being of our community members in mind, particularly our elders and relatives at high risk of complications of the disease, NIWRC adjusted its organizing for the 2020 National Day of Awareness for Missing and Murdered Native Women and Girls to a virtual organizing campaign," said Lucy Simpson, Executive Director of the National Indigenous Women's Resource Center. "The new normal requires us to use our collective creativity to do things differently, to create a  plan, and politically impact the federal MMIWG response."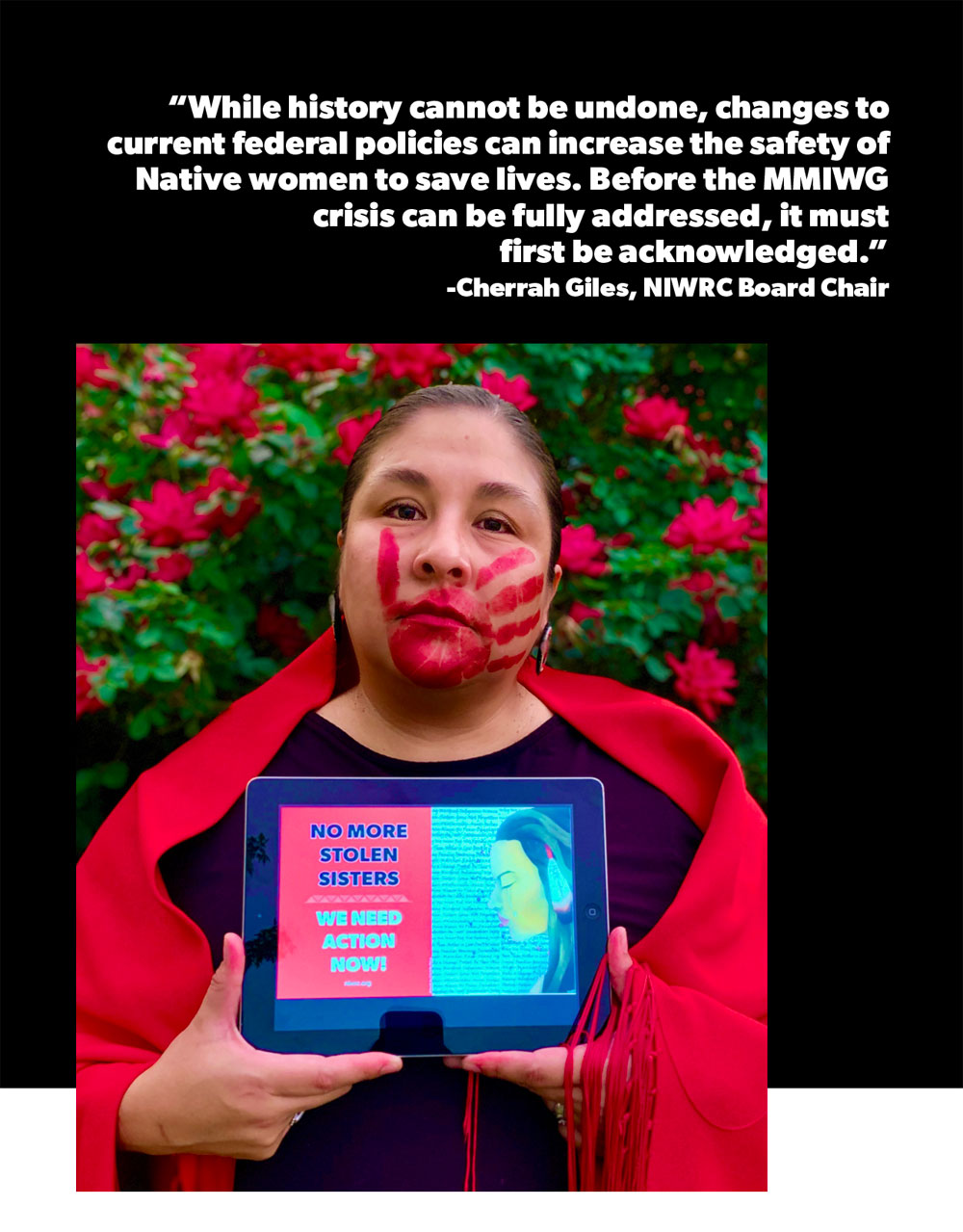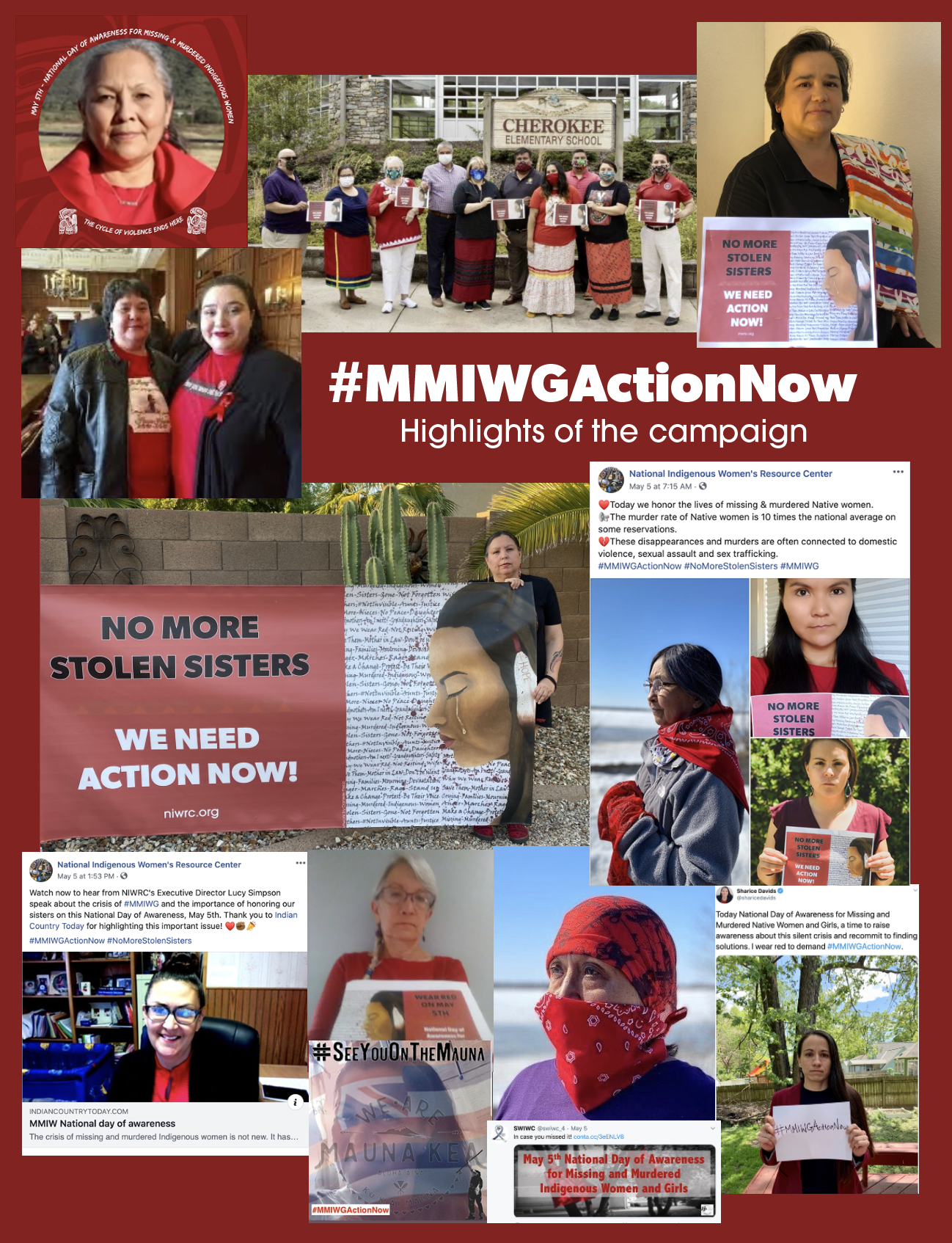 2020 National Day of Awareness ActionsThe COVID-19 pandemic has undoubtedly amplified existing inequalities confronting Indian tribes and Native women, layers of inequality caused grave concern for those struggling to find safety from abuse. For many, the health crisis highlighted the importance of rallying together as a movement to honor MMIWG and demand justice. While large in-person community actions could not happen, organizing focused on actions via the Internet.
NIWRC spearheaded May 5th actions strategically with its sister organizations to honor and focus national and international attention on the MMIWG crisis through the #MMIWGActionNow campaign. These online efforts, which included a National Day of Action webinar, media outreach, and social media activities, provided access for people compelled by the MMIWG crisis to participate and take political action to call for safety and justice for Native women.
"I want to thank all of you for joining the webinar to honor MMIWG," said Malinda Limberhand, mother of Hanna Harris who was murdered in July 2013. "Each one of you, by joining, is taking action to say enough is enough. Together we are raising our voices calling for justice for our Native women and girls. We are saying to the world that the lives of Native women and girls are important, and the crisis of MMIW must be a priority."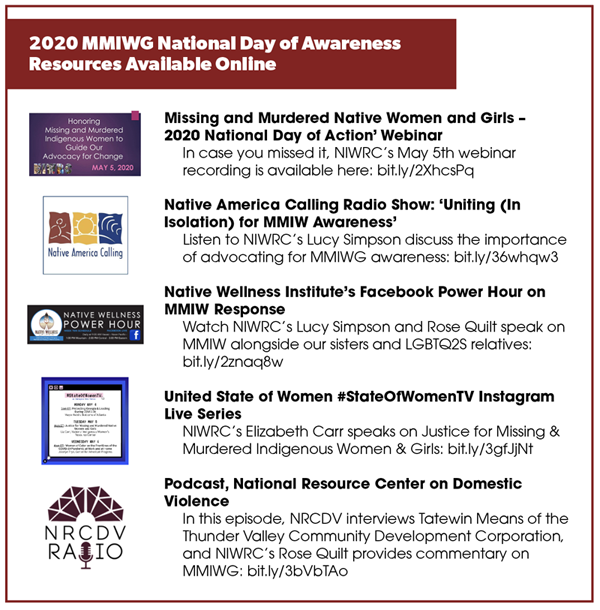 On May 5th, NIWRC facilitated two Twitter events, including a Twitter Storm and Twitter Chat, to promote broad awareness of MMIWG and honor our lost relatives by advocating for justice. The response to the overall 2020 #MMIWGActionNow campaign significantly increased over the 2018 and 2019 campaigns, respectively.
"Nearly 1,000 people registered for the National Day of Awareness webinar to listen to the families who have been impacted by this crisis and hear from our sister organizations advocating for justice for Native women and girls," said Mallory Adamski, NIWRC Director of Communications and Advancement and Managing Editor of Restoration. "Collectively, the #MMIWGActionNow campaign reached more than 24 million people around the world, not mention thousands of people who learned of the campaign with the help of our Native media allies who continue to shed light on this issue alongside us. What we witnessed this year was our communities and allies really coming together to advocate for justice for MMIWG. This is a huge surge of momentum that we can really build on going forward."
---
Missing and Murdered Native Women and Girls – 2020 National Day of Action' Webinar
Native America Calling Radio Show: 'Uniting (In Isolation) for MMIW Awareness'
Native Wellness Institute's Facebook Power Hour on MMIW Response
United State of Women #StateOfWomenTV Instagram Live Series
Podcast, National Resource Center on Domestic Violence