Call To Action: Declare October 1st as Tillie Black Bear Women Are Sacred Day
Jacqueline Agtuca
Tillie Black Bear (Sicangu Lakota), Wa Wokiye Win (Woman Who Helps Everyone) gave hope and healing to generations of Native Americans and the national movement for the safety of women. Tillie inspired thousands from all walks of life to end domestic violence and sexual violence. We celebrate her life with the Tillie Black Bear Women Are Sacred Day to honor her life's work. In 1978, Tillie was the first Native woman to organize at the national level to educate Congress on domestic violence and the federal trust responsibility to assist Indian tribes in protecting tribal women.
"In the early years, women opened their homes to other women in need and the children that came with their mothers. In the 1970s, we did this as women helping other women, sisters helping sisters. Since that time, our movement has grown to open the eyes of this country and the world to better understand violence against women. Our role has and will continue to be to connect the violence beyond individual acts to the oppression that gives rise to the violence. As Native women this violence is linked to the colonization by the United States of our nations, lands, and peoples. As women of the movement we play many roles. One is to understand and reform those laws, policies, lack of resources, and so much more that continues to separate us as Native women. Another is to restore the sovereignty and protections that are original to our Indian tribes. Looking back over three decades, having spent most of my life as a woman in our resistance movement, I am so proud of our women who went beyond the shelter doors. I am so proud of our movement for safety and sovereignty. As tribal women, as indigenous women, we are helping to create a safer, more humane world."—Tillie Black Bear, Sicangu Lakota, Rosebud Sioux Tribe, 1946–2014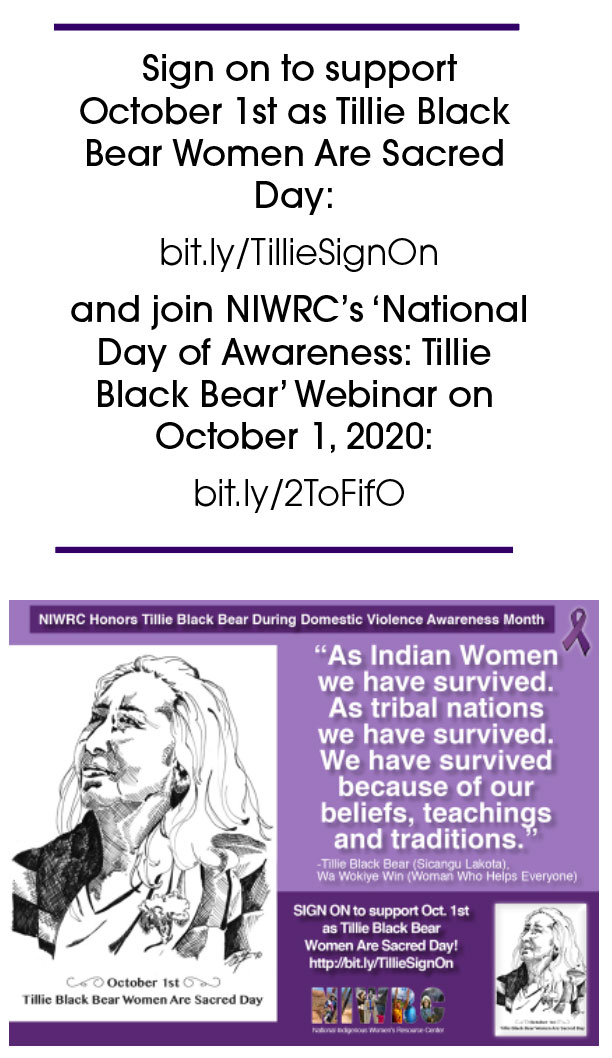 The Tillie Black Bear Women Are Sacred Day on October 1st will kick off October as Domestic Violence Awareness Month. Tillie Black Bear was a founding mother of the National Coalition Against Domestic Violence and led in the national and Tribal organizing efforts to establish DVAM. Tillie was the recipient of an award from the U.S. Department of Justice for her work with victims of crime in 1988, and in 1989 received a Points of Light Award from President Bush. At the 2000 Next Millennium Conference on Domestic Violence in Chicago, she was recognized as one of the ten founders of the domestic violence movement in the United States. In 2000, President Clinton awarded Tillie with an Eleanor Roosevelt Human Rights Award. In May of 2003, she received the first annual Lifetime Achievement Award from Lifetime Television. Women's E-News in 2004 selected Tillie as one of the "21 Leaders for the 21st Century" award. In addition, in 2005 she received a Women of Courage Award from NOW.
Tillie stressed the importance of utilizing Tribal cultures and traditions to address violence in our communities. As relatives respect is a foundation for our relationships and treating each other in a good way. "Even in thought, women are to be respected. We teach this to our children. We teach it to our grandchildren. We teach it to our kids so that the generations to come will know what is expected of them. Those generations to come will also know how to treat each other as relatives."—Tillie Black Bear.
"Tillie leaves a strong legacy of Tribal grassroots organizing," said Lucy Simpson, Executive Director for NIWRC. "Tillie is a founding mother of NIWRC, and we are honored to continue her legacy of movement building."
As we pause to honor and reflect on Tillie's life, NIWRC asks all advocates and activists to commit to an action to celebrate Tillie's life and the beginning of the national battered women's movement. Join us by declaring October 1st as the National Tillie Black Bear Women Are Sacred Day.
---
Sign on to support October 1st as Tillie Black Bear Women Are Sacred Day
Join NIWRC's 'National Day of Awareness: Tillie Black Bear' Webinar on October 1, 2020