Going Virtual: Adapting Advocacy Amid COVID-19
Mallory Adamski (Diné)
The ongoing coronavirus (COVID-19) pandemic undoubtedly has had a disproportionate impact on Indian Country. Overnight it seemed Tribes were left reeling from the first wave of cases, quickly overwhelming the Navajo Nation, then the Ho-Chunk Nation, Mississippi Band of Choctaw Indians, the Pueblo of San Felipe and the Pueblo of Zia. Several tribes declared states of emergency throughout March and April, pointing to the lack of personal protection equipment (PPE), health care providers to treat patients and critical resources to address the crisis.
As a way to mitigate the virus' spread, Tribal leaders had to determine which staff to keep as 'essential workers.' In some regions, these staffing cuts left a patchwork of Tribal advocates, victim service providers and shelters to respond to survivors, who now faced an escalated risk of violence due to self-isolation and stay-at-home orders; in other communities, Tribal programs transitioned advocacy staff to tele-work to comply with social distancing recommendations while navigating significant challenges.
"Our findings currently reveal that some Tribal advocates are deemed 'essential workers' and continue to provide advocacy either in-person or by telecommuting, but many programs have reduced hours or shifts as a result of pandemic," said Rose Quilt (Confederated Tribes and Bands of the Yakama Nation/Lummi Nation), Director of Research and Policy for the National Indigenous Women's Resource Center. "Several Tribal programs met challenges such as the lack of internet accessibility for tele-work, childcare due to school closures, or other issues. Being equipped with personal protection equipment (PPE) and sanitation supplies also varies across programs and shelters, leaving many staff and survivors feeling worried about COVID-19. These concerns have left advocates with no alternative but to make their own masks for themselves and survivors."

Listening to the Voices of Tribal Advocates
In April, Quilt and the NIWRC policy team facilitated a series of Conversations with the Field, which focused on the impact of COVID-19 on Tribal programs and advocates. She noted that as a result of the confusion around the pandemic and local vs. national health policies, Tribes and Tribal programs are scrambling to provide services.
"It's a time of deep concern and uncertainty," Quilt said. "The stay-at-home orders and border closures on reservations, coupled with the limited number of available shelters to refer a survivor to, add a strain on the already severely underfunded programs and shelters in Tribal communities. These disparities magnify the failure of the federal government to fulfill its trust responsibility to Indian tribes by providing equitable resources to Native communities to assist with domestic violence, shelter and temporary housing, and other needs of survivors and their children."
She added that while Native women face disproportionate rates of domestic violence and sexual violence, the pandemic has further exacerbated this situation as many survivors are now forced to isolate at home with their abuser.
"Survivors are at increased risk for further isolation and being cut off from crucial sources of support and safety, putting them at risk of increased abuse," Quilt said. "Many advocates are anticipating an increase in people reaching out for services or shelter once the stay-at-home orders are lifted."
The StrongHearts Native Helpline, a project of NIWRC and a joint collaboration with the National Domestic Violence Hotline, noticed a similar trend: while still a relatively new project, StrongHearts reported a decrease in the number of incoming calls in March compared to the months before the pandemic took hold.
 
"What we did see, however, was an increase in traffic coming to the StrongHearts website," said Anna Nicolosi, StrongHearts' Operations Manager. "It's hard to say anything definitively, but it leads us to think that people are wanting to still engage and reach out to StrongHearts but are unable to make a phone call, likely because victims are quarantining or isolating with their abusive partner and don't have the opportunity to make a call."
 
In response to the growing threat, StrongHearts program staff transitioned to tele-work on March 20, the week before the stay-at-home order was officially issued in Minnesota, where the helpline's office is based. Using StrongHearts' advocacy model and their core advocacy skills, advocates are able to meet the needs of survivors who may be facing unique dynamics due to the pandemic.
 
"For advocates in our field serving Native survivors, they are already used to being so agile, problem-solving, flexible and work really hard in safety planning," Nicolosi said. "For a victim in a rural area where there aren't a lot of resources available, it looks pretty similar to what people isolating at home are now experiencing. People advocating with Native victims are already used to 'making it work.'"
Generally speaking, Nicolosi said StrongHearts has noticed some temporary closures or suspensions of Tribal programs and shelters due to COVID-19. She added that some callers already assume nearby programs or shelters will be closed yet are still reaching out to StrongHearts for someone to talk to.
 
"The peer support we provide really is vital and continues to be one of our top caller needs," Nicolosi said. "When we say peer support, we are talking about a connection to a Native advocate –someone who understands where the caller is coming from and where they're at. Right now, people are really needing that connection. I think reaching out to StrongHearts to talk is vital."
Reshaping Services and National Policies  
In the first week of March, the NIWRC policy team cancelled an in-person team meeting after recognizing the steep rise in coronavirus cases in the Los Angeles area. The decision was ultimately followed by the postponement of the Foundation of Advocacy Workshop in April and on-site technical assistance visits to Tribal programs, as well as the bi-annual Women Are Sacred Conference, slated for June 2020 in Saint Paul, Minnesota. At the end of March, NIWRC temporarily closed its main office in Lame Deer, Montana, in response to the state's stay-at-home order.
"The pandemic has brought uncertainty, fear and upheaval in our lives and work," said Brenda Hill, Director of Technical Assistance and Training for NIWRC. She added that while it can be a challenge to provide appropriate, effective support and resources during this time, it also should be seen as an opportunity to learn, be creative and connect in new and deeper ways.

"We have to have hope and faith, and remember the strength and resilience of our ancestors," Hill said. "The popular mantra now is 'We are in this together'–we've always known that as Indigenous peoples."
While it's hard to predict what the next few months will look like, NIWRC is adapting to the new normal. In mid-March, NIWRC shifted its national advocacy strategy to focus on legislation to respond to the impact of COVID-19 on Native survivors.
"We knew that Tribes could see devastating impacts as a result of COVID-19, so the immediate overarching concern was to ensure that Indian Tribes and Tribal services were included within the various legislative packages," said Elizabeth Carr, Senior Native Affairs Policy Advisor for NIWRC. "We understood the dire consequences if Tribes were left out and acted quickly to advocate for Tribal specific resources in any COVID-19 legislation."
Staff continue to provide programmatic support and facilitate webinars and awareness campaigns virtually. Later this summer, the Training and Technical Assistance team will facilitate a virtual on-site for the Comanche Nation Family Violence Prevention Program and is preparing for the possibility that virtual on-site visits may be necessary through the next year.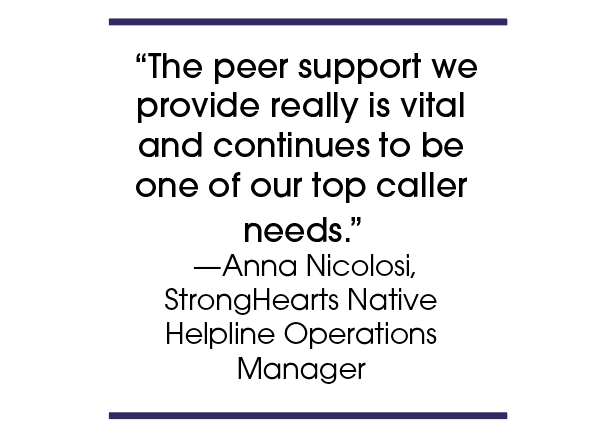 Because of conflicting public opinions on when to return to normal, restarting the economy and the potential dangers of the virus, there is a lot of uncertainty about what lies ahead— and what that means in terms of supporting survivors, fellow advocates and Tribal programs. Gwendolyn Packard, NIWRC's Training and Technical Assistance Specialist, said she's concerned about the long-term economic impacts of the pandemic, considering so many Tribal programs such as health and victim services rely on funding from gaming and casino enterprises, which in turn provide much-needed jobs and income for community members.
According to a report by the Harvard Project on American Indian Economic Development on the impact of the COVID-19 crisis on the 574 federally recognized Tribes, all 500+ Tribal casinos and many of their non-gaming businesses closed amid the pandemic. In the wake of these closures, Tribes face massive layoffs, their workers' losing insurance coverage, dipping into hard-earned assets, and building up debt.  
Packard said that advocacy has always been about saving lives and protecting people, and in a time like this, it can be frightening, particularly for people who are living with ongoing violence in the home and suffering in silence.
"I think this is going to change the way we do our advocacy work forever," Packard said. "In some ways, it will be good, and in other ways, there are things we will really need to keep an eye on. Our work is all about connections and this more than anything, this pandemic has illustrated the need to connect on deeper level."
Hill agreed, adding that while the crisis created by COVID-19 has highlighted and intensified existing disparities and weaknesses in systemic responses to violence against Native women, her hope is that everyone utilizes this time to strengthen connections and understandings, and renews their commitment to survivors.
"Our relatives need us to step up, now more than ever," Hill said. "Now, the questions are how do we prioritize safety and accountability in the face of stay-at-home orders, diminishing safe space and shelter, lack of PPE and other resources? Are advocates seen as just as essential as healthcare workers and law enforcement? How do we ensure actions by programs, law enforcement, criminal justice systems, Tribal, federal and state governments in an effort to confront COVID-19 don't further endanger and re-victimize those already fighting for their lives from violence?"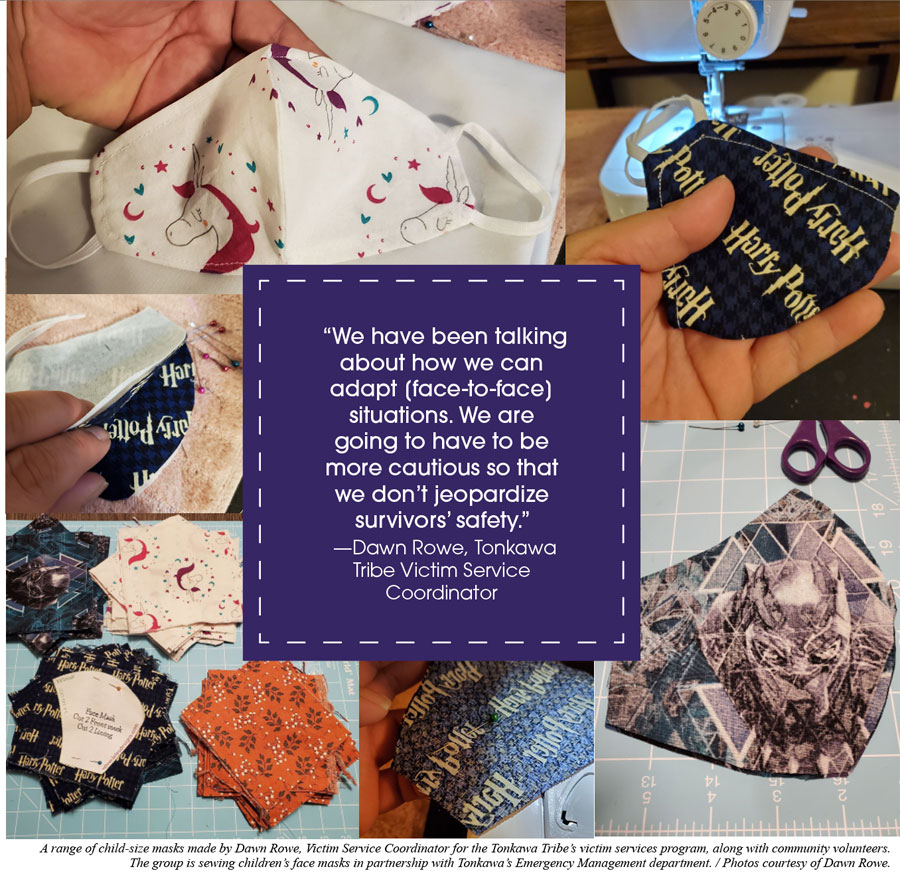 Victim Services Providers Are Essential Workers
Despite all the confusion and unanswered questions, some Tribes heard the message loud and clear, prioritizing victim programs as 'essential workers.' For instance, while the Tonkawa Tribe in Oklahoma ceased general operations at the end of March, the Tribe deemed its new victim service program as an essential emergency service.
However, within their service area, Dawn Rowe, a Tribal citizen and Tonkawa's victim service coordinator, said they continue to see a decrease in the number of people reaching out for help and services.
"Some of our advocacy work can be done over the phone, but I've been anticipating the worst," Rowe said. "Victims are already often limited on where they can go and what they can do, so now I would imagine the abusers are using that to further manipulate them and doing whatever they can to make them stay."
Rowe said her program is thinking 'outside the box' to connect with victims and looking to social media for outreach ideas shared by fellow advocates in the field. She said her program is asking home volunteers to help make face masks as giveaways as a way to help pass along information about their services. She said she could even offer curbside pick-up for the masks, giving her an opportunity to introduce herself from a safe distance.
"As a victim, I'd be thinking, 'Nothing is threatening my safety, and the abuser thinks that's all I did was go pick up these masks,'" Rowe said. Her program is also thinking long-term as well, particularly in how their protocols may change with respect to face-to-face interactions like signing agreements.
"We have been talking about how we can adapt these situations," Rowe said. "I definitely see our intake process changing. We are going to have to be more cautious so that we don't jeopardize survivors' safety."