Founding Member Leaves NIWRC Board to Focus on Issues Facing Alaska Native Women
Quyana, Nugange Lenora Hootch...
Looking back to the founding of the National Indigenous Women's Resource Center in 2011, words cannot fully express our deep appreciation for the contributions of our sister Lenora "Lynn" Hootch to the development and growth of NIWRC.
 
"From the birth of NIWRC, Lynn was a calm and inspirational source of leadership for the board and the entire NIWRC family," said Lucy Simpson, Executive Director of NIWRC. "Centered by her Yup'ik cultural beliefs, Lynn provided clarity on the strategic development of NIWRC as a Tribally centered national resource center. We thank her for her years of service to the organization and to our movement."
Lynn is a Yu'pik Eskimo and an enrolled member of the Alaska Native Village of Emmonak, located in the Yukon Delta Region of southwestern Alaska. Lynn was born, raised, and has lived in Emmonak all her life. She is an active member of her community. Lynn has held numerous elected positions in Emmonak, including Emmonak Tribal Council, Emmonak City Council, Vice Mayor for the Village of Emmonak, member of the Parish Council, and Advisory School Board member. She has also served as an officer and a board member for many women's organizations in Alaska, including the Alaska Native Women's Resource Center, the Alaska Native Women's Coalition, and the Alaska Network on Domestic Violence and Sexual Assault.
"I was so excited when Tillie Black Bear called me and asked me if I would join the board of the new resource center," Hootch said. "Having a national Indian resource center was always a dream. We have so many urgent issues here in Alaska that, for now, I feel the need to refocus my energy here at home. I will always feel part of the NIWRC family and continue to support my sisters in whatever way I can."
A Founding Mother of the Emmonak Women's Shelter
 In 1979, Lynn joined with other women in her village to found the Emmonak Women's Shelter.
 "Our goal was to increase the safety of women and children." Hootch said. "The Shelter was funded by donations from the community and the usage of a village building. Today it has grown into a non-profit, serving victims of domestic violence, sexual assault, and other forms of abuse in Emmonak and neighboring sister villages. It has continuously provided emergency shelter and assistance for women and their children for more than thirty years."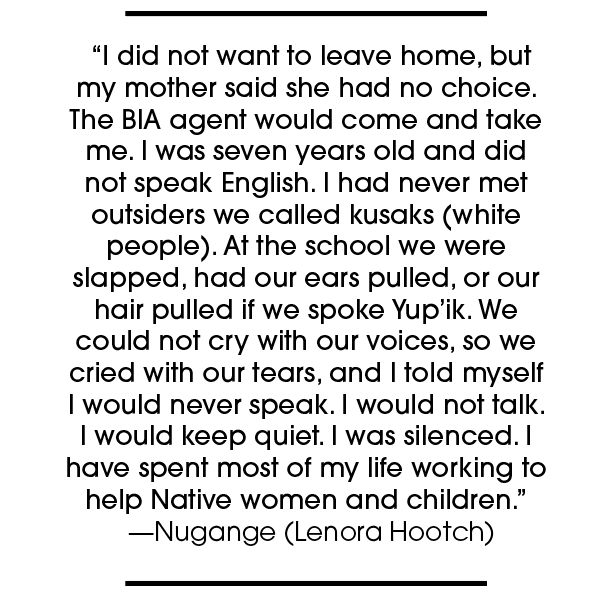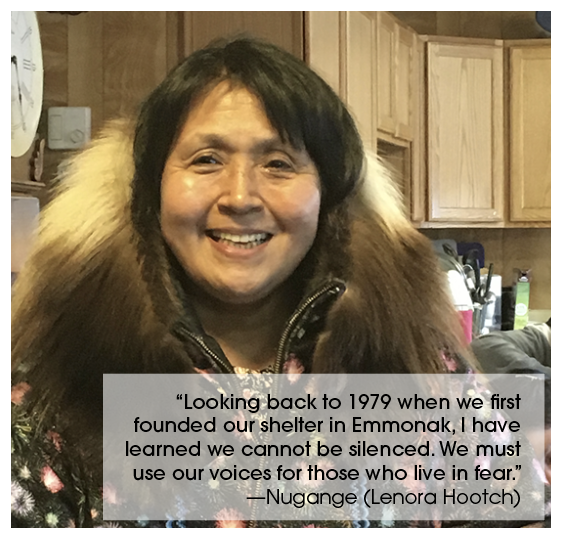 Founding Member and Director for the Yu'pik Women's Coalition
Lynn currently serves as the Director for the Yupik Women's Coalition (YWC), a regional Tribal coalition serving 13 rural villages representing eighteen Tribal governments in the Yukon-Delta region. The YWC works to raise public awareness of domestic violence, sexual assault, stalking, and dating violence, and enhance the response to violence against Native women at the local, state, and national levels. It also provides technical assistance to other Tribes in Alaska to enhance access to essential services for Native women victimized by domestic violence and sexual assault.
Lynn is married and the mother of five beautiful children, three boys, and two girls, and 13 grandchildren who bring life, joy, happiness, and love to all.