President Biden Signs the VOCA Fix to Sustain the Crime Victims Fund Act of 2021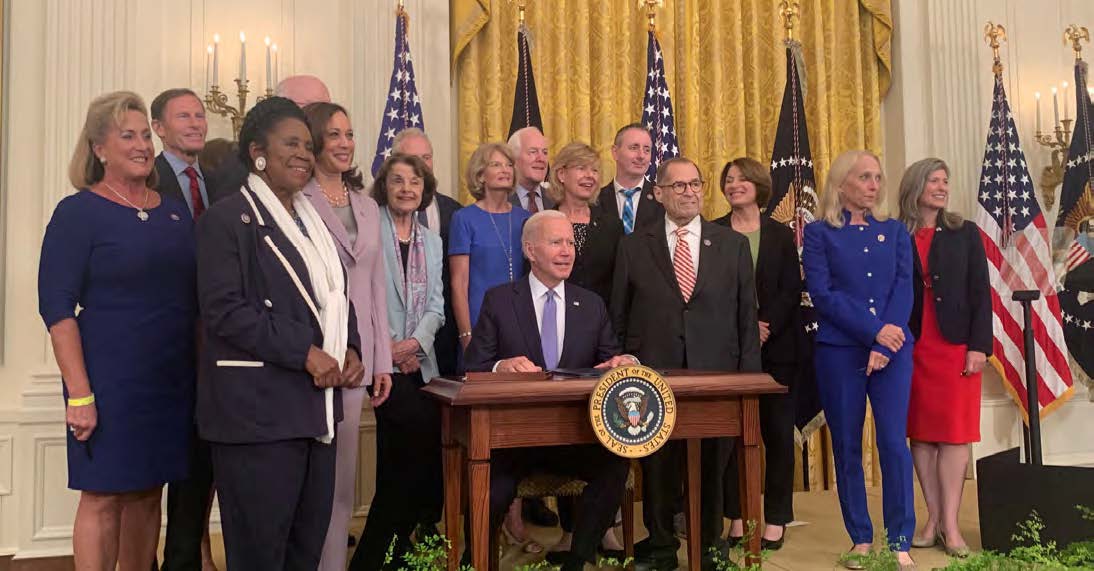 Action Needed to Create a Permanent Tribal VOCA Funding Stream
Deposits into the Crime Victims Fund (CVF) dropped dramatically in the last several years, leading to a substantial cut to the Victim of Crimes Act (VOCA) assistance grants.
On July 22, 2021, Cherrah Giles (Muscogee Nation), Chairwoman of NIWRC Board of Directors, joined President Biden and Vice President Harris at the signing of the "VOCA Fix to Sustain the Crime Victims Fund Act of 2021" to stabilize the future of the Crime Victims Fund.
"Tribal victims suffered the loss of services over the last few years as Tribal victim services organizations faced budget cuts, staff layoffs, and the threat of closures while demand for victim services grew," said Chairwoman Giles.
The National Indigenous Women's Resource Center (NIWRC) joined with other national organizations representing thousands of victim service providers, survivors of crime, and others, to influence Congress to take immediate action to prevent expected catastrophic cuts to the Victims of Crime Act.
VOCA grants are the largest source of federal funding for programs providing services for victims of all types of crimes. VOCA funds can be used to support services for victims, including crisis intervention, safety planning, and peer-to-peer support. Depletion of the Fund resulted in cuts to the awards of Tribes and states, resulting in fewer services for victims and possible closure of programs.
"The VOCA Fix Act will increase consistent funding to Tribal programs and services through a specific set-aside for Indian Tribes. We celebrate this victory in the Act's passage; however, Indian Tribes still need and call for a permanent set-aside under VOCA." —Cherrah Giles
The Tribal set-aside under VOCA is not a permanent authorization. In 2019, and each year since, Congress appropriated funds for a dedicated Tribal funding stream through the Commerce, Justice, Science, and Related Agencies Appropriations Act. As part of an appropriations bill, the Tribal funding is for the annual budget period. As a result, each year, the Tribal set-aside requires an annual appropriation and is not guaranteed.
"To become permanent, the Tribal funding stream must be authorized by a separate amendment to the VOCA. This lack of permanent funding is one of the many systemic barriers separating Tribal victims of crimes from all other population groups. To address the lack of services available to Native victims of domestic and sexual violence, Congress must amend VOCA to provide access for Indian Tribes permanently."—Cherrah Giles
Passage of the VOCA Fix Act
Senate and House champions led in the passage of the bipartisan, bicameral, VOCA Fix Act to address the ongoing crisis in VOCA funding. The VOCA Fix passed the House on March 17 and the Senate on July 20. 
President Biden signed the VOCA Fix Act into law on July 22, 2021.
President Biden's remarks before signing the Act into law, in part, are provided here.
"Today, I think is a day of hope. And I mean that. A day of hope and healing for victims of crime and organizations that support those victims of crime."
"When someone commits a crime, it's—it's not enough to bring the predator to justice; we also need to support the victims."
"I'm convinced that women who are victims of domestic violence suffer from post-traumatic stress no different than a soldier being shot at regularly."
"And there are economic costs for survivors as well—medical costs, lost productivity from work, and navigating the court system. That's why the Victims Compensation Program helps victims and their families cover the cost they suffer from the crime. They can—there can be counseling and medical bills; lost wages because you couldn't work; paying for temporary housing for a family fleeing abuse; even fixing a broken door kicked down by an abuser. And, you know, the vast majority of children out in the street are the children who are, in fact, the children of abused women. It can also be a long-term support survivors need to heal, every time, in every single sense of the word."
"In 2019, these victim compensation funds went directly to over 230,000 victims—230,000. These funds also got to states, territories, and Tribes to support thousands of victim services organizations."
"In 1984, I was proud to support the—the passage of the Victims of Crime Act, and created—that created this fund. I'm also proud to sign the law that significantly strengthened it today. This fund doesn't take a dime of taxpayers' money; it uses fines and penalties paid by convicted federal criminals. However, fines from what are called "non-prosecutorial agreements" or defendant--or "deferred prosecution agreements" did not go into this victim's crime fund in the past."
"Since there's been more and more of these agreements in recent years, the fund is being depleted. That meant dramatic cuts in the funding it could provide for victims and for organizations to support these victims."
"Between 2017 and today, the amount of money in these funds has gone down 92%, which has resulted in a 70% reduction in victims assistance programs and grants. This means that, for a lot of victims, the help they need isn't there any longer."
"This bill is going to allow us to make--make sure that all the fines and penalties that are from federal cases go into the victims--the crime victims fund to rebuild this fund, because it's badly needed."
"You know from experience you all can come together in a bipartisan, bicameral way and to pass this bill.  We need to do the same to reauthorize the Violence Against Women Act without further delay."
"In closing, I want to thank those angels working on the front lines to help these victims, especially during this pandemic that's made the work both more difficult, more in demand, and more dangerous, and I want to thank the advocates who mobilized and bringing together these important changes in the law."
"There are thousands of people out there who may not know about the work you did to get this bill passed, but they'll know that they are getting the help they need to put their lives back together and move toward healing and toward justice."
View President Biden's full remarks at the signing of the VOCA Fix to Sustain the Crime Victims Fund Act of 2021: https://n8ve.net/Ix76H