StrongHearts' Lori Jump Receives Bonnie Heavy Runner Victim Advocacy Award
On December 7, 2018, Assistant Director of the StrongHearts Native Helpline Lori Jump was recognized for her lifetime service to victims and survivors of crime in Indian Country during the closing ceremony of the 16th Annual Indian Nations Conference: Justice for Victims of Crime in Palm Springs, California. Jump was awarded the Bonnie Heavy Runner Victim Advocacy Award alongside four fellow strong-hearted leaders in the movement to end violence in Tribal communities as well.
Bonnie "Sim-sin" Heavy Runner, a member of the Blackfeet Nation, grew up on the Blackfeet Indian Reservation in Browning, Montana.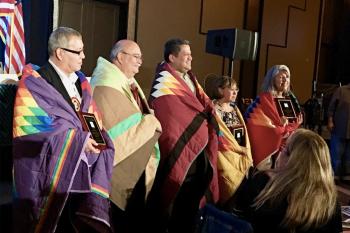 Heavy Runner was a strong advocate for victims in Indian Country, serving as a tribal court judge, administrator, and consultant before she walked on in 1997. Her legacy award continues to honor individuals and organizations serving Native people impacted by violence. The awards are presented by Bonnie's surviving family members at each Indian Nations Conference. Special thanks to the Tribal Law and Policy Institute and the Office for Victims of Crime (OVC) for coordinating this year's event. The NIWRCStrongHearts team is so proud of all of Lori's hard work. Congratulations, Lori!
---
"When victims cannot access services that understand their culture and world view, they cannot fully explore their options for safety, justice or healing," Jump said. "It is important that we create spaces where survivors of violence feel safe and restored in their ability make the best decisions for themselves and their families along their journey, wherever it leads." 
Created by and for American Indians and Alaska Natives across the United States, the StrongHearts Native Helpline (1-844-7NATIVE) is a culturally-appropriate, confidential and anonymous service dedicated to serving Native Americans affected by domestic violence and dating violence. By dialing 1-844-762-8483, Monday through Friday from 9 a.m. to 5:30 p.m. CST, callers can connect at no cost with advocates who can provide immediate support and lifesaving tools and resources. After hours callers have the option to connect with the National Domestic Violence Hotline or they may call back the next business day. 
For more information about the StrongHearts Native Helpline's available services, visit www. strongheartshelpline.org.