Pouhana 'O Na Wahine News 2019 Organizing for Change
Native Hawaiian women represent the highest percentage of victims of domestic and sexual violence within the state of Hawaii. The Pouhana 'O Na Wahine (Pillars of Women), a collective of Native Hawaiian women, is focused on determining how to change this unacceptable reality. The hui understands that relying solely on non-indigenous responses to domestic and sexual violence are short-term, temporary solutions which do not address the needs of Native Hawaiians. Taking on the challenge of organizing to increase safety for women and children, the hui continues to discuss their strategy based on a Native Hawaiian worldview for addressing the injustices they have suffered since 1898.
"Native Hawaiian people had their own government structure and processes, including our practices and ceremonies," said Kupuna NaniFay Paglinawan with the Pouhana. "Strengthening our way of life to address violence against wahine is linked to recognizing the authority of Native Hawaiians as a nation. We also need resources to implement the programs rooted in Native Hawaiian voices, language, and teachings." NIWRC looks forward to our ongoing partnership, including a face to face meeting with the hui later this year.
Important to note that the U.S. government entered into five treaties with the Kingdom of Hawaii as referenced in the Apology Bill from 1826 through 1887, and, has consistently recognized its legal relationship with the Native Hawaiian community with more than 150 federal laws, including creating special programs and services for the Native Hawaiian community. Examples include the Hawaiian Homes Commission Act, Native Hawaiian Health Care Improvement Act, and Native Hawaiian Education Act. There has also been a legal relationship as evidenced by state laws respecting Native Hawaiians. As written in the state Constitution Article 12, Section 7, reaffirming that the state "shall protect all rights, customarily and traditionally exercised...by… descendants of native Hawaiians who inhabited the Hawaiian islands prior to 1778."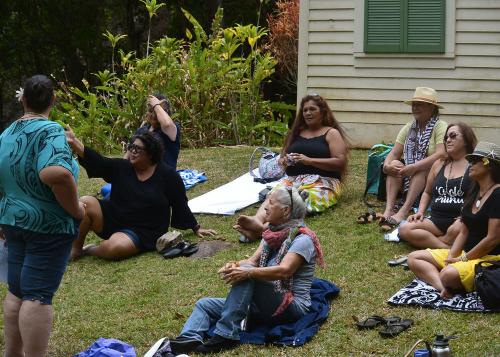 'Iao Valley, Maui, Hawaii, Sept. 2017: Pouhana O Na Wahine members discussing ho'oponopono,
a Native Hawaiian spiritual practice for setting things right and peacemaking. Ho'oponopono continue
to be an important practice in the organizing to bring healing from the overthrow of the Native
Hawaiian monarchy and to end violence against Native Hawaiian women.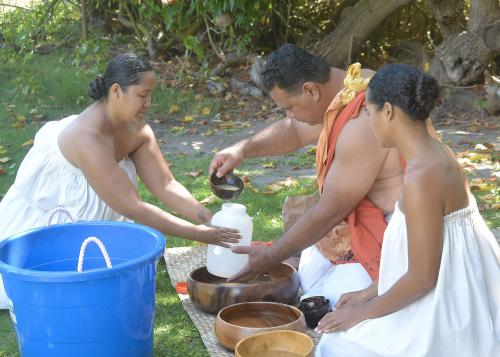 AWA Ceremony Halau Na Hanona Kulike O Pi'ilani conducting an awa ceremony for the Pouhana
'O Na Wahine at Ka'ehu. Pictured left to right: Kaui Podlewski, Kumu Kapono'ai Molitau, and Kyra Glover.
September 9, 2017, Maui: Kupuna NaniFay Paglinawan of the Pouhana
preparing for the ceremony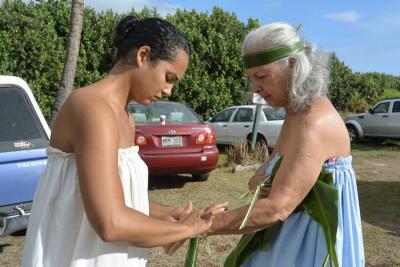 Resources to Understand Violence Against Native Hawaiian Women Apology of the U.S. Congress to Native Hawaiian People (PL 103-150), https:// goo.gl/3a3NMQ Procedures for Reestablishing a Formal Government-to-Government Relationship With the Native Hawaiian Community (43 CFR Part 50), https:// goo.gl/NKGNoi Restoration of Native Sovereignty and Safety for Native Women, Vol. 14, Issue 3, p 13-17, https://goo.gl/yX4ZxZ