Twenty-Five Years of VAWA: A Celebration Honoring our Native Women Survivors
Reauthorize VAWA 2019! Support H.R. 1585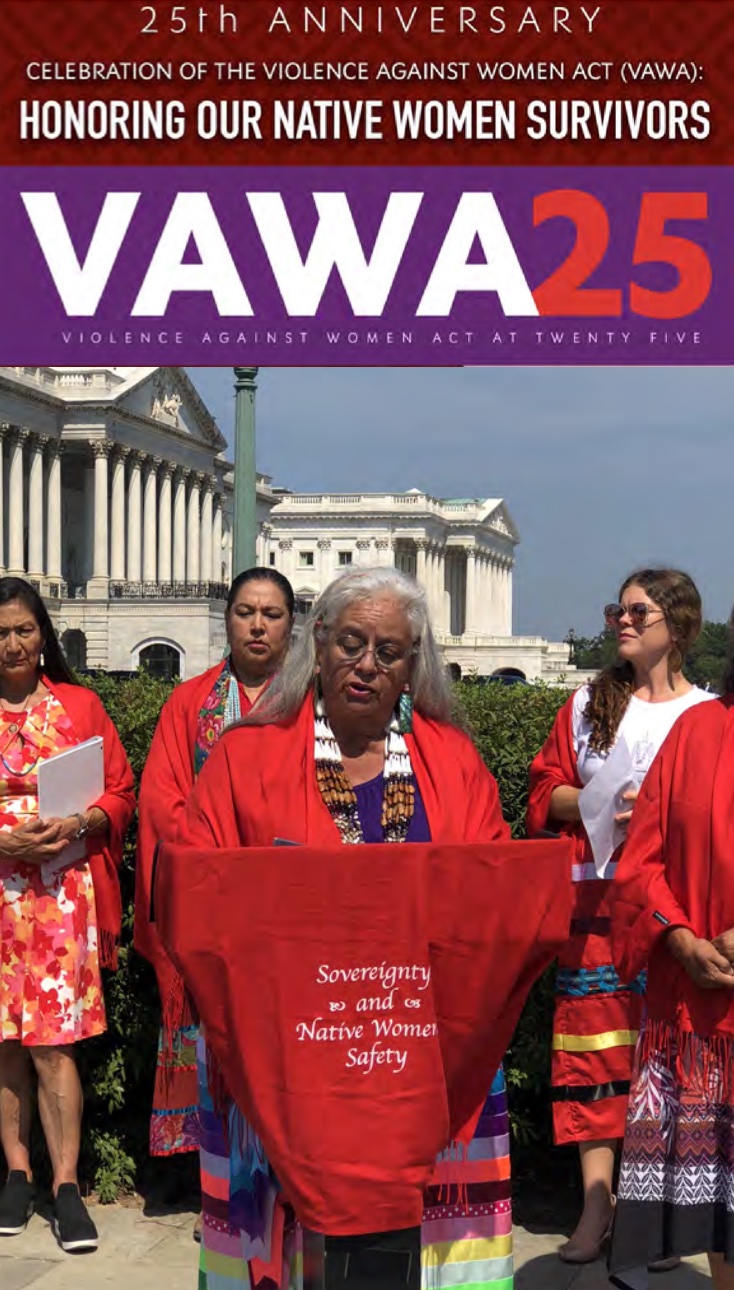 September 13 marked the 25th anniversary of the original passage of the Violence Against Women Act of 1995 (VAWA). The National Indigenous Women's Resource Center (NIWRC) and the National Congress of American Indians (NCAI) organized a celebration in honor of this landmark legislation. The event was held at the House Triangle at the United States Capitol. Representatives Deb Haaland and Tom Cole, the co-chairs of the House Native American caucus, spoke during the celebration on the importance of reauthorizing VAWA. Representatives Gwenn Moore (D-W) and Betty McCollum (D-MN), tribal leaders, grassroots tribal coalitions and many others joined the event.
"Since VAWA was first enacted in 1994, it has been reauthorized three times. Each reauthorization has included important reforms that have increased the safety of Native women across the United States. It has done that by recognizing and supporting our responsibility as sovereigns to protect our people. Yet despite these achievements, Native women and children are still suffering. Too many of our sisters are missing, and too often our hands are tied when we want to protect our people. We are forced to rely on state or federal governments who are disinterested and ill- equipped to address these issues in our communities. This is unacceptable.
We are wearing these shawls- with the message "Sovereignty and Native Women's Safety"--to honor survivors of violence, to remember our missing relatives, and as a reminder that the sovereignty of our nations and the safety of our women are interdependent. We are the ones who will bring healing, justice, and safety to our communities. And we are here this week to tell Congress to let us do it.
Today's ceremony is about remembering and honoring the survivors of violence in our nations and celebrating our accomplishments under VAWA over the last 25 years. However, today must also be about working toward a better future. A future where our daughters, granddaughters, and great-granddaughters will not have to shoulder the same high rates of crimes that Native women endure in Indian Country today.
I call on all tribal leaders, legislators, advocates, and allies here today to help us move forward to reauthorize VAWA with strong tribal provisions. We must close the gaps for tribal nations and recognize our inherent authority—and responsibility—to protect our citizens. We cannot take a step backward in this fight. Our future and the lives of Native women across the United States, depend on what we do here and now."—Juana Majel Dixon, Co-Chair NCAI Task Force on Violence Against Women.
"We know that VAWA helps keep Native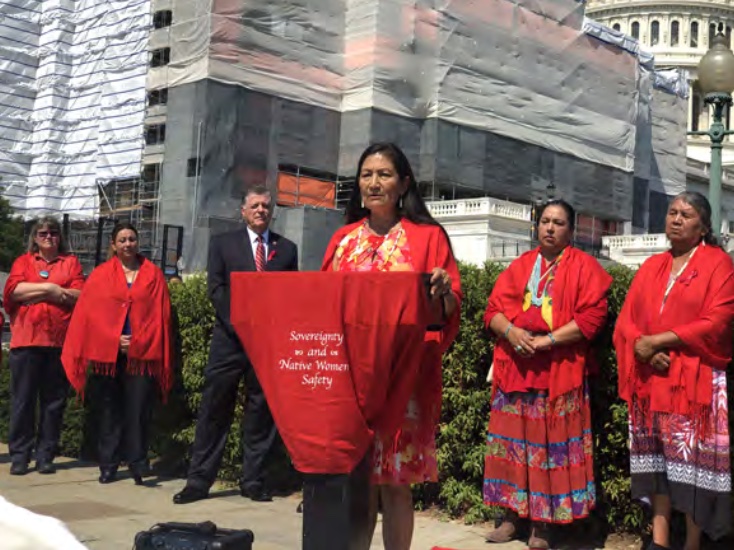 women safe," said Rep. Deb Haaland (D-NM), a citizen of the Pueblo of Laguna who is one of the first two Native women elected to Congress. "But the law does not protect Native women from trafficking or sexual assaults, for example, and it doesn't cover crimes against children and tribal law enforcement. It does not address the crisis of missing and murdered Indigenous women or Native women living in urban areas either."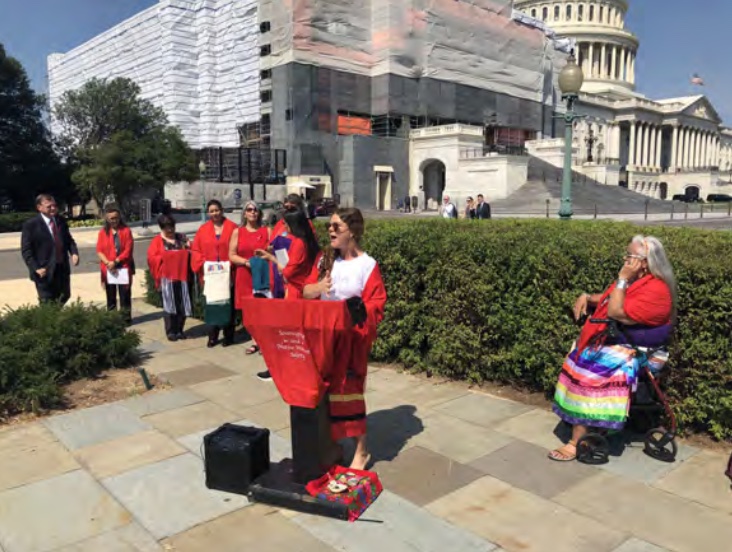 "The 25th anniversary of VAWA's first passage is a time to celebrate, as well as a call to action. After 25 years of VAWA, Native women still experience the highest rates of domestic violence and sexual assault in the country. In April, the house passed VAWA HR 1585, but the bill has stalled in the Senate. Native women cannot afford to wait. The Senate must act now and pass VAWA HR 1585!"—Mary Kathryn Nagle, Partner, Pipestem Law, Legal Counsel to NIWRC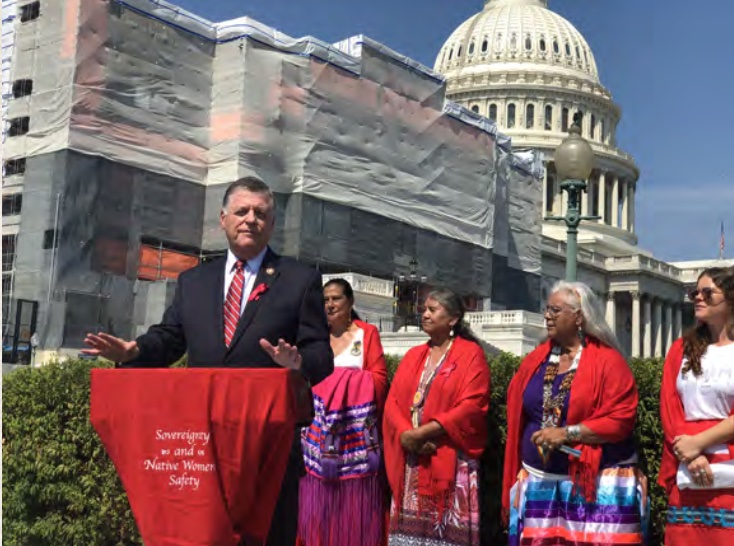 "I often say when it comes to VAWA, hunters know where to hunt, fishermen know where to fish, and predators know where to prey. And a disproportionate number of those predators have preyed on Indian Country and Native women. And they have mostly been overwhelmingly non-Native. All VAWA is about, from a tribal standpoint, is giving our people the tools to protect our vulnerable citizens and to enforce justice on our own lands."—Rep. Tom Cole (R-OK)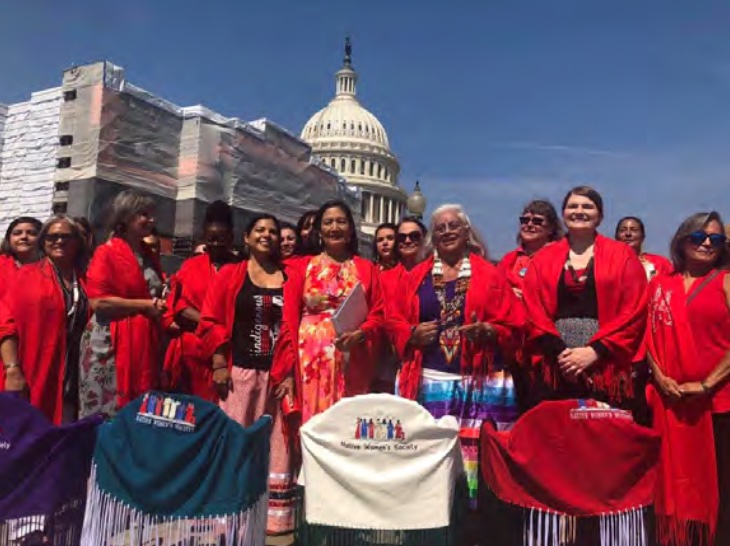 To watch or listen to a recap of the 25th VAWA Anniversary Celebration hosted by NCAI and NIWRC go to https://www.indianz.com/News/2019/09/17/recap-sovereignty-and-native-wo….