New Resource: StrongHearts Native Helpline Marketing Toolkit Partnership Update: StrongHearts Native Helpline and the Tribal Resource Tool
New Resource: StrongHearts Native Helpline Marketing Toolkit
In time for Domestic Violence Awareness Month, the StrongHearts Native Helpline is releasing a Marketing Toolkit for Service Providers and Supportive Organizations complete with ideas and tips for sharing the helpline in their communities. This StrongHearts Marketing Toolkit is designed specifically for advocates working to prevent and end domestic violence and dating violence in Indian country and in urban Native communities, as well as supportive organizations serving Native people.
By downloading the toolkit, providers can access FAQs about StrongHearts, resources for presentations and workshops, and social media graphics and advertisements ready to print or post online. The toolkit also encourages service providers to download or request free printed brochures and posters through the StrongHearts website, as well as to reach out to staff directly for an introductory webinar on StrongHearts services.
To access the StrongHearts Marketing Toolkit, visit www.strongheartshelpline.org/resources and scroll down to the 'Downloadable StrongHearts Toolkit' section for a PDF of the toolkit for your use.
Partnership Update: StrongHearts Native Helpline and the Tribal Resource Tool
The StrongHearts Native Helpline is partnered with the National Center for Victims of Crime (NCVC) to aid in the population of the Tribal Resource Tool (TRT). The TRT is a national and free searchable database with the goal of connecting Native American and Alaska Native victims of crime with resources and services across the country.
This web-based resource mapping tool aims to be useful for Native American and Alaskan Native victims and survivors of crime, concerned family members and friends, and service providers. The Tribal Resource Tool, which currently includes 357 services in its database, is available to the public and can be accessed at www.tribalresourcetool.org.
The Tribal Resource Tool team is still collecting victim services information to further populate the tool to be inclusive of all Tribal communities to include reservations, urban Indian communities, and villages. If you are interested in including your program and resources in the mapping tool, fill out the online inclusion form which can be accessed at www.tribalresourcetool.org/eligibility.
For additional assistance or to learn more about TRT, contact NCVC Program Manager Renee Bourque at rbourque@victimsofcrime.org or StrongHearts Native Helpline Administrative Assistant Cassandra Roy at croy@strongheartshelpline.org.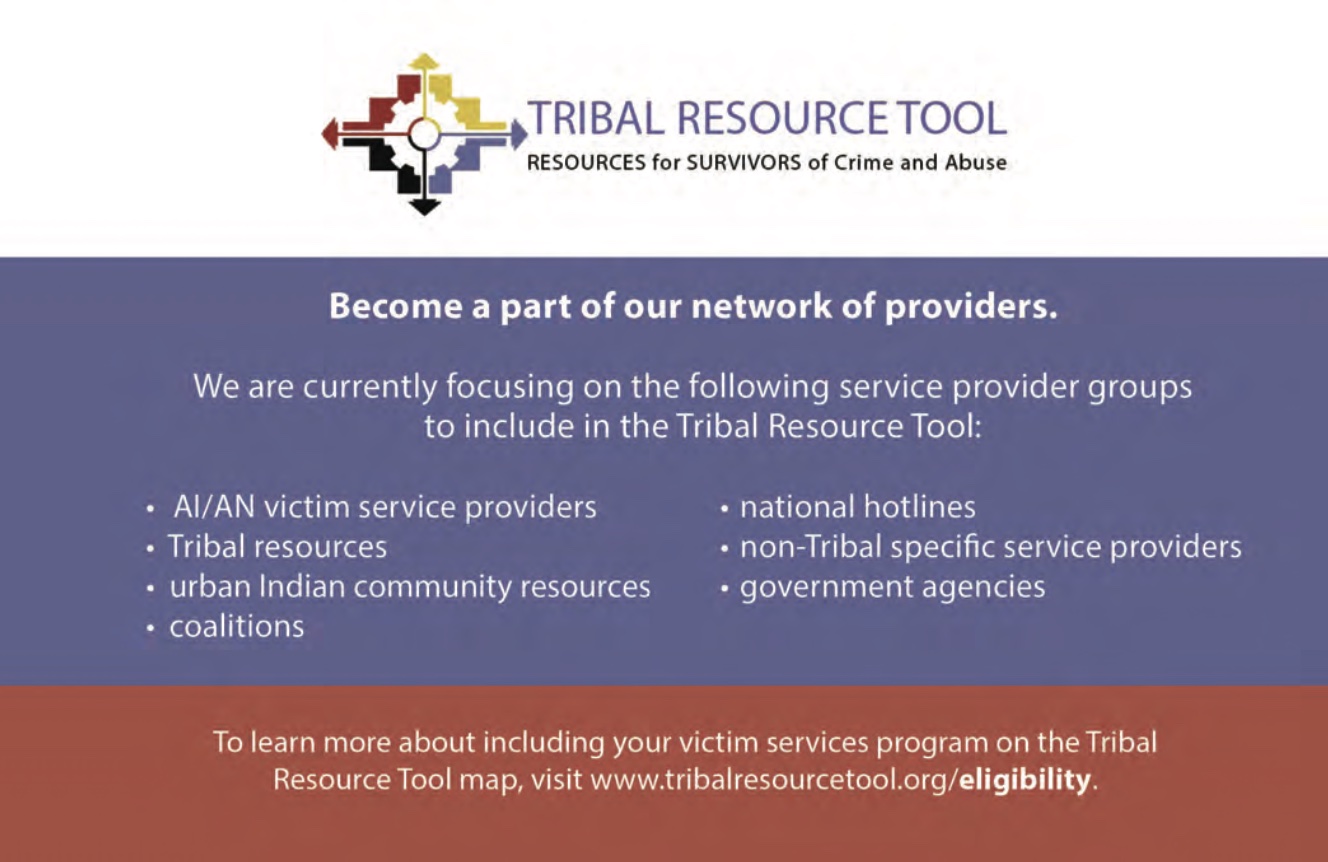 Indigenous Businesses Giving Back: Indigenous Intentions
In honor of Domestic Violence Awareness Month, Indigenous jewelry brand Indigenous Intentions is committed to donating a portion of the proceeds of all sales of its Bella Self-Care Bag to benefit the StrongHearts Native Helpline. The Bella Self-Care Bag is filled with self-care items including a pair of purple StrongHearts earrings in honor of the helpline, because oftentimes women are so busy taking care of others, that we forget to do it for ourselves. Consider purchasing a Bella Self-Care Bag for you and a loved one by visiting: www.linktr.ee/indigenousintentions
Indigenous Intentions is a team of Indigenous artisans and designers who take pride in their culture and love to share it with customers around the world. Creators represent various Tribes and Native nations, which help influence their variety of styles in design and jewelry making.
The company has partnered with MMIWUSA and the Indigenous Peoples Movement with the intention of increasing awareness for and investing in Indigenous communities and causes. We are honored by Indigenous Intentions' support of the StrongHearts Native Helpline.