Support the NativeLove Project: Buy a NativeLoveT-Shirt!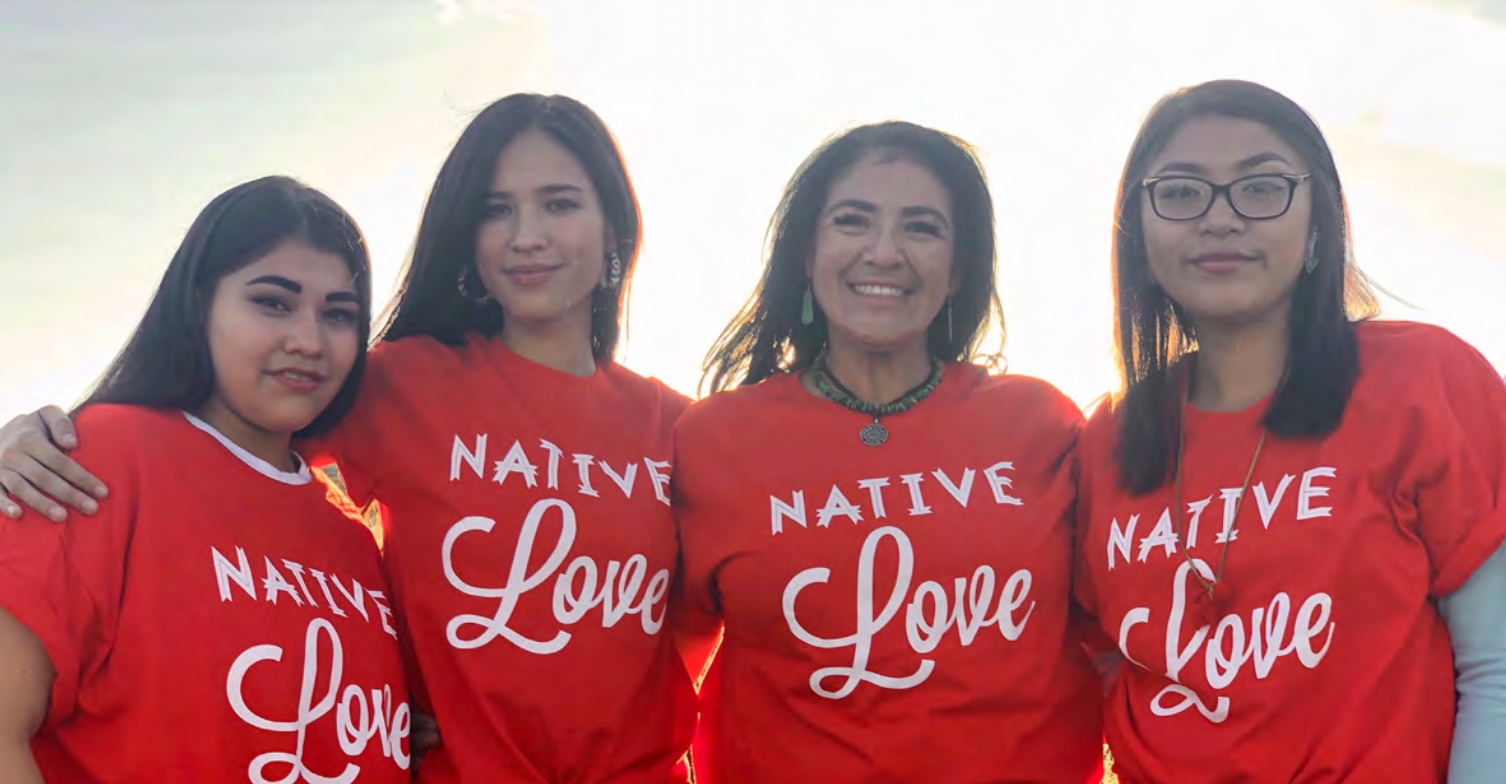 The NativeLove Project works to end violence against Native youth by empowering them to redefine NativeLove. Since 2013, the NativeLove project has worked with Native youth to think about what NativeLove really means by drawing on cultural strengths and teachings to restore healthy life-ways and relationships.
The NativeLove Project's T-shirt was worn on Yellowstone, episode 8 of Season 2 in August. Taylor Sheridan, the Executive Producer and Co-Creator of Yellowstone, has partnered with NIWRC on various projects, including fundraising, to raise awareness of NIWRC's mission of upholding the sovereignty of Indian nations to restore safety for Native women and their children. Yellowstone leads cable as the most-watched summer series. All proceeds of the sales of the T-Shirt supports the National Indigenous Women's Resource Center's NativeLove Project.
The focus of the NativeLove Project is youth-driven activism meant to inspire, empower, and mobilize tribal youth to engage in meaningful discussions with their peers, families, and communities. This activism works to raise awareness about ending violence to restore balance in relationships and promote healthy lifestyles. NativeLove supports Native youth efforts to create social change and encourage them to be good relatives to one another and our homelands.
Since 2013, the NativeLove team has traveled extensively to talk with Native youth, sexual assault and domestic violence programs, tribal and non-tribal schools, universities, athletic teams, tribal community programs, tribal coalitions, and tribal leaders. This year, the team traveled to Orlando, Florida for the 2019 UNITY Conference where over 2,000 tribal youth members were in attendance. The team also traveled to Yakutat, Alaska, joining the Alaska Native Women's Resource Center staff to engage with youth at culture camp. Young people must have the opportunity to lead in creating change within their own communities and empower one another to become grassroots leaders and allies in ending intimate partner, sexual, and teen dating violence.
Youth activists can and do take healthy relationships very seriously. They empower each other to build and expand leadership opportunities, to take their rights into their own hands, as well as become leaders and allies in the movement. As young advocates, they can organize within their community, develop strategies to inform public policy and educate their peers.
To support the NativeLove Project and buy a T-shirt, go to niwrc.org/store/#NL. To explore resources for engaging Native youth in our communities about healthy relationships go to NIWRC's special collection of Native youth materials at http://www.niwrc.org/resources/special-collections-native-american-teens.
Thank you for your support!