Recognizing Domestic Violence Awareness Month 2019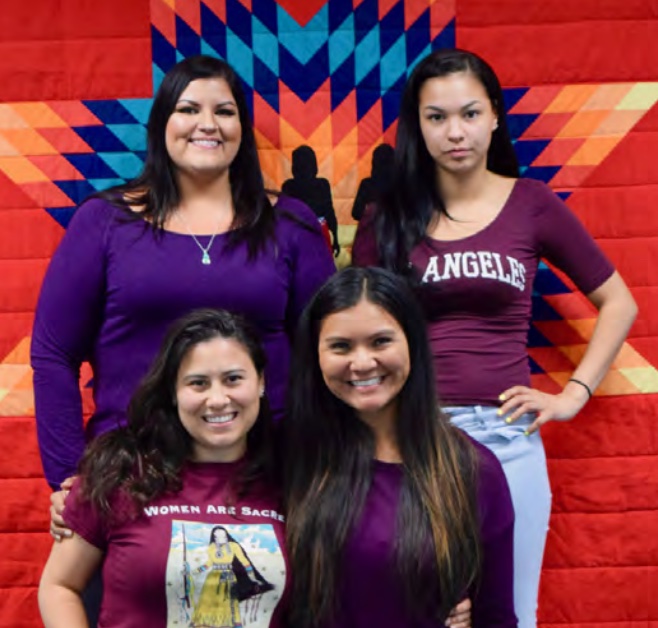 Every October, advocates and communities from across Indian country and the United States rally together in honor of survivors of domestic violence and support of abuse prevention as part of Domestic Violence Awareness Month (DVAM). This month, the National Indigenous Women's Resource Center (NIWRC), the Alaska Native Women's Resource Center (AKNWRC) and the StrongHearts Native Helpline are calling on advocates, community members, Tribal leaders, service providers and Native organizations to rise up in support of the Movement to prevent and end domestic violence, which disproportionately affects millions of American Indian and Alaska Native people each year.
Across the nation, Native American women and men experience domestic violence and sexual assault at alarming rates, with more than 4 in 5 Native people having experienced some form of violence in their lifetime and more than half experiencing physical violence by an intimate partner in the past year. To bring awareness to the issues of violence in Indian country, NIWRC, AKNWRC and StrongHearts urge individuals to believe survivors, speak out about abuse and share supportive resources with their loved ones and communities.
DOWNLOAD... the StrongHearts Native Helpline Service Provider Toolkit for ideas and tips for sharing the helpline with clients and colleagues. To download the toolkit, visit www.strongheartshelpline.org/resources to access a PDF of the toolkit.
WEAR... purple in honor of survivors of domestic violence and to raise awareness for DVAM on #PurpleThursday, which takes place on Thursday, October 24, 2019. Share photos of yourself wearing purple—shawls, clothes, hats, nail polish and jewelry— online using the hashtag #PurpleThursday.
EXPLORE... the StrongHearts Blog for culturally- relevant information related to domestic violence, dating violence and healthy relationships in Indian country. Content from the StrongHearts Blog can be accessed at www.strongheartshelpline.org/blog and may be repurposed as long as the StrongHearts Native Helpline is cited as the source.
LISTEN... for Senior Native Affairs Policy Advisor Liz Carr, who will be talking about the StrongHearts Native Helpline and Domestic Violence Awareness Month on the radio program "Moccasin Tracks" with host Deb Reger on Monday, October 7, at approximately 9:30 a.m. Eastern time. "Moccasin Tracks" broadcasts from WRUV 90.1 FM in Burlington, Vermont. Listen to the live stream online at www.wruv.org.
WATCH... a DVAM awareness video sharing a powerful message that 'Abuse Isn't Only Physical' featuring youth from the Confederated Tribes of Siletz Indians in Oregon, who collaborated with We R Native, Sky Bear Media, StrongHearts and the Response Circles Project of the National Portland Area Indian Health Board to create the video. View the full-length video on We R Native's YouTube channel: http://yt.vu/c/UCIxRTVKkCkedeQr6WA8sWlQ
SHARE... the StrongHearts Native Helpline number—1- 844-7NATIVE (762-8483)—with family and community members in need. If you or someone you know is in an abusive relationship, call the StrongHearts Native Helpline at 1-844-7NATIVE (762-8483) to speak with a Native advocate for safe and confidential support, available 7 a.m. to 10 p.m. Central time, 365 days a year.
DVAM CALENDAR FOR STRONGHEARTS
October 1-2: StrongHearts at Uniting Three Fires Against Violence Tribal Leadership Summit | Mackinac Island, Michigan
October 4-6: StrongHearts at Keweenaw Bay Indian Community Domestic Violence Awareness Forum | Baraga, Michigan
October 5-6: StrongHearts at Hart of the West Powwow | Newhall, California
October 6: StrongHearts Mallory Black on "Make No Bones About It" radio program on KAOS 89.3 FM at 4 p.m. PT | Olympia, Washington | Stream at www. kaosradio.org
October 7: StrongHearts Liz Carr on "Moccasin Tracks" radio program on WRUV 90.1 FM at 9 a.m. ET| Burlington, Vermont | Stream at www.wruv.org.
October 8: NIWRC, StrongHearts, AKNWRC 2019 DVAM Twitter Chat | Find more details on Twitter by following @niwrc and @strongheartsdv.
October 9-11: NIWRC-StrongHearts at Isleta Pueblo VAWA: Community Healing Through Courageous Conversations Convening | Albuquerque, New Mexico
October 13: StrongHearts Mallory Black on "Two Indigenous Worlds Radio" radio program on WMNF 88.5 FM | Tampa, FL
October 15-17: StrongHearts at Seminole Healing the Circle in Our Own Tribal Communities Symposium | Hollywood, Florida
October 17-19: StrongHearts at Alaska Federation of Natives Convention | Fairbanks, Alaska
October 29: StrongHearts at Metropolitan Urban Indian Directors Meeting | Minneapolis, Minnesota