Organize to Reauthorize VAWA! Join the Twitter Campaign
Join the National Indigenous Women's Resource Center (@NIWRC) on Twitter on the 1st Tuesday of the month until VAWA is reauthorized! October 1 will mark SIX months since the House passed H.R. 1585, the Senate needs to act NOW.
Join us in tweeting for one hour on the following Tuesdays:
Tuesday, October 1, 2019 at 11am AKST/ 12pm PST/ 1pm MST/ 2pm CST/ 3pm EST
Tuesday, November 5, 2019 at 11am AKST/ 12pm PST/ 1pm MST/ 2pm CST/ 3pm EST
Design your own tweet or use any or all of the sample tweets provided below. We need to generate as much buzz as possible in the struggle for passage of VAWA in the Senate. Help spread the word in your tribal community! Thank you for your efforts in raising awareness!
How many more days do Native women have to wait for justice? #Senate MUST pass the House version of VAWA and restore tribal jurisdiction to protect Native women! #VAWA2019 pic.twitter.com/7wHKy9PXFV
It's been 6 years since Congress restored some tribal jurisdiction that #SCOTUS erased. However, it was not enough. #Nativewomen are still murdered and assaulted at the highest rates in the US. The House passed VAWA, #HR1585. When will the #Senate act?! pic.twitter.com/k7TDUAG9rT
On June 28, DOJ announced its support for the restoration of tribal criminal jurisdiction over non-Indian crimes against tribal law enforcement & Native children. @LindseyGrahamSC, will you commit to restoring tribal jurisdiction in and pass #HR1585?! pic.twitter.com/OP3yQJauYg
The testimony from the @IndianCommittee June 19 hearing was conclusive: tribal jurisdiction over non-Indian crimes against Native women and children MUST be restored. @SenJohnHoeven- we must pass #HR1585 in the Senate! https://www.indian.senate.gov/news/press-release/hoeven-holds-legislati…- bills-improve-public #VAWA2019 pic.twitter.com/yvYTOe1aJH
On some reservations, Native women are murdered at 10x the national murder rates. The elimination of tribal criminal jurisdiction contributes directly to these high rates of violence. @SenJoniErnst, what are YOU doing to restore tribal jurisdiction? pic.twitter.com/r0Py8VBpzc.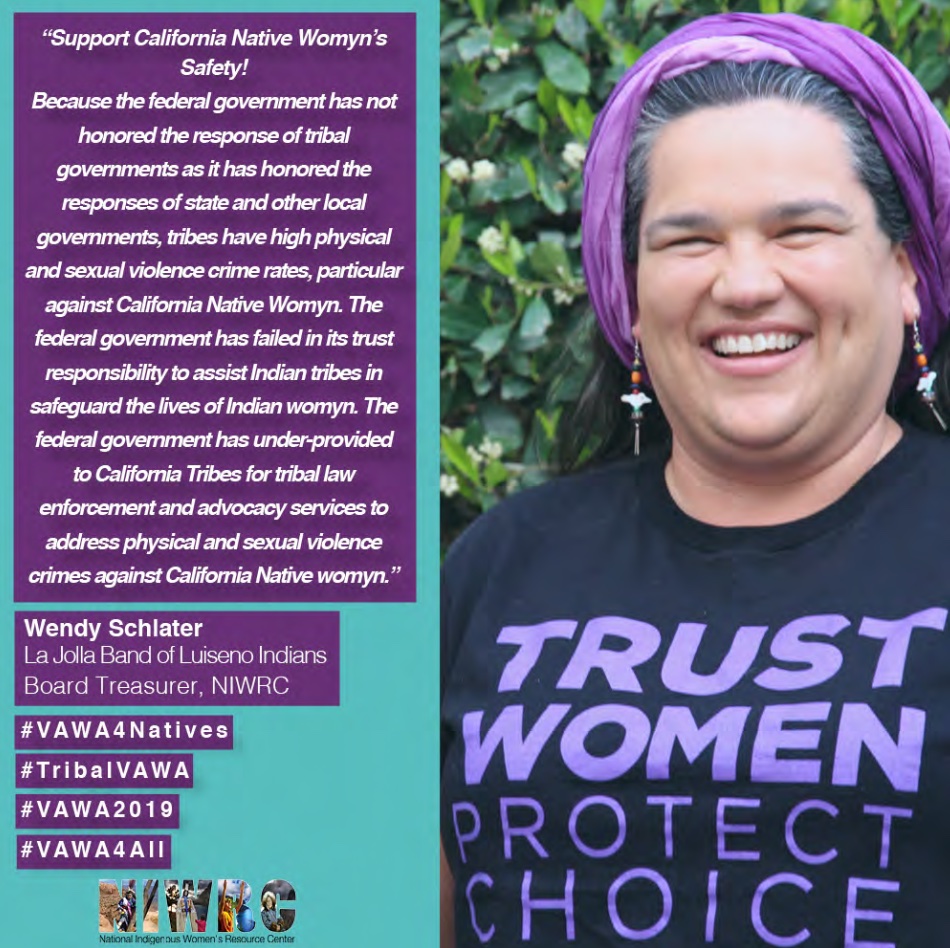 As @TomColeOK04 says, "hunters know where to hunt, fishermen know where to fish, and predators know to prey. A disproportionate number of those predators have preyed on Indian Country and Native women," @SteveDaines, can we count on YOU to pass #HR1585 to protect Native women?
After 25 years of VAWA, Native women still experience the highest rates of domestic violence and sexual assault. In April, the House passed VAWA, with critical enhancements to protect Native women. Native women cannot afford to wait. The Senate must act and pass VAWA now #HR1585