Safety for Alaska Native Women Looking Beyond the Immediate Crisis by Michelle Demmert
By Michelle Demmert, Law & Policy Consultant, Alaska Native Women's Resource Center
Historically, Alaska Indian tribes have been treated differently than lower 48 tribes, often making fundamentals of tribal court jurisdiction difficult to understand or ascertain. Such disparate treatment has contributed to high crime and victimization rates which resulted in the FY17 USDHHS appropriations for an Alaska Native Tribal Resource Center on Domestic Violence awarded to the Alaska Native Women's Resource Center (AKNWRC).
I am honored to serve as a Law and Policy Consultant to the AKNWRC and in this capacity excited to assist the national movement in looking beyond rates of violence against Alaska Native women and immediate responses to individual cases. Alaska Native villages are confronting head-on a human rights crisis reflected in the disappearances, murders, trafficking, and unconscionable acts of ongoing violence of women and girls. To address this human rights crisis, we must look deeper and focus reform efforts on fundamental changes required to allow Alaska Native villages to protect women.
Historical Roots of the Current Crisis
With the passage of the ANCSA in 1971, the only remaining reservation in the state is the Annette Island Reserve in Southeast Alaska. Rather than recognize sovereign tribal lands, ANCSA tasked the for-profit corporations to manage more than 40 million acres of fee land. ANCSA divided the state into 12 regional corporations and over 200 village corporations that would identify with their  regional corporation. Many of these villages had corresponding tribal village governments but, with the passage of ANCSA, no meaningful land base. As a result, unlike most court systems that have defined territorial jurisdiction and personal jurisdiction, Alaska tribal courts generally exercise jurisdiction through tribal citizenship, and not through a geographic space defined as "Indian country" because of ANCSA and in part due to a United States Supreme Court case.
As a result of the U.S. Supreme Court's unfavorable decision in Alaska v. Native Village of Venetie Tribal Government, 522 U.S. 520 (1998), most of the tribe's traditional territory is not considered "Indian country." Without the ability to tax, without Indian gaming, and without consistent and predictable tribal court appropriations, Alaska tribes lack the revenue typically available to other tribal governments to fund and sustain essential government infrastructure and services. All Alaska tribes are in a similar position, and must find innovative ways to raise governmental revenue and to leverage other resources to sustain their tribal courts, public safety, and victim services. Because of this resource dilemma, available grants for developing and sustaining programs are incredibly important for Alaska tribes.
For these and other reasons, Alaskan tribal governments are not positioned to take advantage of the traditional tools that local governments use to generate revenue. Except for Metlakatla, Alaska tribal governments have no taxable land base, and subsistence economies—also known as non-cash economies—are unable to generate strong steady revenues in the form of a sales tax, property tax, or other taxes.
Making matters worse, in 2003, Alaska's Senator Ted Stevens singled out Alaska tribes for exceptionally harsh financial restrictions through legislative riders to the FY04 Consolidated Spending Bill (Sec. 112 of HR 2673). The riders eliminated funds to tribal courts and tribal law enforcement programs in Alaska Native villages, and specifically excluded certain Southeast Alaska communities from receiving any Department of Justice funding. Although Congress recently eliminated these restrictions, they set back Alaska tribes even further while they were in place. Without adequate resources, tribal court jurisdiction and law enforcement floundered. In addition, domestic violence and sexual assault survivors located in Alaska Native villages were often left without any means to seek justice for the crime against them because many villages lack law enforcement. When law enforcement does finally arrive, sometimes the evidence is stale or the chain of custody can no longer meet applicable legal standards and the case cannot be prosecuted.
Although, in a PL 280 state, Alaska tribal communities should have access to state justice services, those services are centered in a handful of Alaskan urban areas, making them often more theoretical than real. As mentioned, many communities have no law enforcement, no 911, no state official they could conceive of raising a complaint to, given the separation of geography, language, and culture. Also, because Alaska is a mandatory PL 280 state and because of other factors identified below, jurisdictional issues in Alaska create extremely dangerous conditions for Alaska Native women living in our small, remote communities.
These Congressional acts and Supreme Court cases have resulted in an absence of an effective justice system that has disproportionately harmed Alaska Native women who are continually targeted for all forms of violence. The Indian Law and Order Commission Report, A Roadmap for Making Native America Safer (2013), available at www.aisc.ucla.edu/iloc/report/, stated Alaska Native women are over-represented in the domestic violence victim population by 250%; they comprise 19% of the state population, but are 47% of reported rape victims. And among other Indian tribes, Alaska Native women suffer the highest rates of domestic and sexual violence in the country.
Indian Law and Order Commission Recommendations
The Tribal Law and Order Act of 2010 created the Indian Law and Order Commission and authorized the Commission to conduct an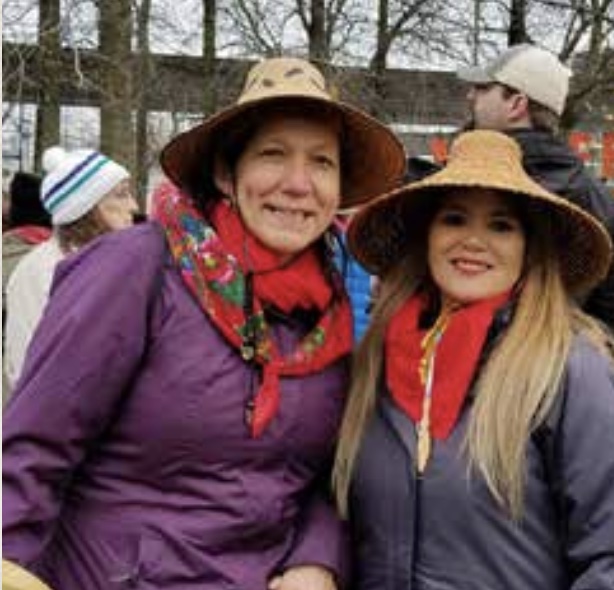 extensive study of jurisdictional issues in Alaska. The Commission devoted an entire chapter to Alaska and found that:
"The strongly centralized law enforcement and justice systems of the State of Alaska...do not serve local and Native communities adequately, if at all. The Commission believes that devolving authority to Alaska Native communities is essential for addressing local crime. Their governments are best positioned to effectively arrest, prosecute, and punish, and they should have the authority to do so—or to work out voluntary agreements with each other, and with local governments and the state on mutually beneficial terms."
While there have been recent gains that benefited Alaska, we still have laws and policies that make support for strong Alaska Native Judicial systems erratic, if not impossible. For example, the U.S. Department of Justice's support for repeal of the Special Rule for the State of Alaska included in Section 910 of VAWA 2013 was applauded in Alaska, but the issue of Indian country, described further below, remains. In a July 28, 2014, letter from Associate Attorney General Tony West to the Alaska state Attorney General, West reminded him of the state's obligation to give full faith and credit to tribal court orders of protection. Prior to this time, enforcement and recognition of Alaska tribal court orders was essentially non-existent. Basically, Alaska law required orders of protection issued by tribal courts to be registered with the state before enforcement would be available. As a result of Associate Attorney General West's assistance, the state of Alaska has recently evaluated its role in supporting Alaska Native protection orders. While still encouraging registration of tribal and foreign protection orders, in 2015, the state recognized that it must enforce unregistered Alaska tribal orders. 
Recent studies such as the newly released, National Institute of Justice, Research Report on the Violence Against American Indian and Native Women and Men, document the dire safety circumstances that Alaska Native villages are in because of their unique geographic situation. One startling statistic is that 38% of Native victims are unable to receive necessary services compared to 15% of non-Hispanic white female victims.
The Jurisdictional Quagmire in Alaska: Special Domestic Violence Criminal Jurisdiction
The repeal of Section 910 of VAWA 2013 was a victory as it was a necessary step towards removing a discriminatory provision in the law that excluded all but one Alaska tribe from ever being able to enhance their response to violence against Native women in ways afforded all other federally recognized tribes. Nevertheless, because of the Venetie decision, additional reforms are needed before Alaska tribes will be able to increase safety for Alaska Native women and hold all offenders accountable. This is because Section 904 of VAWA 2013 limits the exercise of the special domestic violence criminal jurisdiction restored to tribes to certain crimes committed in "Indian country." Yet, at the same time, the state does not have the resources to provide the level of justice needed in tribal communities. 
Addressing the Crisis: Necessary Reforms to Federal Law
Congress in part created this crisis and can also resolve it by amending federal Indian law to address this injustice and reflect the reality that village governments are the ones present in villages and as important is the reality that as sovereigns they have the right to protect women and children. Such a legislative fix is within reach and only requires the will of Congress to act and begin to address this crisis.
The Tribal Law and Order Act Commission, specifically, recommended a legislative fix for the U.S. Supreme Court's Venetie decision by: amending the definitions of "Indian country" to include Alaska Native allotments and native-owned town sites; supporting land into trust applications by Alaska Native tribes; channeling more resources directly to Alaska Native tribal governments for the provision of governmental services; and supporting Alaska Native tribes and villages with the exercise of criminal jurisdiction within their communities.
This reform effort also requires an amendment to the ANCSA definition of "Indian country" to include Alaska Native allotments and Native-owned town sites. The ILOC stated that Congress should overturn the U.S. Supreme Court's decision in Alaska v. Native Village of Venetie Tribal Government by amending ANCSA to provide that former reservation lands acquired in fee by Alaska Native villages and other lands transferred in fee to Native villages pursuant to ANCSA are Indian country. ILOC Report at 51. Such a federal amendment could be inserted into pending legislation such as the Native Youth and Tribal Officer Protection Act, the reauthorization of Tribal Law and Order Act, or the reauthorization this year of the Violence Against Women Act. The reform could also be accomplished by amending other federal laws such as the statute defining Indian country, or accomplished through other changes in federal policy allowing the Department of the Interior to accept land into trust for all federally recognized Alaska tribes.
"Problems in Alaska are so severe and the number of Alaska Native communities affected so large, that continuing to exempt the state from national policy change is wrong."
—Indian Law and Order Commission Report (2013)
Lack of Indian country status denies Native women access to federal reforms
As mentioned with the Native Village of Venetie case, there is virtually no "Indian country" in Alaska to be afforded the advantages intended within many federal reform efforts to address violence against Native women. 
"Alaska's approach to providing criminal justice services is unfair. Alaska Natives, especially those living in rural areas of the state, have not had access to the level and quality of public safety services available to other State residents or that they should rightly expect as U.S. citizens. Given the higher rates of crime that prevail in Alaska Native communities, the inequities are even greater in relative terms. The state of Alaska's overarching lack of respect for tribal authority further magnifies fairness concerns." ILOC Report at 46. But yet without a meaningful and identifiable land base, jurisdictional boundaries will prevent a meaningful solution to solving the public safety crisis in Alaska Native villages.
Congress should overturn the U.S. Supreme Court's decision in Alaska v. Native Village of Venetie Tribal Government by amending ANCSA to provide that former reservation lands acquired in fee by Alaska Native villages and other lands transferred in fee to Native villages pursuant to ANCSA are Indian country.
—Indian Law and Order Commission recommendation
We need to begin a dialogue that gets at the heart of community safety issues and concerns. Government- to-government consultations could be held to develop a solution to address the jurisdictional issues found in Alaska. Until the issue of "Indian country" in Alaska is addressed, Alaska tribes, except Metlakatla, are largely left without inclusion in this important legislation that recognizes the inherent authority of a tribe to prosecute violent crimes against women. This situation is especially dire with the economic strain the state of Alaska is currently in. The state lacks resources to address the concerns of the village.
The Violence Against Women Act's Title IX. Safety for Indian Women Section 901. Findings section states: "Congress finds that . . . the unique legal relationship of the United States to Indian tribes creates a federal trust responsibility to assist tribal governments in safeguarding the lives of Indian women." It is time for Congress to uphold this unique legal relationship by clarifying the authority of Alaska Native villages to address violence against Alaska Native women and by supporting the full implementation of this authority with adequate resources.