NativeLove: Visits Haskell Indian Nations University for Haskell Pride The Heart of Healthy Relationships
Rebecca Balog, Princella RedCorn, & Rose Quilt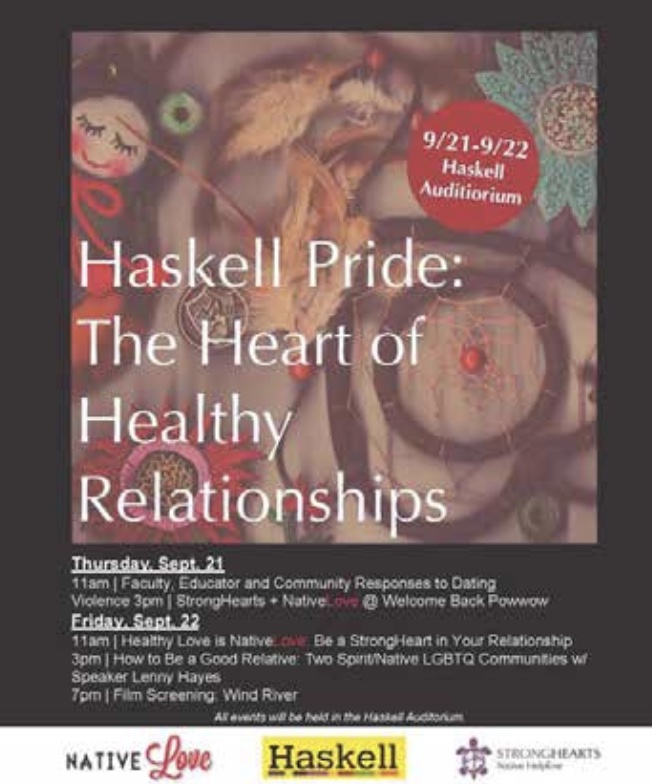 Haskell Indian Nations University, Lawrence, Kansas— NativeLove and the StrongHearts Native Helpline were invited by Haskell faculty member Elyse Towey to initiate conversations with faculty and students about the NativeLove Project. The NativeLove visit included Haskell faculty, community elders, professors, and local direct service non-Native domestic violence and sexual assault advocates in the area to have conversations about the critical importance of including Haskell's student voices in discussions about positive dating relationships, domestic violence, sexual assault, stalking, and other forms of violence. September was an important month for setting the tone for a positive beginning to the academic year and to prepare the Haskell community for the October Domestic Violence 8 Awareness Month. While on campus, the team held six Haskell events to hear from the community, educate students, and conduct informational presentations about dating violence, Two-Spirit/Native LGBTQ issues concerning bullying and violence, and defining healthy relationships.
NativeLove invited Lenny Hayes of Tate Topa Consulting, Inc. to lead the discussion about the importance of support for our Two-Spirit and Native LGBTQ community members at Haskell. Lenny discussed the impact of bullying among communities and talked about supporting healthy relationships with Two-Spirit/Native LGBTQ students including the critical importance of healing.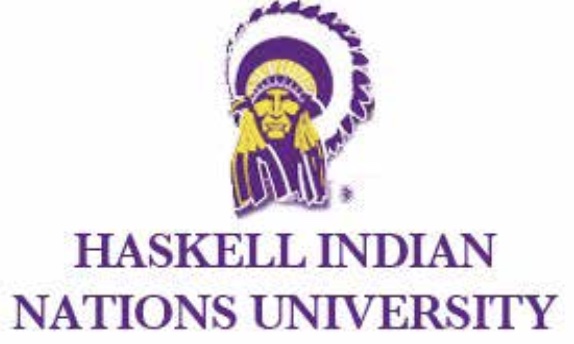 After our visit, an article titled "Domestic Violence Is NOT Our Tradition," written by Sean Parrish, was published in the Indian Leader, the oldest Native American newspaper printed at Haskell University. This article included student perspectives of the NativeLove discussions. Bry Smiley (Diné), a Haskell senior majoring in Indigenous and American Indian Studies, shared his thoughts about the "NativeLove Two-Spirit/ LBGQT Communities" presentation facilitated by Lenny Hayes:
"It really opened up a new perspective of different forms of bullying that I have heard about, seen, and experienced. I want to bring awareness to the campus about the Two-Spirit community by utilizing my own voice to be a leader for the Two-Spirit Natives here on campus. The Two-Spirit community, which is prevalent, has a lack of representation here on campus. It's, in a sense, ignored and stored away for students, such as myself. I notice the flaws and now it's time to take those flaws and change it into something that will perhaps blossom or perhaps plant a seed for future students to know about the Two-Spirit community here on campus."
The Haskell Indian Nations community will now host its first ever Two-Spirit Powwow on February 24, 2018! Follow the Haskell Two-Spirit Powwow event page for more information at: https://www.facebook.com/events/134928123876497/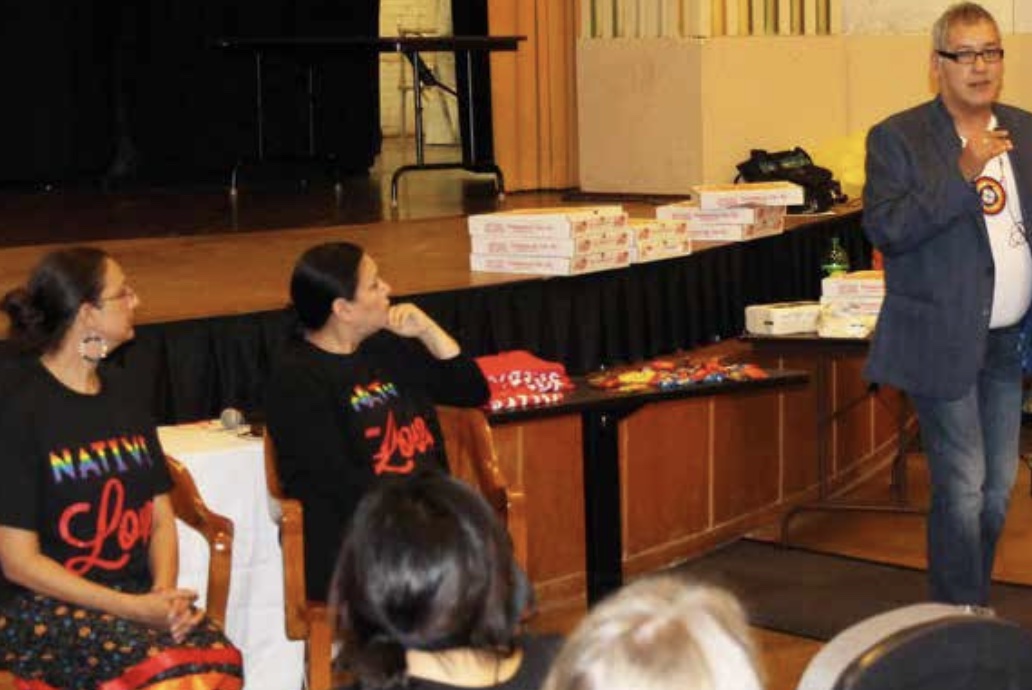 Change. We can do this.
Other important discussions included the StrongHearts Native Helpline about "How to Identify Unhealthy Relationships," where the Helpline presented information and resources for the new national domestic violence helpline specifically created to respond to the needs of Native people, for Natives, by Natives.
The NativeLove and StrongHearts Native Helpline team also provided information and resources at an informational booth at the Haskell Welcome Back Powwow and further provided a screening of the 2017 film Wind River with a post-screening panel discussion on murdered and missing Native women and girls. Since 2014, Verizon has partnered with NIWRC to raise awareness and help end violence against Native youth by empowering them to redefine NativeLove. Those of us in Native communities often hear jokes about "Indian loving" as waking up with a hickey and black eye—that's not love, that's dating violence. The NIWRC NativeLove project encourages Native youth to think about what love really is, so we can create change in our thinking and restore safety to our communities by restoring our traditional ways of how we love others, characterized by respect, honor, kindness, family, and compassion. Our NativeLove project includes three different tracks: a youth engagement track, adult/educator/advocate track, and the NativeLove Challenge. We conduct and provide video/ photo contests, customizable posters and resources, social media campaigns, FAQs, and both teen and adult resources and toolkits. These are offered to support and inform youth and educators about healthy relationships and to encourage dialogue in Native communities to end domestic and sexual violence.
The NIWRC NativeLove team continues to travel far and wide to meet with tribes, tribal communities, and Native youth to talk about teen dating violence and the importance of awareness. We look forward to building partnerships to support the work of grassroots advocates and other national youth organizations. Our philosophy is meant to engage youth by providing mentorship to show the value of "treating each other as relatives" including collaboration as a vehicle for social change. NativeLove offers national Twitter circles, tribal site visits and training, awareness month presentations, information booths, tribal school/urban Indian public schools/boarding school assemblies, community center events, youth conference or community workshops, youth leadership and mentoring, and other customizable projects on a wide variety of intersections that impact or impede healthy love for youth. If you would like to learn more or have NativeLove visit your community, please contact nativelove@niwrc.org.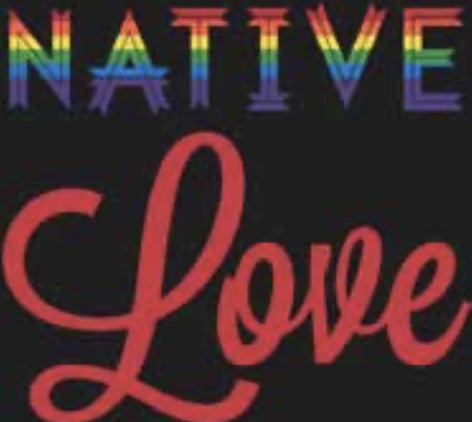 TheNativeLove Team would like to extend our deepest gratitude to Lenny Hayes of Tate Topa Consulting for the support of the NativeLove Project. His dedicated work to Two-Spirit and Native LGBTQ youth inspired us to create the first Ally and Gay Pride T-shirt. Wopila, Lenny Hayes!
To purchase this T-shirt or one of our healthy relationship designs, please visit: http://nativelove.niwrc.org/shop/