StrongHearts Native Helpline Organization
By Lori Jump, Sault Ste. Marie Tribe of Chippewa Indians, Chief Executive Officer, StrongHearts Native Helpline
Organization Growth Ushers In New Energy and Creativity
As of September 2022, StrongHearts Native Helpline observed five years of successful operation with more than 25,000 calls from across Indian Country. We continue to see exponential growth and positive change within our organization. StrongHearts is thriving!
Earlier this year, StrongHearts hired a management consultant to review the structure of our organization— job titles, position descriptions, and compensation. During this time, job titles have been updated, job descriptions revised, and a new compensation package has been implemented.
I am grateful for the support of our Board of Directors, which approved the employee compensation project and allowed us to backdate pay raises to June 1. I'm also proud to report that some of our in-house team members have stepped into leadership roles and accepted promotions that will ensure we are growing in the right ways and direction.
One of the most exciting developments is the hiring of team members in the Communications Department. We are pleased to welcome Samantha Still (She/Her, Pueblo of Pojoaque) as Communications Manager. The Communications Manager plans and executes communications strategies and initiatives to promote StrongHearts across communications channels to meet our mission and project goals.
Christy "Giizhi" Bieber (she/they, Anishinaabe) is our new Communications Coordinator. The Communications Coordinator promotes StrongHearts across multiple channels and helps execute communications strategies to ensure consistent branding and messaging, including developing print and digital content, curating social media posts, and conducting outreach to Tribal communities.
These two positions are critical for us to get our messages out to Indian Country and amplify our reach to Native American and Alaska Native domestic violence, dating violence, and sexual violence victim-survivors in Indigenous communities and urban areas. Both Samantha and Giizhi bring an incredible amount of energy, enthusiasm, and creativity to StrongHearts, and I am thrilled to welcome them to our organization.
 
About Samantha Still, Communications Manager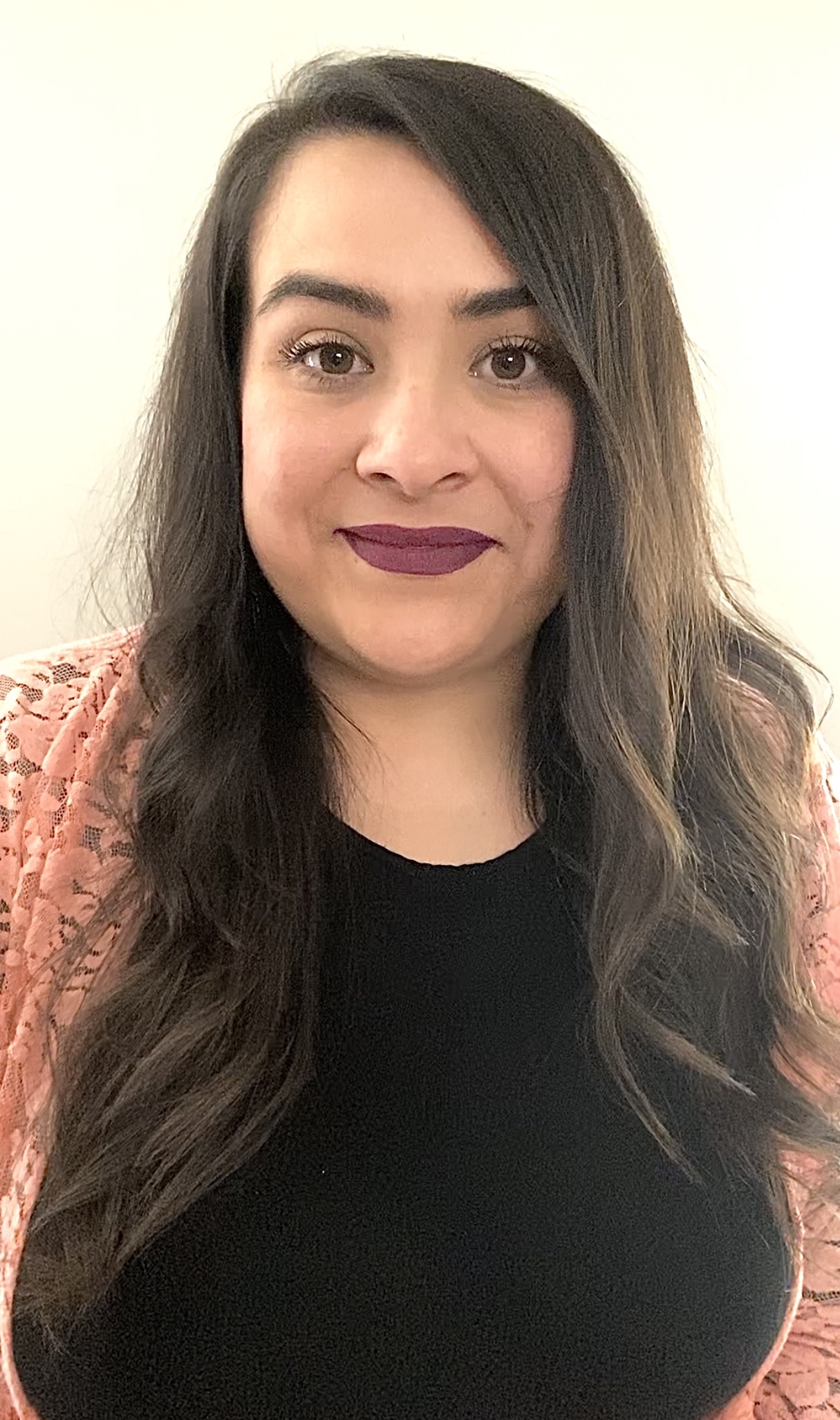 Samantha believes that marketing and communications are a fundamental part of bringing attention to StrongHearts' mission and securing support for Native communities. She has been in the field of Marketing and Communications for more than a decade starting at her Tribe in web and graphic design, social media, content creation, strategic planning, event planning and execution, public and media relations, data analysis, process improvement, and community engagement.
Samantha studied business administration with an emphasis on marketing and communications. This is her first time working in the field of domestic violence, dating violence, and sexual violence. Samantha is proud of her marketing background and experience, which includes many years working for her Tribe.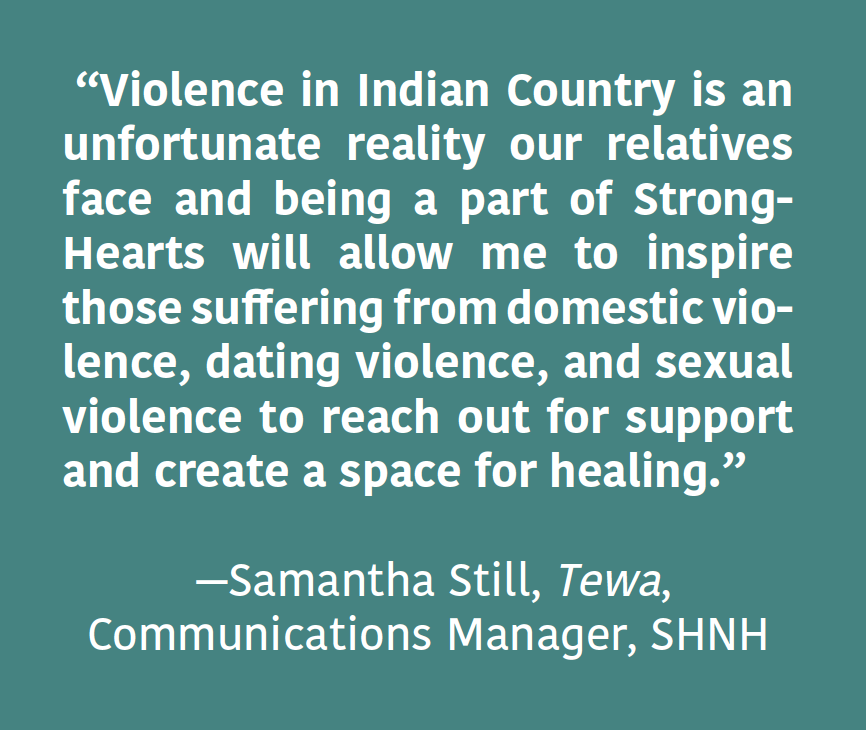 "Marketing for our resort and other businesses and corporations within my community has given me the opportunity to explore my likes and dislikes of different areas within the world of business," said Samantha. "All of my experience comes from being hands-on. Taking the strategic goals of a company and turning those goals into results is what drives me. Creating and delivering content to inform our relatives of what resources we can provide to help navigate their current situation is my focus and priority. I consider my strength to be in social media and website platforms and being able to assess key performance indicators to gauge the effectiveness of marketing strategies."
As Communications Manager, Samantha hopes to relay the word about StrongHearts in the best possible way to our relatives across Indian Country by "getting our mission and voices directly to reservations and ensuring our relatives are in a safe space," she said.
"Making a difference within my community and helping to bring resources and support to Native nations was the reasoning behind my decision to seek employment with StrongHearts. StrongHearts Native Helpline has done an amazing job creating a space for support and healing. My goal is to enhance things, such as social media, web, and our chat option. Our team will work collectively on gearing our messages to our Native communities who seek support for their current or past experience with domestic violence, dating violence, and sexual violence."
Samantha will assess the marketing strategies that StrongHearts has in place and how to improve those strategies. "I look forward to working with the StrongHearts Communications team to turn our mission and goals into effective messages while driving more of our relatives needing support and resources to our different platforms," Samantha said. "Violence in Indian Country is an unfortunate reality our relatives face and being a part of StrongHearts will allow me to inspire those suffering from domestic violence, dating violence, and sexual violence to reach out for support and create a space for healing. I'm looking forward to learning and growing beside my team."
When she's not working Samantha enjoys baking and spending time with her family. She can be reached at sstill@strongheartshelpline.org.

About Communications Coordinator Christy "Giizhi" Bieber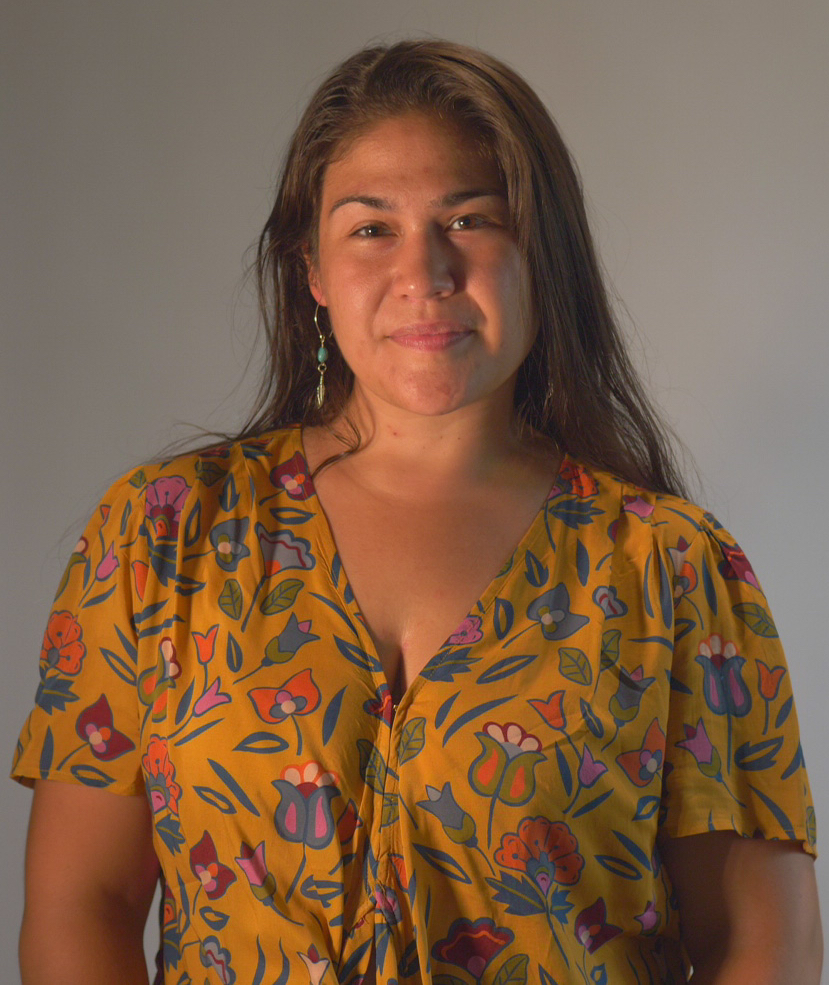 Communications Coordinator Christy "Giizhi" Bieber (she/they, Anishinaabe) has a background focused on mental health. She has experience as a master trainer of Applied Suicide Intervention Skills Training. Giizhi has a Bachelor of Science in Brain, Behavior, and Cognitive Science from the University of Michigan. Her media work has supported messaging campaigns supporting public health, environmental justice, education, and mental health.
Giizhi has 10 years of experience working in Detroit's urban community where she helped with a youth program and suicide prevention project. "Having been a trainer of helpers in the field of suicide prevention, I am familiar with messaging that is trauma-informed and culturally-specific," Giizhi said. "This experience is related as the mental wellness of our relatives go hand-in-hand with domestic violence in our communities."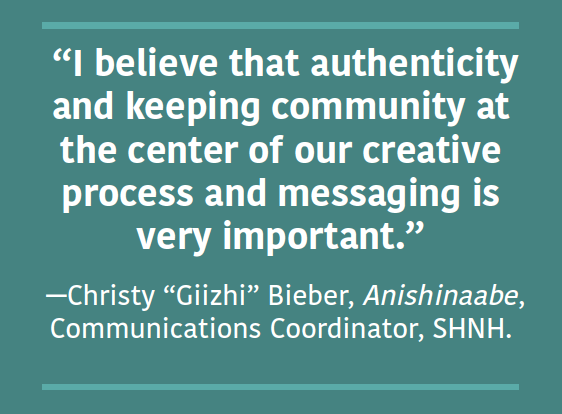 Giizhi—a storyteller through the medium of film—has several years of uplifting stories of resilience, culture, and education. "I have worked as an independent filmmaker on various projects," Giizhi said. "I learned videography and graphic design skills through actively meeting the needs of my community as a documentarian and cultural worker supporting various grassroots organizations and movements. The stories that I was a part of uplifting and co-creating were about environmental justice, Indigenous cultures, and healing justice. Urban areas experience environmental racism with the proximity to industrial pollution and Native communities across Turtle Island experience the negative effects of colonization through historical trauma and the current violence from oppression. Uplifting narratives for and by our relatives is an effort to bring awareness to issues and a direct healing modality by way of contemporary storytelling. I love media making and the art of storytelling that is inherent in this field. Creating messages and media that is accessible, culturally responsive, and supportive is something that I value. I have seen the way media arts has been utilized in communities that has brought about positive change, healing, and connection and this is work that I am honored to be a part of. My strengths are in creativity and authenticity—videography and editing are what I am best at, creating visuals that reflect the beauty of our surroundings and relatives. I believe that authenticity and keeping community at the center of our creative process and messaging is very important. It is this human and empathetic root of creating that will contribute to the well-being of our relatives."
"I was interested in this position at StrongHearts because it is an amazing opportunity to work in the realm of media arts while supporting my community directly on an issue that I am passionate about. I am excited and honored to work with the communications team at StrongHearts to find creative ways to educate our community and bring more awareness to the Helpline, so that our relatives can get the support they need when facing domestic violence. I am especially looking forward to making videos for social media platforms."
"This work is important to me because I am a relative that has been affected by the issues our collective community faces with regard to domestic violence, dating violence, and sexual violence. All of us are reflections of one another, and our well-being is determined by all of our relatives being safe and free from domestic violence, dating violence, and sexual violence. This work is our collective responsibility; and it is an honor and a blessing to use my gifts to support."
When Giizhi is not working, she enjoys being outdoors, visiting the waters, and the land. Giizhi can be reached at cbieber@strongheartshelpline.org.