Reforms and Resources to Remove Barriers to Safety and Justice for Native Women
By Kerri Colfer, Tlingit, Senior Native Affairs Advisor, NIWRC
Family Violence Prevention and Services Improvement Act of 2021 (FVPSA)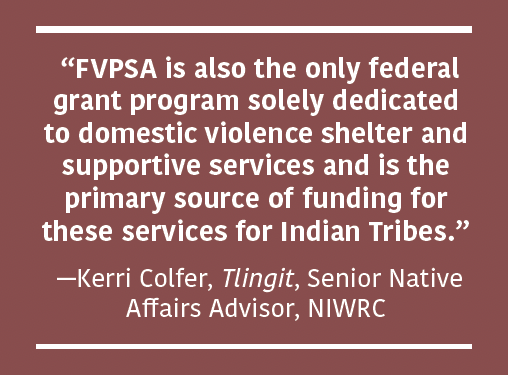 On October 26, 2021, the United States House of Representatives voted 228 to 200 to pass the bipartisan Family Violence Prevention and Services Improvement Act (FVPSA) of 2021 (H.R. 2119). On July 21, 2021, the Senate Committee on Health, Education, Labor, and Pensions marked up S. 1275. The bill advanced out of Committee by voice vote.
The FVPSA reauthorization bill provides critical support for shelters, coalitions, training and technical assistance centers, children's services, emergency response hotlines, and prevention initiatives, including those in Indian Country. FVPSA is also the only federal grant program solely dedicated to domestic violence shelter and supportive services and is the primary source of funding for these services for Indian Tribes. The FVPSA would expand grant programs and make many needed improvements so that more survivors have access to support and safety, including:
Adjustment of the funding distribution formula to increase the amount that Tribes receive from 10% to 12.5%;

Dedicated funding for Tribal coalitions to provide culturally-appropriate technical assistance and training to Tribes;

Permanent funding for the national Indian domestic violence hotline;

Permanent funding for the Alaska Native Tribal Resource Center on Domestic Violence to reduce disparities facing Alaska Native victims; and

Permanent funding for the Native Hawaiian Resource Center on Domestic Violence to reduce disparities facing Native Hawaiian victims.
Please send a prewritten FVPSA reauthorization letter directly to your Senator at https://niwrc.quorum.us/.
Bridging Agency Data Gaps and Ensuring Safety (BADGES) for Native Communities Act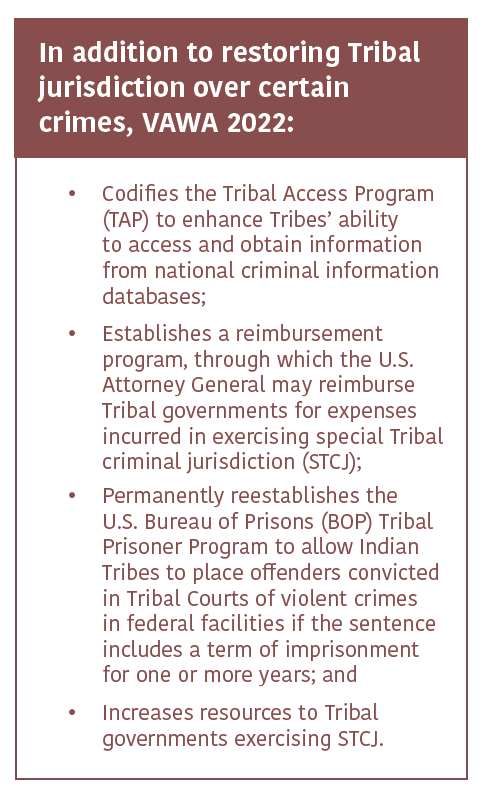 On September 22, Representative Ruben Gallego (D-AZ-07) and Senator Catherine Cortez Masto (D-NV) led Tom Cole (R-OK-04), Sharice Davids (D-KS-03), and Dan Newhouse (R-WA-03) in introducing the BADGES for Native Communities Act (S. 4923 /H.R. 8960). The bill promotes recruitment and retention of federal law enforcement, addresses inefficiencies in federal missing persons data systems, increases Tribal access to the National Missing and Unidentified Persons System (NamUs), and establishes a grant program to improve coordination efforts between states, Tribes, and Tribal organizations on cases of missing and murdered persons.
Violence Against Women Act (VAWA 2022)
On March 10, the U.S. Senate voted to reauthorize the bipartisan Violence Against Women Act Reauthorization Act of 2022 (VAWA 2022) through the passage of the Consolidated Appropriations Act, 2022 (H.R. 2471), the omnibus government funding bill for the fiscal year 2022. The bill was signed into law by President Biden on March 15.
Now reauthorized through 2027, VAWA 2022 includes historic provisions that restore critical categories of Tribal criminal jurisdiction necessary to protect Native women and children, including sexual assault, stalking, sex trafficking, child violence, obstruction of justice, and assault on Tribal justice personnel.
The Violence Against Women Act Reauthorization Act also establishes an Alaska pilot project, which will enable a limited number of Alaska Native villages to exercise STCJ, and clarifies that Tribes in Maine are also eligible to exercise STCJ.