Family Violence Prevention and Services Act (FVPSA) Saves Native Women's Lives
By Paula Julian, Filipina, Editor, Restoration Magazine & Senior Policy Specialist, NIWRC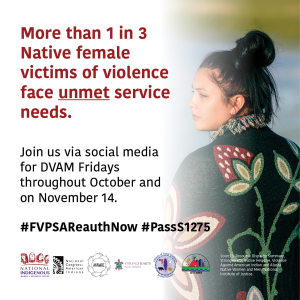 Pass FVPSA (S.1275) Now
The Family Violence Prevention and Services Act (FVPSA) grants to American Indian and Alaska Native Indian Tribes and Tribal organizations are formula grants funded through a 10% statutory set-aside. The purpose of these grants is to assist Tribes in efforts to increase public awareness about, and primary and secondary prevention of, family violence, domestic violence, and dating violence, and to provide immediate shelter and supportive services for victims of domestic, family, or dating violence, and their dependents. Funding is available to all Tribes and Tribal organizations that meet the definition of "Indian Tribe" or "Tribal organization" at 25 U.S.C. 450b and are able to demonstrate their capacity to carry out domestic violence prevention and services programs.
Other programs funded by FVPSA include the National Indigenous Women's Resource Center (NIWRC) serving as the National Indian Resource Center, the Alaska Native Women's Resource Center (AKNWRC), and StrongHearts Native Helpline. The last two programs are funded on a discretionary basis through appropriations and need permanent funding.
The following amendments would strengthen American Indian, Alaska Native, and Native Hawaiian capacity to respond to domestic violence:
Increase the Tribal government set aside from 10% to 12.5%
Authorize permanent funding for the AKNWRC to serve as the Alaska Native Tribal Resource Center on Domestic Violence
Authorize permanent funding of the StrongHearts Native Helpline to serve as the National Indian Domestic Violence Helpline.
Authorize formula funding for the Tribal Domestic Violence Coalitions to provide training and technical assistance (TTA) similarly to what the State Domestic Violence Coalitions provide through a separate set aside
Authorize permanent funding for the Native Hawaiian Resource Center on Domestic Violence (NHRCDV)
 
"Less than half of the federally recognized Tribes currently receive funding with awards for most Tribes averaging $14,000 before 2018 with increased appropriations for Tribal governments."
—FVPSA Tribal Workgroup and Paula Julian, Filipina, Editor, Restoration Magazine & Senior Policy Specialist, NIWRC

Recommendations And Organizations
The overarching theme of our recommendations is based on one simple fact. Tribal governments, Tribal coalitions, and Tribal and Native Hawaiian people are best equipped and situated to help Indigenous survivors of domestic violence and abuse. The current breakdown of FVPSA funding allows AI/AN survivors to fall through the cracks. Only by making Tribal programs (such as AKNWRC and StrongHearts) and the NHRCDV permanent and reallocating funding percentages to meet current needs can more AI/AN and Native Hawaiian survivors receive the shelter and support services they need.
Tribal Government Funding From 10% To 12.5%
Before 1994, Alaska Tribes were not eligible for funding through FVPSA. In a Solicitor's Opinion issued 1/11/1993, entitled "governmental Jurisdictional Alaska Native Villages Over Land and Nonmembers," the Solicitor rejected the view that Alaska Native Villages were not Tribes. As a result of this decision, roughly 220+ Tribes were added to the FVPSA eligibility—nearly doubling the eligible Tribes, but not increasing the amount available to Tribes. Less than half of the federally recognized Tribes currently receive funding with awards for most Tribes averaging $14,000 before 2018 with increased appropriations for Tribal governments. Less than 60 Tribal domestic violence shelters and less than 300 Tribal domestic violence programs operate throughout the nation. Shelters and advocacy services are too often the only lifeline women and their families have, especially when justice systems fail to protect women and hold abusers accountable.
FVPSA Authorization expired in 2015 and our FVPSA Tribal Workgroup has worked closely with our larger coalition of allies for several years to craft meaningful FVPSA reauthorization language with key Tribal enhancements mentioned above and included in H.R. 2119 passed out of the House of Representatives October 26, 2021. The Senate must now pass S.1275 out of the Senate. Tribal leaders provided clear statements during the 2021 FVPSA, HHS government-to-government consultation on the need for Tribal enhancements in H.R.2119 and S.1275. All of these enhancements are supported by the National Congress of American Indians and NCAI Violence Against Women Task Force with resolutions passed in 2014 and 2021.
On March 22, 2021, the testimony of La Jolla Band of Luiseno Indians Vice Chairwoman, Wendy Schlater, before the House Subcommittee on Civil Rights & Human Services Hearing, Ending the Cycle: Examining Ways to Prevent Domestic Violence & Promote Healthy Communities:
"I know first-hand how FVPSA has made a difference in the lives of women in my community. I share these stories as day-to-day examples of why FVPSA is essential to Native women and Indian Tribes. One morning when I arrived at my office, I noticed a strange car parked in front of our building. A mother and her children were in the car and looked like they had spent the night there. I invited them in for coffee and food. FVPSA allows us to have food on-site for victims. The woman explained that she had run away the night before with her kids, one of whom was autistic and had down syndrome. She left with nothing because her husband had been abusive and started burning their clothes, including their son's orthotic brace, which he needed to walk and participate in school. Through FVPSA, we found her temporary shelter and later a permanent home of her own. We also used FVPSA funds to replace his brace.
On another day, we had a call from a victim who was not from our Tribe, but whose sister was married to one of our Tribal members. The woman had gotten kicked out of the shelter because her abuser had stalked her with a tracking device in her car, which he used to track her to the shelter. He had threatened her and their children with a gun. She had nowhere to run to after being forced out of the shelter, except to her sister's home on our Reservation.  We knew she would not be safe for long. We assisted with a restraining order, food, a safety plan, and most importantly a one-way airline ticket to family out of state. This woman now lives violence-free and has gotten the healing help she and her children needed. This may have ended in homicide if we didn't have FVPSA funding to buy her one-way ticket back home."
The Alaska Native Women's Resource Center (www.AKNWRC.org)
AKNWRC is committed to strengthening local, Tribal government responses in Alaska, a state comprised of over 40% of federally recognized Tribes, by organizing efforts to advocate for the safety of women and children in their communities and homes, especially against domestic violence and sexual abuse violence. We do this by providing:
Technical Assistance & Training, including Needs Assessment;
Public awareness/resource development;
Policy development & systems advocacy/engagement; and
Advocacy on an Alaska Native program of research and knowledge development.
The StrongHearts Native Helpline (www.strongheartshelpline.org)
Trained with a strong understanding of Tribal cultures, sovereignty, and law, StrongHearts advocates offer one-on-one, peer-to-peer support, and referrals to local resources in a safe and healing environment. All calls are anonymous and confidential. As of August 2022, StrongHearts (1-844-7NATIVE) has received more than 25,000 calls from survivors, concerned family members and friends, service providers, and more, helping to close the gap in culturally-appropriate resources for American Indians and Alaska Natives facing domestic violence. As the first culturally-appropriate domestic violence helpline specifically serving Native Americans, StrongHearts is also expanding its staff of advocates to respond to callers, many of whom are seeking support as they navigate difficult barriers to justice and safety.
Alliance of Tribal Coalitions to End Violence (www.atcev.org) 
Tribal Coalitions exist throughout Indian Country providing training, technical assistance, and support to Tribal government and Tribal victim services providers. Currently, 19 Tribal coalitions exist with more forming to address gaps in services and as need is demonstrated. The Alliance in collaboration with the Tribal coalitions seeks a funding stream through FVPSA for the Tribal coalitions, such as the funding received by their non-Tribal coalition counterparts, to provide training, technical assistance, and support to the Tribal governments funded under FVPSA, specific to FVPSA guidelines, requirements, and directives. The overarching goal of Tribal Coalitions is to raise awareness, educate, and provide culturally specific technical assistance, training, and supportive services to advance and enhance the responses to crimes of domestic violence and sexual violence committed in Indian Country.
"Shelters and advocacy services are too often the only lifeline women and their families have, especially when justice systems fail to protect women and hold abusers accountable."
—Paula Julian, Filipina, Editor, Restoration Magazine & Senior Policy Specialist, NIWRC
The Pouhana O Nā Wāhine (Pillars of Women)(www.pouhanaonw.org)
Helping Native Hawaiians address domestic violence through restoring the Native Hawaiian (NH) way of life rooted in our beliefs, practices, and ceremonies, and securing resources to open an NHRCDV. PONW's mission is to provide technical assistance and training, partner at the community, statewide, and national levels, develop policies and cultural resources to prevent and eliminate domestic violence and help increase victim safety. While domestic violence programs function in Hawaiʻi, none are designed, led, and managed by NHs or rooted in developing NH solutions like the PONW advocating for the full implementation of the federal trust responsibility to assist NHs to safeguard the lives of NH women. Further, except for the PONW, there does not exist an NH organization focused on providing information, training, and technical assistance to improve the capacity of individuals, organizations, governments, and communities to prevent domestic violence against NHs.