The U.S. Civil Rights Act and Protection of Native Women
By NIWRC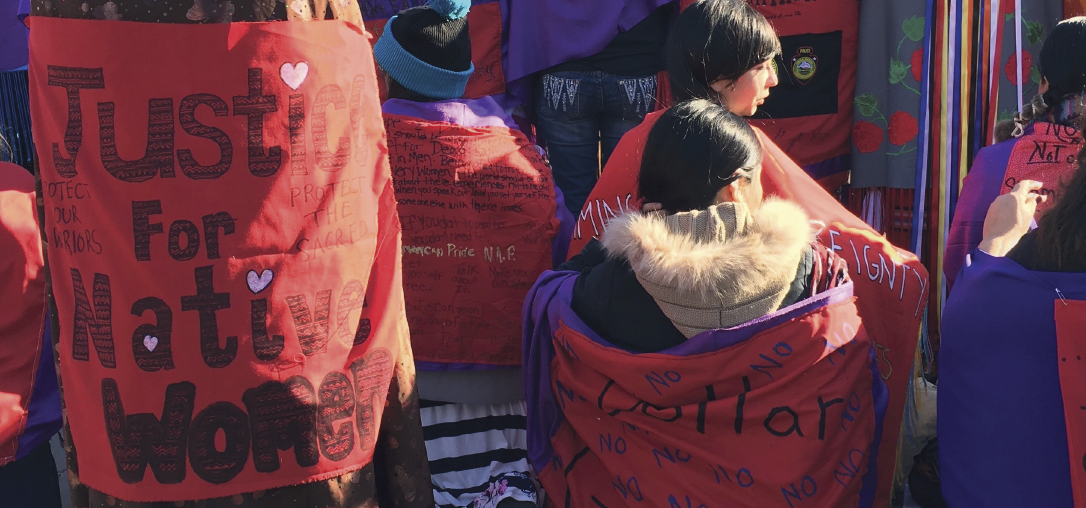 Is the Failed Response of State and Federal Justice Agencies to Investigate and Prosecute Cases of Violence Against Native Women a Pattern and Practice of Discrimination?

In 2022, the U.S. Department of Justice (USDOJ) filed a lawsuit against the Grand Gateway Hotel and the Cheers Sports Lounge and Casino in Rapid City, South Dakota. "The lawsuit alleges that the defendants discriminated against Native American customers in violation of Title II of the Civil Rights Act of 1964, which prohibits discrimination on the basis of race, color, religion or national origin in places of public accommodation, such as hotels and other places of entertainment. The suit is brought against the corporate owner, Retsel Corporation, and two of the company's directors, Connie Uhre and her son, Nicholas Uhre."

"Policies prohibiting Native Americans from accessing public establishments are both racially discriminatory and unlawful," said Assistant Attorney General Kristen Clarke of the Department's Civil Rights Division. "The Justice Department will continue to vigorously protect the rights of all people to go about their daily lives free from discrimination at hotels, restaurants and other public accommodations around the country."2

The Civil Rights Act of 1964, Title VI

"Simple justice requires that public funds, to which all taxpayers of all races [colors, and national origins] contribute, not be spent in any fashion which encourages, entrenches, subsidizes or results in racial [color or national origin] discrimination."—President John F. Kennedy, 19633

Title VI of the Civil Rights Act of 19644 prohibits discrimination based on race, color, religion, sex, or national origin in programs and activities receiving federal financial assistance. In addition, it gave federal law enforcement agencies the power to prevent discrimination in the use of public facilities and the delivery of services.

The families of missing and murdered Indigenous women (MMIW) have long-standing complaints about the failed response and denial of justice-related services by federal and state/local law enforcement agencies to the disappearance and/or murder of their loved ones and to cases of violence against American Indian and Alaska Native ("Indian") women.

In numerous cases, medical examiners, coroners, and prosecutors have wrongfully reported the cause of death of Indian women as an undetermined, possible suicide, or hypothermia. Families have complained that the failure to investigate the cases properly is based on discrimination because their loved one is Indian. In some cases, the remains are cremated before an investigation can occur, at times without the family's consent.

Families of MMIW have been rebuffed by the federal and state/local justice responders despite their calls for justice, vigils, community marches, and testimony before the Senate Committee on Indian Affairs.

The Civil Rights Act is known for cases concerning the USDOJ, such as the investigations into the murders of George Floyd and Breonna Taylor committed by local law enforcement. These investigations have spotlighted discrimination that systemically targets people of color with unlawful acts of violence. However, the protections under the Civil Rights Act are much broader.

In cases of MMIW, local law enforcement has exhibited a systemic and routine practice of not investigating or prosecuting cases. This response is viewed as discriminatory because the missing victim is a woman and Indigenous. Cases of MMIW are commonly gender-based crimes related to sexual assault, domestic violence, and trafficking. Indigenous men and LGBTQ relatives also face systemic discrimination based on biased perceptions of justice agencies.

Civil rights laws apply to any entity that receives federal financial assistance and encompasses the program or activity funded to any degree by federal financial assistance. The budget for the state of Montana in 2021, for example, where there are complaints of discriminatory practices and denial of services by the families of murdered Indigenous women, is $16 billion, of which nearly $9.25 billion comes from the United States Treasury.

"No person in the United States shall, on the ground of race, color, or national origin, be excluded from participation in, be denied the benefits of, or be subjected to discrimination under any program or activity receiving Federal financial assistance."

In the context of the USDOJ, Congress created additional nondiscrimination provisions for specific federal programs. For example, Montana receives numerous grants from the Office of Justice Programs and the Office on Violence Against Women for justice-related services, such as the Violence Against Women Act, Edward Byrne Memorial Justice Assistance Grants, and numerous other federal programs.
 



Investigation of Gender Bias of Missoula Law Enforcement Entities in Sexual Assault Complaints

One example of the broader applicability of the Civil Rights Act is the 2014 USDOJ findings resulting from an investigation of the Missoula Police Department, Missoula County Attorney's Office, and the University of Montana Office of Public Safety. In 2012, the USDOJ Civil Rights Division investigated these three entities. It focused on gender bias in the handling of sexual assault complaints.

In 2013, the division issued letters for the Missoula Police Department and the University of Montana Office of Public Safety, identifying a pattern or practice of failing to adequately respond to and investigate allegations of sexual assault against women. In 2014, the division issued a separate letter to the Missoula County Attorney's Office, identifying a pattern or practice of failing to ensure unbiased, effective investigation and prosecution of reports of sexual assault by women.

"A police department cannot truly protect women in its community without being prepared to respond to reports of sexual assault effectively and without bias," said Roy L. Austin Jr., Deputy Assistant Attorney General for the Civil Rights Division. "Equal access to the protection of police and the courts is a matter of basic justice.5

Many states receive federal financial assistance and have a legal obligation to comply with civil rights requirements above and beyond those that otherwise would apply.

Failing to respond, investigate, and prosecute suspects in cases of Indian women because of racial bias reflects a pattern or practice of denial of equal services.                                                                

When States and Counties Fail MMIW

The USDOJ is responsible for investigating state/local agencies with a pattern or practice of inadequately responding to MMIW based on a demonstrated pattern of discrimination against Indian women and girls.

Indigenous women who are abused, trafficked, abducted, or murdered within the authority of a state or county have a legal right to the full range of justice-related services.

The USDOJ has the authority to investigate, prosecute, and correct this failure by state/local governments and violations of the Civil Rights Act. It also has the power to enforce the anti-discrimination funding mandates under other congressional acts.

The USDOJ must develop guidelines and material identifying the responsibility of law enforcement agencies to respond to cases involving the spectrum of violence against Indian women without the bias of the past—specifically cases of MMIW. Where allegations of a pattern and practice of discrimination in the response of state law enforcement agencies to MMIW, sexual assault, domestic violence, or trafficking are raised, the USDOJ has a responsibility to investigate these complaints.
---
1 U.S. DOJ Press Release, October 19, 2022, n8ve.net/NeqxOytj
2 Id.
3 n8ve.net/1dxVG75h
4 Title VI, 42 U.S.C. § 2000d et seq.