Intersection of Movement and Advocacy For Missing and Murdered Indigenous Women, Girls, and Relatives
By Jordan Marie Whetstone, Kul Wičasa Oyate / Lower Brule Sioux Tribe, Athlete Advocate, Rising Hearts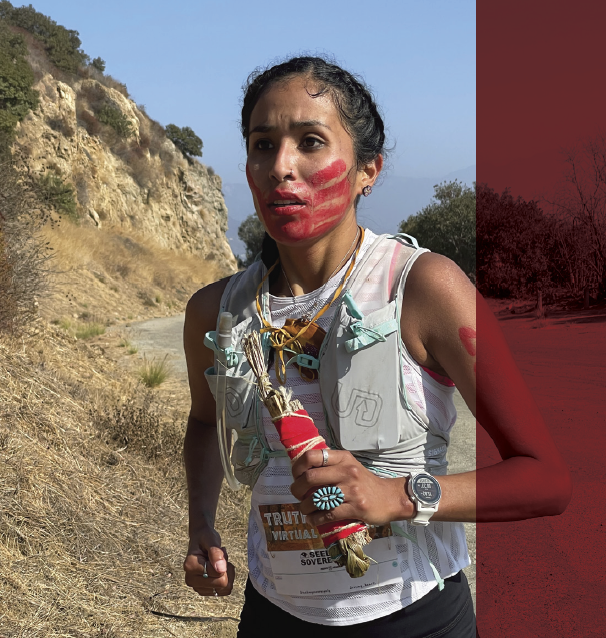 Hi, community!

My name is Jordan Marie Brings Three White Horses Whetstone! I'm the founder of Rising Hearts, a prayer runner and professional Athlete Advocate, filmmaker, DEI/JEDI consultant, and community organizer. My newest and favorite role is being a mom to an almost one-year-old, Čhaské!

Rising Hearts is an Indigenous-led grassroots organization committed to the heart work in elevating Indigenous voices, promoting, and supporting intersectional collaborative efforts across movements in cultivating community with racial, social, climate, and economic justice goals. Our primary focuses are to inform, elevate, mobilize, and organize through strategic and targeted advocacy and programming, establishing kinships to create a safer future and environment for all relatives who inhabit this planet - past, present, and future.

Our vision is for a socially, economically, and environmentally - just world where all who inhabit her are safe and empowered to thrive while realizing our collective potential. We focus on the importance of movement and the intersection of running and sports to fundraise for and elevate topics, events, and issues we fight for or celebrate!

What's next for our advocacy movement campaigns? Our Earth Day 5k and 5th Annual Running For Justice - May 5th Awareness for MMIWG/R. As we approach Earth Day (April 22, 2023), we share why it's important to include violence against Indigenous women and peoples at the intersection of climate justice. We can advocate and call for accountability to move towards a just transition, sustainable and responsible clean energy, limiting our carbon footprint, lessening our consumption of fast fashion, more composting, recycling, terracycling, and more.

But all of that means nothing when we do not include the Indigenous Peoples, people of color, and marginalized communities who are devastatingly impacted by violence, displacement, and homicide at the hands of destructive and extractive methods that care more about profit than life. More specifically, we have Indigenous women, children, and peoples impacted by domestic violence, trafficking, and sexual assault when we talk about man camps along pipelines that extract resources from our sacred ecosystems.

Through my community organizing days in 2016-2018, I heard Indigenous voices share and witnessed Indigenous women and children flee man camps across the Bakken Oil Fields. For example, with their oil boom, North Dakota reported 125 cases of MMIWG/R during this time, and in 2019, 529 cases along the Keystone Pipeline that crosses Montana, North Dakota, South Dakota, and Nebraska. These pipelines are placed on Indigenous / Tribal lands (Reserves and Reservations) and near marginalized communities, which clearly states that the importance of Indigenous life isn't cared for to have a healthy and thriving future. We have Indigenous Peoples, like Berta Cáceres, Ari Uru-Eu-Wau-Wau, and Homero Gómez, all across the Eagle and Condor lands (all over the world), being attacked and losing their lives at the hands of the extractive industry because they are considered invaders and their Indigenous ancestral lands are wanted for extractive projects and resources. We have had land and water defenders or protectors murdered because they mobilized their communities to stop the dangerous projects that harm their lands and resources.

We must reframe how we think when we consume and participate in this capitalist society. We must be mindful of our impact and the next ten steps or more of what those impacts are when we make a purchase. Sadly, what we rely on in our everyday lives, is, in some way, connected to these companies that fund these projects. As humans, not just Indigenous people, we are deeply rooted with lands, and over time, due to colonization, our everyday life is polluted with things that take us away from that connection. For Rising Hearts, we believe that a restorative balance must happen, and we need a cultural shift. What does that even look like? There are so many answers and only so much we can do as individuals, but sadly, that responsibility doesn't rely on only us. It's in the hands of who we vote for and who is in charge of making those decisions, where Indigenous people and people of color are often not in those seats. We must collectively work towards living in kinship with the lands so we can live in kinship with each other as a community.  Much of our advocacy about this is through our Running On Native Lands Initiative, grassroots organizing for panels and marches, and through our No More Stolen Relatives Initiative. We invite Indigenous peoples and allies/co-conspirators to join us in advocating for the connection between MMIWG/R, human rights violations, and Climate Justice.

With our Earth Day 5k and the conversation of how MMIW/R intersects with Climate Justice, we hope to raise awareness leading into the week of action for May 5th - National Day of Awareness for MMIWG/R. And I remind you this advocacy, this heart work, is done every day by the families, survivors, advocates, and organizations fighting for a safer, thriving future where Indigenous peoples are protected, visible, heard, supported, amplified, and centered.

For ways to help raise awareness, show your solidarity, and raise funds to give back as a community towards organizations, families, and advocates in this space, join us on April 22nd for our first Earth Day 5k run/walk and May 5-7th 5th Annual Running For Justice virtual and in-person run/walk. Since 2020, we have raised over $300k from virtual and in-person registrations and donations from over 20 virtual/in-person runs. We donated much of those funds to the heart-working organizations and groups doing this work every day with the community. Join us by registering, sharing, tagging @rising_hearts on IG, and other options to donate and/or sponsor a runner by donating an entry. Let's cultivate community together.
---
Rising Hearts Information