Update from the 40th United National Indian Tribal Youth Conference in Oklahoma City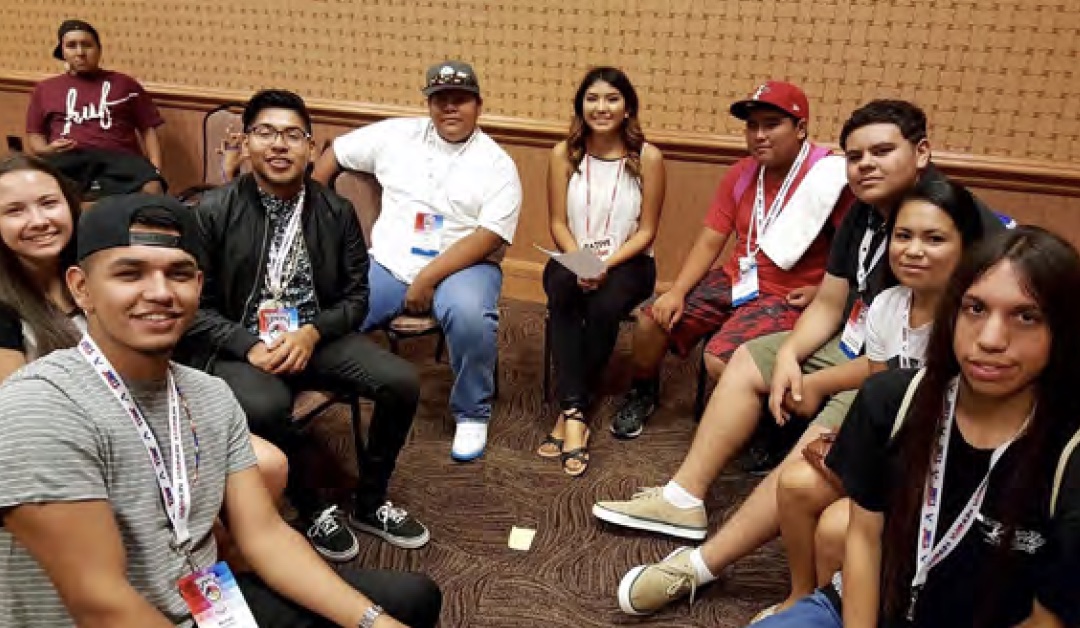 NativeLove continues to listen to the voices of youth to hear what NativeLove means to them, how it can inform our work as advocates and activists, and how to maintain a positive approach in often very difficult conversations by/for youth. As NativeLove takes aim to galvanize a peer-to-peer healthy relationships delivery, we joined in the 40th United National Indian Tribal Youth (UNITY) Conference in Oklahoma City, OK, this past July.
UNITY is the largest tribal youth conference in the country with over 1,700 youth in attendance. Out of dozens of workshops, NativeLove offered four discussions purposefully woven into the UNITY mission to foster the spiritual, mental, physical, and social development of American Indian and Alaska Native youth and to help build a strong, unified, and self-reliant Native America through greater youth involvement. This is what NativeLove is all about!
On July 25th, we introduced the first NativeLove Youth Ambassador event, with Kristen Butcher presenting a youth-designed, interactive circle–style, relationship-building, and problem-solving workshop. This workshop gave youth a space to share their experiences, where they come from, and their greatest challenges in their home communities. They found more similarities than differences, and many offered support to each other as the conversations grew more intimate and sometimes challenging. While the NativeLove team were present in each "circle time" to ensure safety and support, we gave youth the space to lead these conversations. Topics around the circle included domestic violence, parental neglect, trafficking, gangs, bullying, rape, homelessness, feeling alone, and how the epidemic of Murdered and Missing Indian Women and Girls directly affects them.
Tribal Youth Speak About Missing and Murdered Indigenous Women and Girls
In small breakout sessions, youth shared struggles within their own families regarding missing mothers, sisters, and friends. Up to five missing/murdered victimizations occurred in just one family—of which two have yet to be found. Every youth present directly or indirectly experienced domestic violence. This world is one that advocates rarely catch a glimpse of in their efforts to end the youth's pain and silence, to unload the burden. We continue to learn to do the work on their terms. The NativeLove project lets youth write the rules. One guiding principle, acknowledging the conflicting advocacy within their reality: No matter how much they share, many youth simply do not expect "change." Nearly two-thirds of just one of the eight circles responded they did not have a single adult they trusted to seek support during crisis.
What we know is that for generations, communities have pulled together in prayer, conducting ground searches for missing relatives, using social media for calls to action, and asking for investigations, justice, and policy amendments. Youth live in a world where the struggle is to keep hope and heal, but often turn to self-medicating and salvation in gangs and numbness—an easy option, a space where their peers often are. As witness to the disappearance of Two-Spirit/Native LGBTQ relatives, sisters, aunts, grandmothers, mothers, daughters, and friends, youth see that justice often does not come. We want to change that. And we want to partner with the youth to make change and opportunity, merging unified fronts with every tribe, tribal community, organization, program, project, and schools offering support to youth.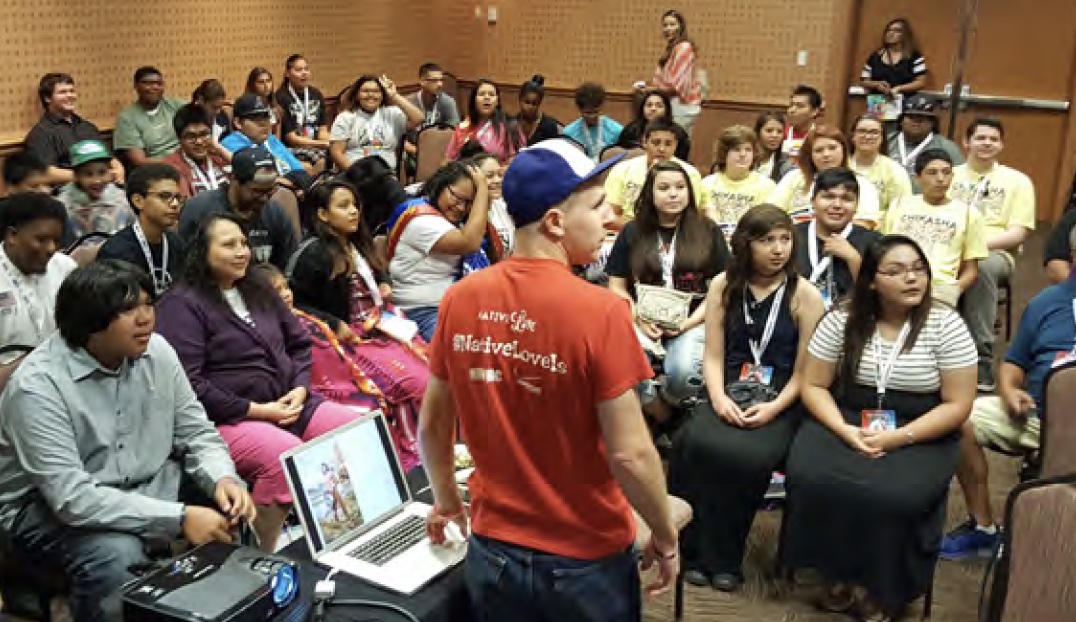 Our greatest takeaway from out UNITY experience—whether it be Boys to Men with Ryan Redcorn presenting on Engaging Men and Boys to End Violence, or our Peer-to-Peer workshop with the NativeLove Youth Ambassador—is that finding time for laughter and creating space for a good time is important between tough talks.
At the closing of one of our workshops, a youth stood up and reminded his peers about the importance of wellness, to remember we have medicines to heal ourselves, that indigenous ways are our lifeways. He spoke to the group as a true leader and everyone listened. We listened. Youth are at the forefront of our purpose always and in all ways. Give the gift of your time. To hold a NativeLove event in your community or receive assistance in preparing for a youth event with NativeLove support, please email the NativeLove team at nativelove@niwrc.org!