The United State of Women Summit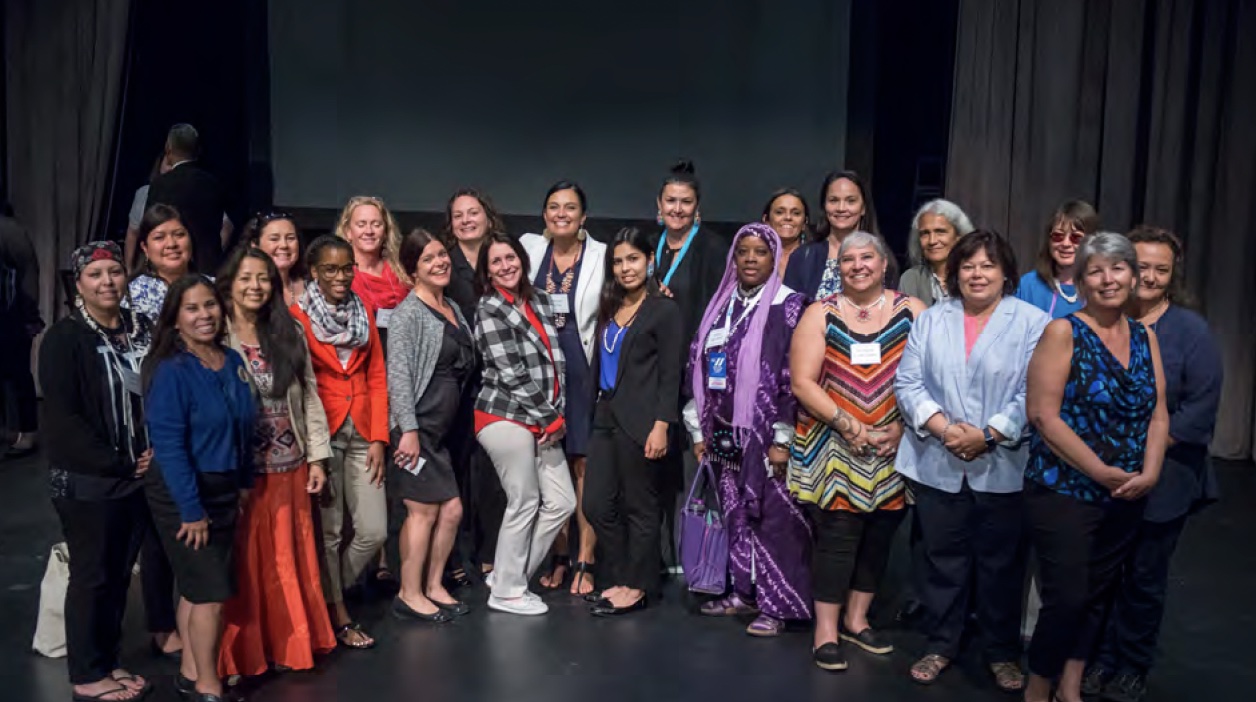 The first summit on The United State of Women represented an important moment for women and girls domestically and internationally, as well as for all proponents of gender justice and equality. Following the summit, The United State of Women remains committed to giving a megaphone to the importance of gender equality and providing a platform for addressing these critical concerns.
The summit agenda was designed to address six key gender equality issues, including economic empowerment, health and wellness, educational opportunity, violence against women, entrepreneurship and innovation, and leadership and civic engagement. The goal of the summit was to rally together the national movement to celebrate its achievements and determine how it will take action to continue moving forward.
We are the United State of Women.
And when we do better, everyone does better.
You with us? Then listen up and join #StateofWomen.
Tribal Women Represent at Summit 
More than sixty tribal participants attended the summit from across the United States, including the lower forty-eight and Alaska. Honorable Chief Lynn Malerba, Mohegan Tribe, provided one of the opening Ignite plenaries on tribal sovereignty during a second-day event focused on violence against women. Tribal speakers for the Criminal Justice Reform in American Indian Nations and Alaska Native Villages included Honorable Melissa L. Pope, Chief Judge, Nottawaseppi Band of Huron Indians; Mary Kathryn Nagle, Partner, Pipestem Law; Tami Jerue, Executive Director of the Alaska Native Women's Resource Center; and Michelle Demmert, Chief Judge, Tlingit-Haida Court.
Tribal speakers for the Protections for the Next Generation of Native Youth included Honorable Theresa Pouley, Judge, Colville Tribal Court and Commissioner, Indian Law and Order Commission; Cherrah Giles, Board President of NIWRC and former Secretary, Dept. of Community and Former Vice Chair, Tulalip Tribe; and Victoria Hykes Steere, Professor, Alaska Pacific University.
During the closing panel, Honorable Abby Abinanti, Chief Judge, Yurok Tribe, Co-Chair California Tribal Court/State Court Forum and Board President, Tribal Law and Policy Institute, shared her thoughts on the importance of culture and legal reforms to enhance safety for Native women. On Tuesday evening, Sliver of a Full Moon was performed at the National Museum of the American Indian as the key cultural component of the summit events.
For more information on the summit, visit: theunitedstateofwomen.org
WATCH: The #UnitedStateofNativeWomen PSA! https://youtu.be/0HrMMlMqBK0