Weaving a Path to Healing
By Kelsey Foote, Tlingit (Taakw.aaneidí), Communications Specialist, Creative Editor of Restoration Magazine, NIWRC
Heidi Vantrease Embraces Tradition of Ravenstail Weaving to Honor Our MMIW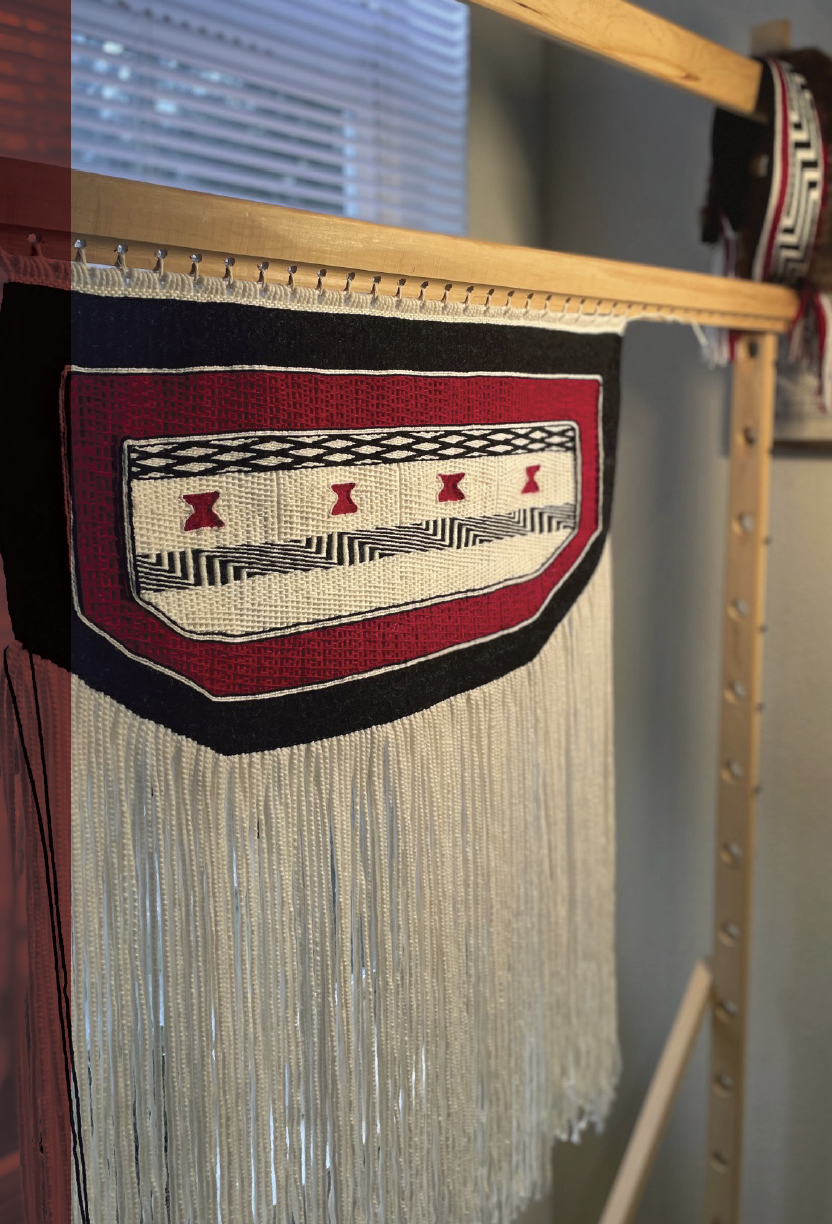 In Kake, Alaska, a small village that hugs the coastline of Kupreanof Island, the traditional art of weaving has long been a symbol of storytelling and precise patience. For Heidi Vantrease, a Tlingit weaver and former Tribal advocate for the Village's domestic violence and sexual violence program, weaving has become a means of empowering and healing Native women experiencing trauma.

The Organized Village of Kake Domestic Violence Sexual Assault Program (OVK DVSAP) was founded in 2011 after the Office on Violence Against Women approved their application for funding under the Grants to Indian Tribal Governments Program. This award allowed for the creation and development of strategies to address violence against women across Southeast Alaska—a rural area disproportionately impacted by exceptionally high rates of violence.

Vantrease, who worked for the program since its inception, dedicated several years to providing emergency shelter for survivors, attending medical appointments and court hearings, organizing violence prevention measures, and bringing awareness to the Missing and Murdered Indigenous Women and Girls (MMIWG) crisis throughout their smaller communities. In communities like Kake, accessibility is limited to boats or small planes, with little or no local law enforcement. Despite making up only 19% of the population, 47% of the state's reported sexual assault victims are Alaska Native, and over 40% of Alaskan villages are without full-time law enforcement1:

"The job was challenging from the beginning. Violence against women sadly has been a part of many families' and communities' stories within Alaska," said Vantrease. "Despite our many challenges, we persisted in advocating, training, learning, testifying, planning, collaborating, doing community outreach, and working to make a positive difference. The stories of women, girls, and men we advocated for have forever left an imprint on my heart."

Following her retirement from the program and relocation to Washington State, Vantrease remains devoted to strong-hearted advocacy, utilizing her weaving to raise awareness toward ending violence against women. She has recently finished a Ravenstail apron over several months, inspired by the need to honor and raise awareness of the MMIWG of Kake. The apron features the silhouettes of the labret, a spruce root basketry pattern, symbolizing the village's eight missing and murdered. In Tlingit culture, labrets were once regarded as symbols of beauty and distinction among women. Therefore, it is fitting that the labret symbols were chosen to honor the lives of the women and girls and commemorate them as such.

Vantrease was encouraged by other advocates to be bold, that one should always speak from the heart in the name of advocating for women, children, and communities at local, state, and national levels. These advocates include Paula Julian of NIWRC, Tami Jerue of AKNWRC, the late Shirley Moses of Healing Native Hearts, Jax Agtuca, Isabel Mills, the first Program Coordinator of the OVK DVSAP, Sitkans Against Family Violence, Joel Jackson, OVK President, the late Ann Jackson who was the Director of Social Services, Mike Jackson the former Kake magistrate, the OVK DV Task Force members, the Emmonak Women's Shelter, and numerous others.

"This weaving project is me, speaking from the heart," Vantrease said. "From conception to completion, it tells multiple stories and has many prayers woven into it for the women and girls who were taken as well as their families and friends who are still here. It is my way of honoring the women and girls, their families, my community, and all who have been impacted by violence against women and girls."

The Ravenstail weaving style is a traditional technique used by the Tlingit people to create robes, aprons, bags, and headbands. The method traditionally involved weaving goat wool as interlocking strands to make twine, used in black, white, and occasionally yellow shades, producing geometric woven designs. Today, the vast majority of weavers now employ merino wool as their preferred weaving material due to its widespread availability and accessibility.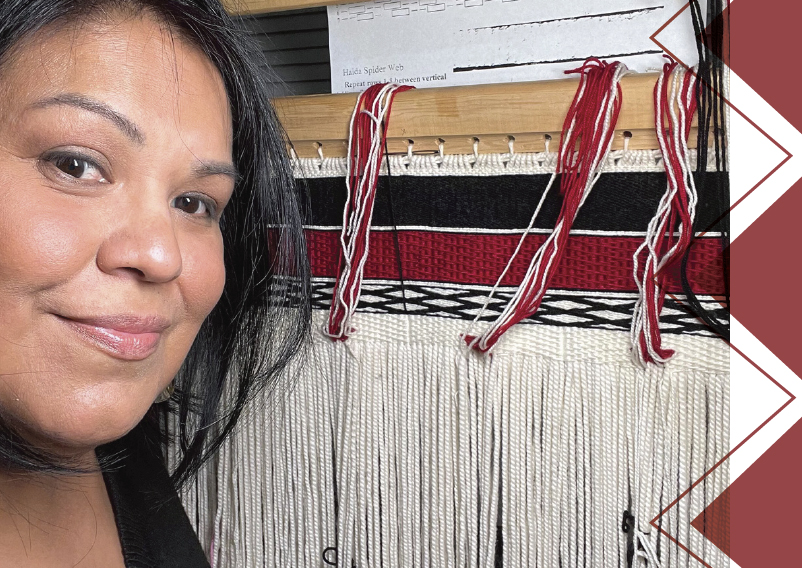 After Vantrease's brother initially encouraged her to learn this art form, she sought guidance from numerous weavers within the Southeast Alaska community, such as Della Cheney, Evelyn Vanderhoop, Holly Churchill, Kay Parker, and Lily Hope.

For Vantrease, the impact of the weaving and weaving spaces extends far beyond the craft. It is a symbol of hope that we may create a ripple effect of healing and empowerment that will benefit the lives of survivors and families affected by violence.

"The project itself has many points of inspiration woven into it," Vantrease says. "One, I recall reading an article on the traditional Tribal values and how elders came together to form this list. Have honor, have patience, hold each other up, speak with care, be strong, and have courage are just a few of the values that came to mind as points of inspiration for the weaving of this piece."

By incorporating the stories of stolen sisters into her design, Vantrease created a tangible reminder of the ongoing fight to end violence against Native women, to hold the stories of our sisters with us like interwoven threads, twined together with purpose and an unwavering connection to our communities. "Each woman and girl, you are beautiful and honored."

Vantrease intends to debut the MMIW apron in Kake, AK later this year.
---
1 Alaska Native Women's Resource Center (AKNWRC), & Demmert, M. VAWA 2022 and Alaska Indian Tribes: Now That VAWA Is Reauthorized, What Next? Aknwrc.org. Retrieved April 2023.