Native Organizations Launch National Campaign Urging Immediate Action on National Crisis of Missing and Murdered Indigenous Women and Girls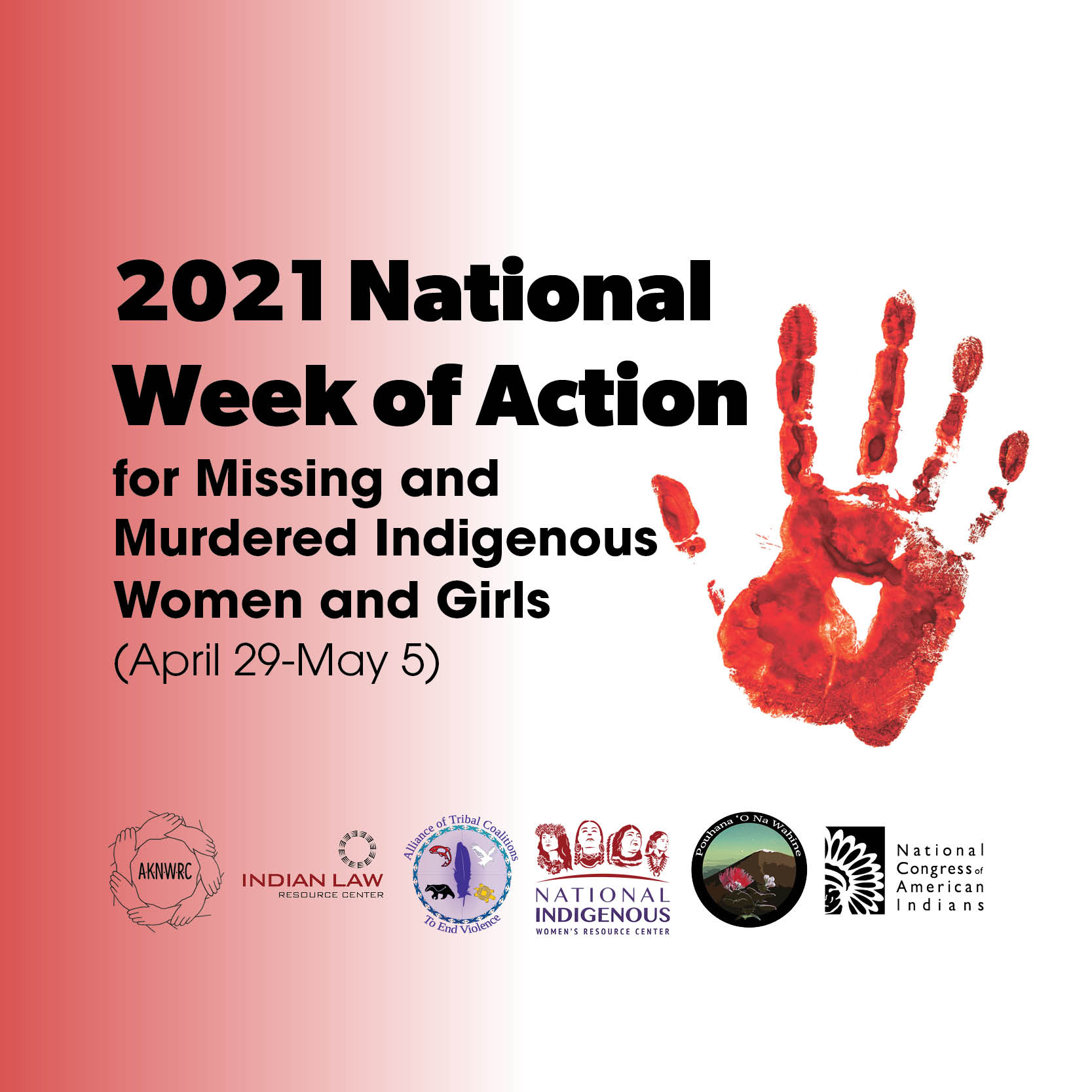 FOR IMMEDIATE RELEASE
(LAME DEER, Mont., April 27, 2021)—Joining the widespread call to address systemic injustice, racism and the need for accountability, a national coalition of Indigenous organizations are turning up the pressure on local and federal authorities to respond to the crisis of missing and murdered Indigenous women and girls (MMIWG) in the United States, where American Indian and Alaska Native women face some of the highest rates of violent victimization. According to the U.S. Department of Justice, Indigenous women are murdered at a rate over ten times the national average on some reservations­—cases often connected to domestic violence, dating violence, stalking, trafficking, and sexual assault.
"Enough is enough—we need governments and lawmakers to address the structural inequalities endangering Indigenous women to stop the rampant murder of Indigenous women and girls," said Lucy Simpson (Diné), Executive Director of the National Indigenous Women's Resource Center (NIWRC). "NIWRC, along with our National Partners Work Group on MMIWG, are committed to lifting the voices of surviving family members to hold the failed systems responsible and accountable for this national crisis."
The week-long National Week of Action for Missing and Murdered Indigenous Women and Girls campaign begins April 29th leading up to May 5th–a day that grassroots advocates and community members have lifted as the National Day of Awareness for MMIWG. May 5th is the birthday of 21-year-old Hanna Harris (Northern Cheyenne) who went missing and was murdered on the Northern Cheyenne reservation in 2013.
"Throughout the National Week of Action, Indigenous advocates and surviving family members impacted by MMIWG will speak out and outline the social and systemic changes needed at the local, federal, and international levels," said Rose Quilt (Yakama), NIWRC Director of Policy and Research. "However, the first step is public acknowledgment of the trauma caused by colonization, as well as its lasting effects of oppression and racism toward Indigenous communities. The time for meaningful action is long overdue–not one more Indigenous woman deserves to lose her life."
NIWRC and partner organizations encourage community members, organizations, and allies to sign on to the resolution for the May 5th National Day of Awareness for MMIWG. Community members, allies and groups are also asked to share photos themselves on social media wearing red holding the 'No More Stolen Sisters' poster using #MMIWGActionNow.
All events during the National Week of Action for MMIWG are free, virtual and open to the public. Highlights include: