2022 Legislative Update
By Kerri Colfer, Tlingit, Senior Native Affairs Advisor, NIWRC
Reforms and Increased Resources to Remove Barriers to Safety and Justice for Native Women

Violence Against Women Act (VAWA)
On March 10, the U.S. Senate voted1 to reauthorize the bipartisan Violence Against Women Act Reauthorization Act of 2022 (VAWA) through the passage of the Consolidated Appropriations Act, 2022 (H.R. 2471), the omnibus government funding bill for the fiscal year 2022.2 The bill was signed into law by President Biden on March 15.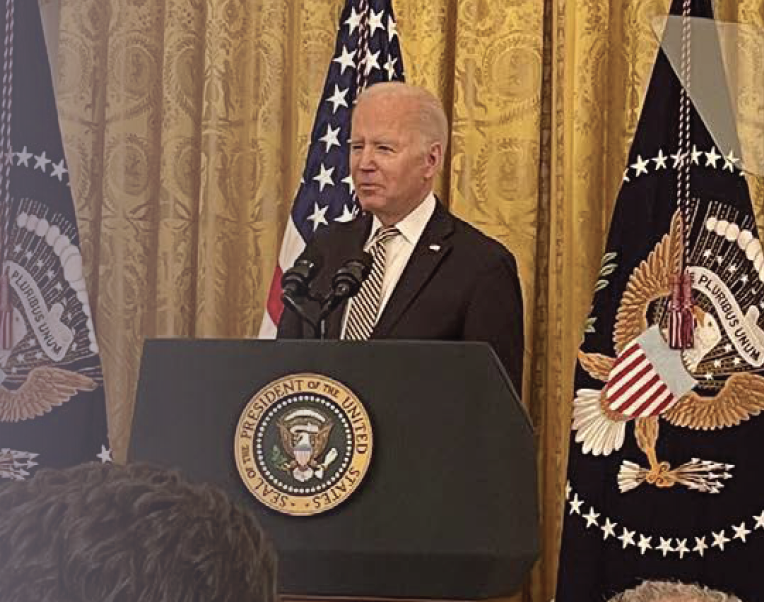 Now reauthorized through 2027, VAWA 2022 includes historic provisions that restore critical categories of Tribal criminal jurisdiction necessary to protect Native women and children, including sexual assault, stalking, sex trafficking, child violence, obstruction of justice, and assault on Tribal justice personnel.
In addition to restoring Tribal jurisdiction over certain crimes, VAWA:
Codifies the Tribal Access Program (TAP) to enhance Tribes' ability to access and obtain information from national criminal information databases;
Establishes a reimbursement program, through which the U.S. Attorney General may reimburse Tribal governments for expenses incurred in exercising special Tribal criminal jurisdiction (STCJ);
Permanently reestablishes the U.S. Bureau of Prisons (BOP) Tribal Prisoner Program to allow Indian Tribes to place offenders convicted in Tribal Courts of violent crimes in federal facilities if the sentence includes a term of imprisonment for one or more years; and
Increases resources to Tribal governments exercising STCJ.
The Violence Against Women Act Reauthorization Act also establishes an Alaska pilot project, which will enable a limited number of Alaska Native villages to exercise STCJ, and clarifies that Tribes in Maine are also eligible to exercise STCJ. 
Family Violence Prevention and Services Improvement Act of 2021 (FVPSA)
On October 26, 2021, the United States House of Representatives voted 228 to 200 to pass the bipartisan Family Violence Prevention and Services Improvement Act (FVPSA) of 2021 (H.R. 2119).3 The bill, which was introduced on March 23, 2021, by Representatives Lucy McBath (D-GA-06), Gwen Moore (D-WI-04), Don Young (R-AK-At Large), and John Katko (R-NY- 24), provides critical funding for shelter and supportive services for victims of domestic violence, including those in Indian Country.
On July 21, 2021, the Senate Committee on Health, Education, Labor, and Pensions marked up S. 1275.4 The bill advanced out of Committee by voice vote.
This FVPSA reauthorization bill provides critical support for shelters, coalitions, training and technical assistance centers, children's services, emergency response hotlines, and prevention initiatives. The FVPSA is also the only federal grant program solely dedicated to domestic violence shelter and supportive services and is the primary source of funding for these services for Indian Tribes.
The FVPSA would expand grant programs and make many needed improvements so that more survivors have access to support and safety, including:
Adjustment of the funding distribution formula to increase the amount that Tribes receive from 10% to 12.5%;
Dedicated funding for Tribal coalitions to provide culturally-appropriate technical assistance to Tribes;
Permanent funding for the national Indian domestic violence hotline;
Permanent funding for the Alaska Tribal Resource Center on Domestic Violence to reduce disparities facing Native victims; and
Permanent funding for the Native Hawaiian Resource Center on Domestic Violence.
May 5 National Day of Awareness for Missing and Murdered Indigenous Women and Girls (MMIWG) Resolutions and Presidential Proclamation Introduced
U.S. Senators Daines (R-MT) and Tester (D-MT) introduced a Senate resolution designating May 5, 2022, as the National Day of Awareness for Missing and Murdered Native Women and Girls.5 The Resolution passed in the Senate by unanimous consent.
Rep. Dan Newhouse (R-WA-4) introduced a House Resolution designating May 5 as the National Day of Awareness for Missing and Murdered Native Women and Girls.6
May 5 was the birthday of Hanna Harris, a 21-year-old Northern Cheyenne woman who disappeared from her home in Lame Deer, Montana in 2013. Her body was found several days later by a volunteer search party after police failed to take the case seriously. Her case then went unsolved for nine months.
The resolutions recognize the high rates of violence committed against Indigenous women and call for May 5 to serve as a day to commemorate the lives of those who have gone missing or have been murdered and to stand in solidarity with their families.
The White House issued a May 5 Missing or Murdered Indigenous Persons Awareness Day proclamation.7 The proclamation calls for strengthening prevention, early intervention, supportive services, data collection, and information sharing, in accordance with the November 15, 2021, Executive Order on Improving Public Safety and Criminal Justice for Native Americans and Addressing the Crisis of Missing or Murdered Indigenous People.
Interior Secretary Haaland Appoints Members to Not Invisible Act Commission
On May 5, 2022, Secretary of the Interior Deb Haaland (Laguna Pueblo) and Deputy Attorney General Lisa Monaco announced members of the Not Invisible Act Joint Commission on Reducing Violent Crime Against Indians (Commission) during a virtual event recognizing the National Missing or Murdered Indigenous Persons Awareness Day.8 The Commission was established by the Not Invisible Act, which was signed into law in 2020.9
Over the next 18 months, the Commission, which is composed of Tribal leaders, law enforcement, federal partners, advocates, Native organizations, survivors, and family members, will make recommendations to the Departments of the Interior and Justice to combat the crisis of violence against American Indians and Alaska Natives.
Members of the Commission include Kerri Colfer (Tlingit), NIWRC's Senior Native Affairs Advisor, and three members of NIWRC's Missing and Murdered Indigenous Women Family Advisory Committee: Dr. Grace Bulltail (Crow Tribe); Leanne Guy (Diné); and Patricia Whitefoot (Yakama Nation and Warm Springs Tribe).
---