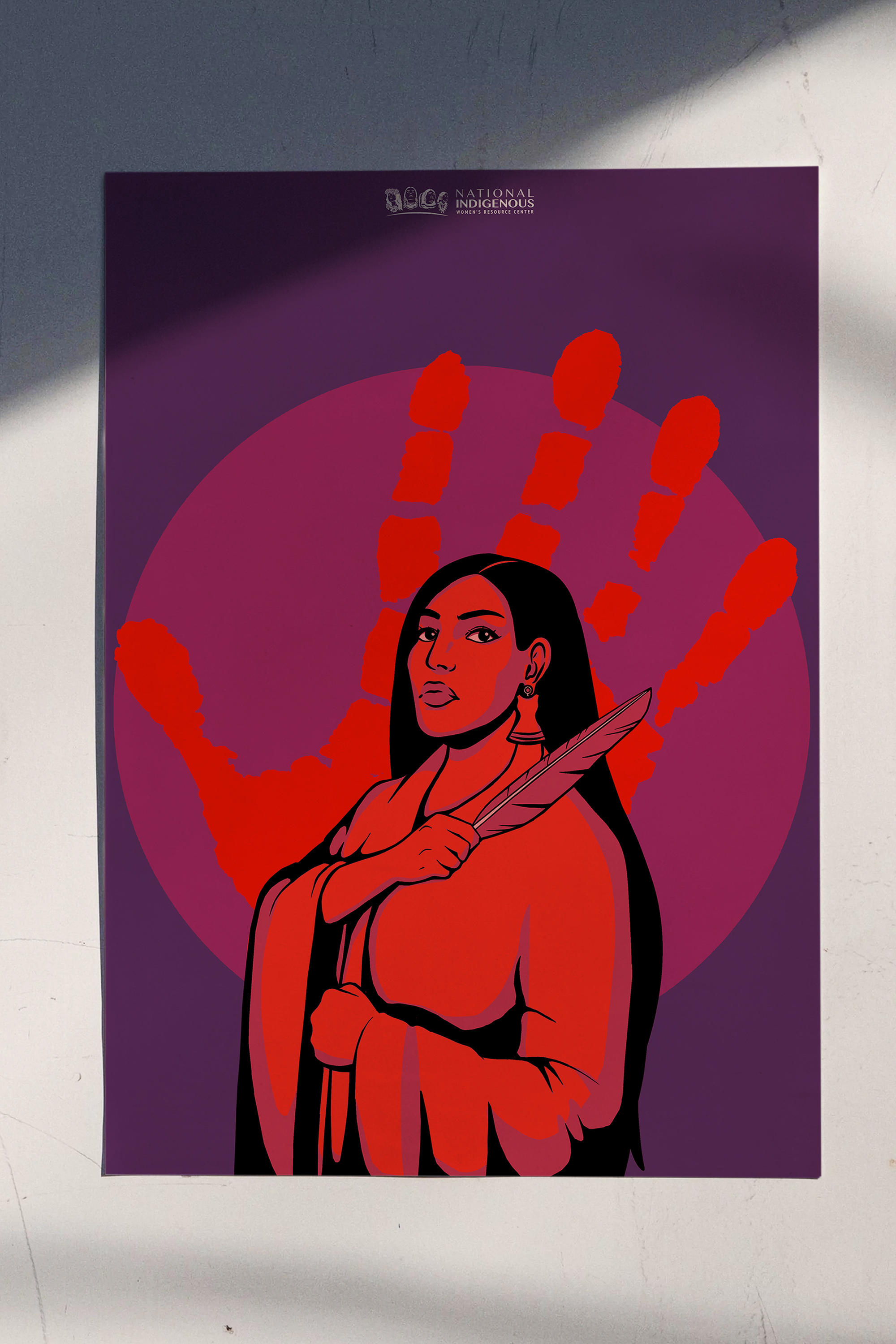 "No More Stolen Sisters" (2023) by Nick Alan and Kelsey Mata
About the Project

The National Indigenous Women's Resource Center (NIWRC) embraces the intersection of art and advocacy through several partnerships. Most recently, NIWRC considered artists to create an MMIW-inspired piece for this year's National Week of Action for MMIW.

Artist Nick Alan Foote was eventually chosen to create an MMIW piece as a collaborative project alongside his sister, fellow artist Kelsey Mata, as the supporting NIWRC staff member.

All net proceeds go towards NIWRC's mission to end violence against Native women and children by providing culturally grounded resources, training, technical assistance, and policy development. Join us in saying enough is enough.

About the Artwork

Native communities continue to face the highest rates of assault, abduction, and murder of women; American Indian and Alaska Native women suffer the highest rates of domestic violence and sexual assault, with more than 4 in 5 — a staggering 84.3% — having experienced violence in their lifetime. In addition, 96% of American Indian and Alaska Native female victims of sexual violence experienced violence at the hands of a non-Native perpetrator (i.e., individuals of other races). The most disparate rates of intimate partner violence are experienced 50% higher by Native Hawaiian women aged 45-59 years old than non-Hawaiian women (12.6% vs. 21%). 64% of survivors of sex trafficking in Hawaii identify as being part Native Hawaiian. This violence continues to be multilayered, occurring over a lifetime.

The pervasiveness of this injustice represents a dire need to (1) address the systemic barriers that allow this horrific reality to persist and (2) amplify the voices of advocates and families that work tirelessly to share their stories, demanding justice and the restoration of safety.

In response to the critical and ongoing Missing and Murdered Indigenous Women (MMIW) crisis across the nation, the creation of No More Stolen Sisters was undertaken with the intentional reflection on what has persisted for generations and what it means to stand in solidarity with the daughters, sisters, mothers, and aunties who were taken from their nations and communities.

The piece employs a triadic color scheme of red, violet, and purple to symbolize the spectrum of violence experienced by Native women and children across Tribal nations and Native Hawaiian communities. The use of bold, highly saturated colors serves to underscore the severity, the harsh reality, faced by many families and peoples. The colors cannot be ignored or unseen. They are assertive and strong, evocative of the unwavering voices of advocates who refuse to be silent.

This artwork portrays a Native woman adorned in her robe regalia, holding a feather across her chest with a resolute countenance and stance that conveys a message shared by all advocates: "Enough is enough." 
 
About the Artists

"No More Stolen Sisters" (2023), created by Nick Alan and Kelsey Mata (Tlingit, Taakw.aaneidí), was produced through digital collaboration despite their geographic separation of over 2,000 miles. The artists, a creative sibling duo, engaged in an extended process of reflection and discussion regarding the impact of the crisis of Missing and Murdered Indigenous Women (MMIW) on their hometown in Southeast Alaska, sharing multiple drafts and compositions over a period of several months.
 
    



 

       

 Nick Alan  WEBSITE | INSTAGRAM

Nick is an Alaska Native artist who specializes in formline design. Growing up in Ketchikan, Alaska, he has fostered a profound connection to his Tlingit heritage and the sacred relationship between nature and Indigenous peoples. His artwork often draws inspiration from these connections as an honored craft, a way to stay connected to his ancestors while carrying the traditions he was taught as a youth. 

"I was introduced to traditional formline design in elementary school by Esther Shay through the Johnson O'Malley Program. In later years, my mom moved to Sitka, Alaska, and attended S.N.E.P. (Sitka Native Education Program) while also participating in several local dance groups. These experiences made a huge impact on me creatively, and without such intentional exposure to my heritage, I'm not sure that my pieces would be what they are today." 

"I am honored to have partnered with NIWRC. From a cultural perspective, you want people to see the world as you do. You want them to see the joy and the horror. It's more about sharing a reality that you cannot unwitness. And that is an honest contribution to any movement."



 

 

Kelsey Mata  WEBSITE | INSTAGRAM

Kelsey is an Alaska Native artist, illustrator, and Communications Specialist for the National Indigenous Women's Resource Center. Like her brother, she grew up learning about her Tlingit culture through the Johnson O'Malley Program and the Sitka Native Education Program.

Kelsey has published two children's books through Sealaska's Baby Raven Reads, an award-winning program recognized by the Library of Congress that promotes early literacy, language development, and school readiness for Alaska Native families. Kelsey's work focuses on cultural preservation, educational materials, and the representation of Indigenous peoples in media.

"As a Native artist and illustrator, I find inspiration in the voices of our community; for too long, our stories have been told by those who lack understanding and familiarity with our way of life and, consequently, fail to grasp the crises that affect all of Indian Country. The need to accurately and respectfully depict Native peoples and our culture in media cannot be overstated."
---