Kahstoserakwathe Paulette Moore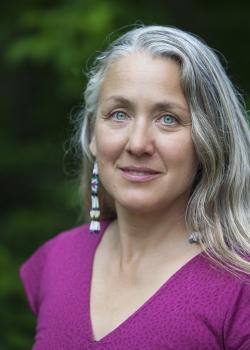 Kahstoserakwathe Paulette Moore is an independent filmmaker, lecturer, artist and educator. Moore is Kanyen'kehàka (Mohawk) and an enrolled member of Six Nations of the Grand River territory where she is based. She is a full-time Kanyen'kehàka (Mohawk) language immersion student (more of her background below). 
Moore's lecture topics are generally tied to her films and can also include public art engagement - including thematic embroidery projects. 
Find the scope of Moore's projects here: https://medium.com/@paulettemoore/paulette-moore-van-evera-filmmaker-le…
==============================================================================================
TOPICS INCLUDE:
1) Indigenizing Media: Through a series of film clips Moore describes her journey from working as a reporter and documentary filmmaker with National Geographic, Discovery Channel and other mainstream media to her present work with and for her communities. Moore engages concepts around Traditional Ecological Knowledge to describe how media can be used to connect and heal in a chaotic era. 
2) Finding and Sharing Your Bundle: Moore uses her 2018 film "The Eagle and The Condor: From Standing Rock with Love" to help participants identify and share their own talents and gifts. The film provides examples of individuals, Indigenous and non-Indigenous, who brought their bundles to the Standing Rock water protection actions. One aspect of this is to have participants create and share their own bundles  
3) Ceremony as Sovereignty, Medicine and a Map: Moore uses her films and her own nations cultural teachings to identify how and why ceremony is critical to engage in our communities in meaningful ways.
=========================================================================================
Moore recently completed a series of films with Free Speech TV about the 2016/17 Standing Rock water protection actions and from 2017 - 2019 was an affiliated professor of Indigenous media and philosophy at Northland College in Ashland, Wisconsin
Moore spent two decades based in Washington DC working as a director, producer and writer with Discovery Channel, National Geographic, PBS, ABC and other media outlets. In 2004 she began making independent, community-based films as Shenandoah University's filmmaker-in-residence in Winchester, Virginia. Her 2007 film "Wit, Will and Walls" documents the history of desegregation in the Shenandoah Valley and has been used extensively to facilitate dialogue about race. In 2009 Moore began work as an associate professor of media arts and peacebuilding at Eastern Mennonite University in Harrisonburg, VA. There, she collaborated with students to create "To Wisconsin with Love": a film about Ojibwe resistance and envisioning in response to what would have been the world's largest open-pit taconite mine.
In 2016 Moore collaborated with Northland College (Ashland, WI) students to create "From Wisconsin with Love" which focuses on the spiritual, economic, physical, and legal aspects of the act of harvest from the perspective of Ojibwe prophecy and practice. Her work often features art pieces linked to her films including several incarnations of a collaborative community embroidery project. 
Moore is an intermediate Mohawk speaker/teacher and second-year student at Onkwawenna Kentsyohkwa - a two-year Kanyen'keha adult language immersion program at Six Nations of the Grand River Territory. Moore is a PhD candidate in Continental and Haudenosaunee philosophy with European Graduate School based in Saas Fee, Switzerland.