NIWRC's Research Ways Of Knowing, Belonging, and Knowledge Building
By Kendra M. Root, Muscogee Nation/Euchee, Research Associate, NIWRC, and Gwendolyn Packard, Ihanktonwan Dakota, Senior Housing Specialist, NIWRC
Highlights of Gwendolyn "Gwen" Packard as an Advocate and Community Organizer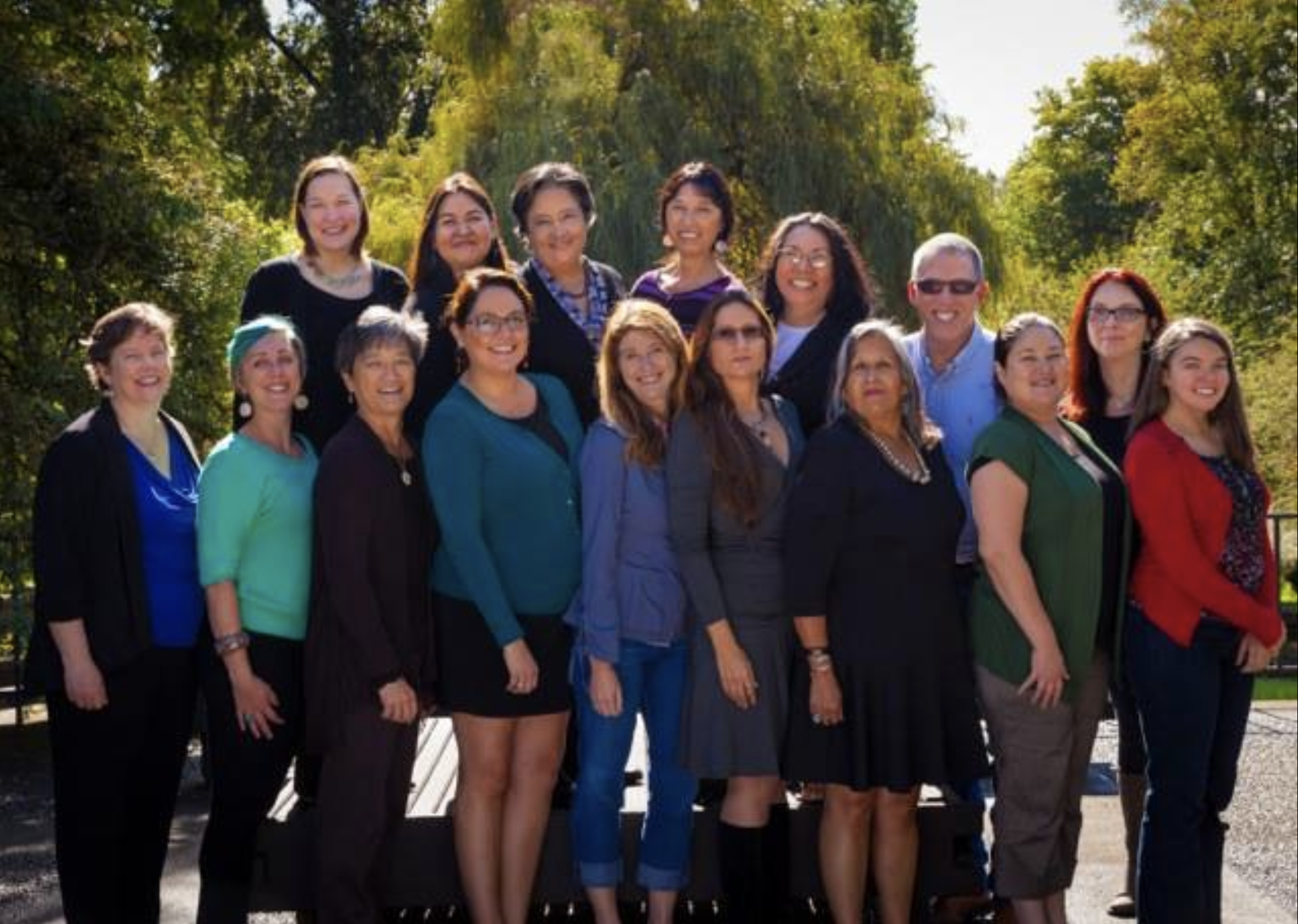 With historical traditional research methods in mind, Native people have included research collection methods in our communities since our creation. Historical traditional methods display quantified numerical systems such as crops, horses, and headcounts of Native peoples within the community. Assessments of crops, animals, and people were also a notion of traditional research methods for making meaning for ways of knowing within historical Native communities.   
From NIWRC's early beginnings, promoting Indigenous research has been ingrained and included in all parts of our efforts. Gwendolyn Packard has spearheaded NIWRC's Research arm in advocating for the practice of informed research on violence against Indigenous women and continuing to promote our traditional practices of quantitative and qualitative data collection methods. With her foundational background in understanding research in Native communities, she brings a lifetime of ways of knowing in relevance to knowledge building for our Native Nations, communities, and people. She has provided the pathways and structures for research leaders in our field to exhibit the resistance to Western notions of epistemology by decolonizing efforts and thus providing data collection as the gathering of knowledge in ethical and Indigenous ways for making meaning. 
Gwendolyn provides a true Native woman's soul and heart that understands our Native communities and holds the desire to provide our communities with Indigenous research analysis for the purpose of giving back. Gwen has provided her expertise as an organizer, leader, and a strong Native woman's voice in the fields of domestic violence, sexual abuse, trafficking, trauma, mental health issues, and networking with Native researchers to build a solid platform for multiple research initiatives. As the primary organizer, she was instrumental in the establishment of the Indigenous Research Collaborative to End Violence (IRCEV) Committee, for the purpose of strengthening the understanding of violence against Native women and children, and the spectrum of related issues experienced across Native communities from a cultural or Indigenous perspective. The expertise of the IRCEV Committee contributed to the understanding of current knowledge on violence against Native women, the ongoing research efforts, and addressing urgent or missing areas of research in the field as the primary goal.
Gwen has used her voice to provide spaces for multiple roundtable discussions, webinars, in her writings, and through partnership initiatives to promote fruitful discussions and understanding of Native experiences. Her voice and expertise have carried her to become an expert panelist for the U.S. Department of Health and Human Services, Administration for Children and Families, to provide adequate information from a Native woman's perspective on ways to strengthen the National Domestic Violence Hotline Services Assessment Framework based on Theory (SAF-T) Project.
Furthermore, her highest accomplishment is being a lifelong advocate for Native women survivors of violence. Her voice is the perpetuation of the many Native women survivors and efforts of awareness to combat the spectrum of violence against Native women and children. Gwen's actions in ensuring and securing the protection, safety, and wellness of our Native women and children are seen throughout her involvement in her Tribal community, city, and her work within NIWRC on Research, Training and Technical Assistance, and most recently in the STTARS Indigenous Safe Housing Center. As a fierce advocate and voice, combating the spectrum of violence is no easy task; however, with Gwendolyn Packard on the frontlines with her army of Grandmothers, Mothers, Sisters, Aunties, Daughters, Researchers, and Advocates, we are all holding our fists up for justice, systemic and policy changes!
Gwen has provided the expectations of leadership and standards for our growing Research arm at NIWRC. There are not enough words to express gratitude and thankfulness to her. A big heartfelt Mvto! Thank You to Gwen for sharing her expertise, passion, and commitment to the Indigenous research field.          
 
---
Highlights
Research Initiatives Led by Gwendolyn Packard
 
Trauma-Informed Care Initiative
Initiative leader and assisted in the development of Evidence-Based Practices of trauma and mental health issues in Tribal domestic violence programs and shelters.   
IRCEV
Provided diligent organizing to establish the Indigenous Research Collaborative to End Violence (IRCEV) Committee of National Researchers. 
Roundtable Events
A leader in roundtable discussions to enhance the understanding and knowledge building on violence against Native women and children. 
Provides a safe space for the Indigenous ways of gathering knowledge to uplift the Native experiences on the spectrums of violence within Indian Country.  
Webinars 
Held countless educational webinars to share her expertise in the vase and varieties of knowledge to give back to Indian Country on research efforts that are in support of actions to fight against the spectrum of violence against Native women, girls, and children.    
Resource Materials
Instrumental in the development of Addressing Domestic Violence in Tribal Communities through Trauma-Informed Approaches resource booklet.  
Partnerships
Developed critical partnerships with Native women survivors of violence, advocates, policy, and Tribal leaders throughout Indian Country to enhance awareness and actions in combating the spectrum of violence. 
Journal Articles Published
Co-authored an article published in the Journal on Interpersonal Violence (2014), Research agenda for violence against American Indian and Alaska Native women: Toward the development of strength-based and resilience interventions: https://n8ve.net/ZcUON
Co-authored an article published in the Journal of Interpersonal Violence (2022), We've already endured the trauma, and who is going to either end that cycle or continue to feed it?: https://n8ve.net/eltaD