Mary Kathryn Nagle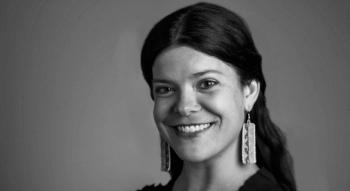 Mary Kathryn Nagle (Cherokee Nation of Oklahoma), J.D.
 
Mary Kathryn Nagle is an attorney specializing in federal Indian law and appellate litigation.  Nagle co-authored (with Sarah Deer) and filed an amicus brief in Dollar General v. Mississippi Band of Choctaw Indians on behalf of the National Indigenous Women's Resource Center (NIWRC) and more than one hundred organizations working to end domestic violence and sexual assault.  As counsel to the NIWRC, Nagle has drafted and filed numerous briefs in the United States Supreme Court articulating the connection between preserving tribal sovereignty and ensuring safety for Native women and children. Nagle also has extensive experience with numerous laws that protect the rights of American Indians, including the Native American Graves Protection and Repatriation Act and the Indian Child Welfare Act. 
 
Ms. Nagle studied theater at Georgetown University, and went on to study law at Tulane Law School, where she graduated summa cum laude and was the recipient of the Judge John Minor Wisdom Award.  Her law review articles have been published in five different journals, including the Tulane Law Review and Tulsa Law Review.  Following graduation from law school, she clerked for Judge Joseph Bataillon and Judge Laurie Smith Camp of the United States District Court, District of Nebraska, and then subsequently clerked for Judge Fortunato P. Benavides of the United States Court of Appeals, Fifth Circuit. 
 
Nagle is a 2013 alumn of the Public Theater's Emering Writers Group. During her tenure in the Emerging Writers Group, she wrote Manahatta.  Manahatta was performed as a staged reading as a side-event in the 2013 United Nations Permanent Forum on Indigenous People, and received a reading as a part of the Public's NEW WORK NOW series.  Most recently, the Public Theater workshopped Manahatta in its fist iteration of PUBLIC STUDIO (May 2014).  In December 2014, Manahatta was named a top-three Finalist for the 2014 William Saroyan Prize for Playwriting, and was named the Runner Up for the 2015 Jane Chambers Playwriting Award.  Manahatta is also on the 2015 Kilroy's List. 
 
AMERINDA produced Nagle's play Miss Lead as an equity showcase in January 2014 at 59e59 Theaters (New York).  Nagle was also a member of the Civilians' Research and Development Group in 2013-2014, where she wrote her latest play, Fairly Traceable.  Her other plays include: In My Father's Eyes, Sliver of a Full Moon (www.sliverofafullmoon.org), Diamonds . . . are a Boy's Best Friend, and My Father's Bones (a play she co-wrote with Suzan Shown Harjo). 
 
Sliver of a Full Moon was recently presented as a staged reading at Yale Law School.  It has been previously presented at the United Nations, World Conference on Indigenous People and the Public Theater's JOE's PUB on September 21, 2014.  Both readings are available to view online via Howlround:  http://howlround.com/livestreaming-sliver-of-a-full-moon-by-cherokee-pl… and http://howlround.com/livestreaming-sliver-of-a-full-moon-a-play-about-j…
 
In June 2015, Arena Stage commissioned Nagle to write a new play.  She currently lives in Washington D.C. where she writes law and practices law.