NIWRC's Hybrid Advocacy Workshop Brings Advocates Together
By Liane Pippin, Cherokee Nation, Communications Specialist, NIWRC
More Than 50 Advocates Participate in 'Foundation and Key Principles: Strengthening the Role of Advocacy in Indian Country' Workshop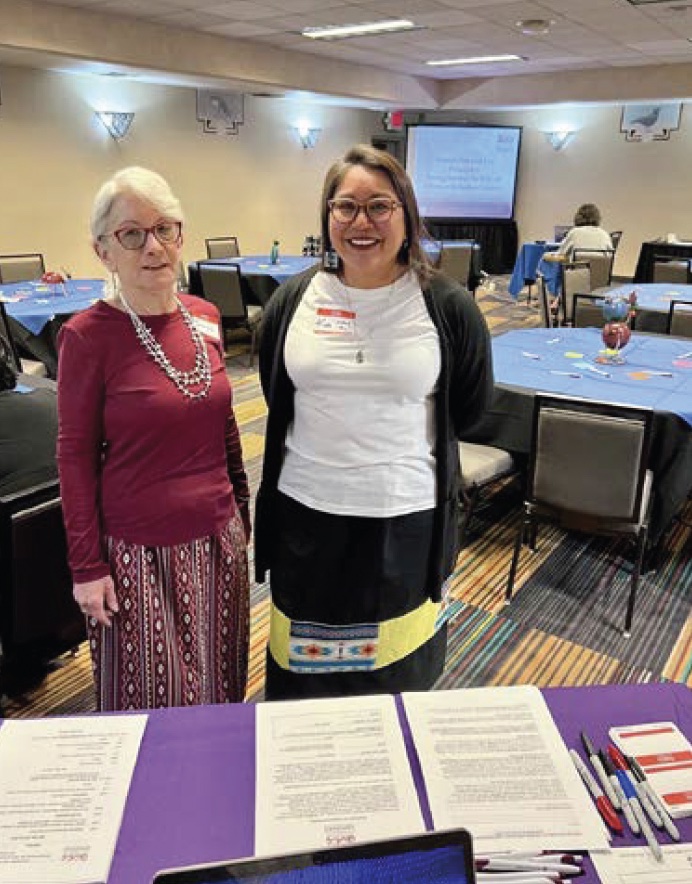 Participants of the workshop, 'Foundation and Key Principles: Strengthening the Role of Advocacy in Indian Country,' found strength and community through using Indigenous culture and history to inform the work of advocacy for survivors of domestic violence, sexual violence, and battering/intimate partner violence in Indian Country. This virtual and in-person three-day event in Albuquerque brought together over 50 advocates and allies from over 17 Tribal nations including Alaska to restore strength to the advocacy community after the COVID-19 pandemic suspended so many in-person events and gatherings.
"This is the first workshop I have been able to attend since pre-pandemic," said April James (Swinomish) from Washington State who joined the event in-person. "Sitting idle for two years was not easy."
Presenters Brenda Hill (Siksika), NIWRC Director of Technical Assistance & Training, and Kim Zahne (Tewa- Hopi), Technical Assistance and Training Specialist, spoke extensively about how the Indigenous concepts of relationships, resilience, trauma-informed approaches, and sovereignty deeply inform the principles and foundations of advocacy work. Providing a culturally based, survivor-centered and trauma-informed foundation for advocacy for all relatives also included addressing issues related to the intersections of oppression: sexism, heterosexism, classism, able-bodyism and racism. The three-day event revealed personal stories and discussions as participants shared their experiences with institutional, systemic, and legal barriers that challenge the ability to obtain survivor safety, resources, and offender accountability.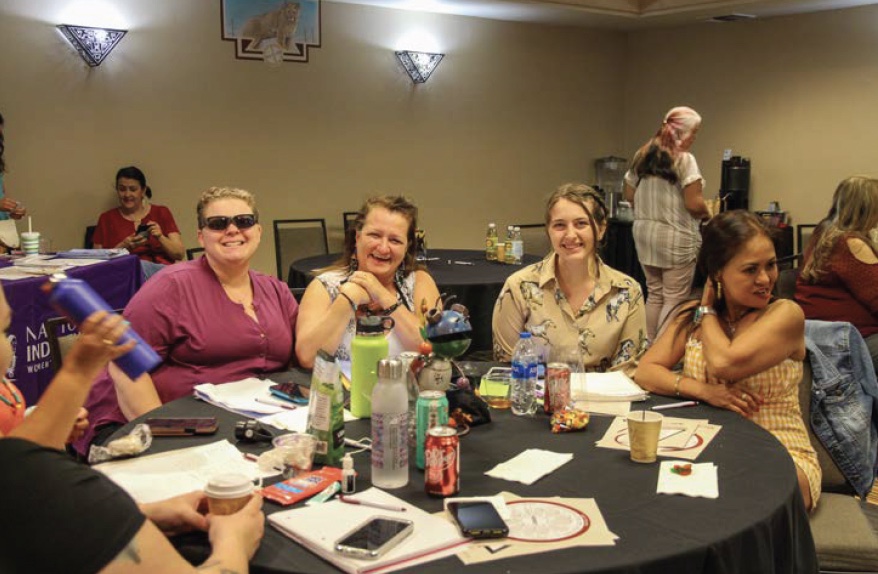 "The Aleutian Pribilof Island Region is extremely isolated," said Rosemary Savage-Cook, Healthy Relationships Advocate for APIA (Healthy Relationships Team) HeaRT Community Health Services who traveled from Alaska to participate. "Island communities are sparsely populated and accessible only by plane or boat when weather permits travel. Isolation plays a serious and devastating role on the justice system in the region. Often incidents of domestic violence and sexual assault go unreported. This occurs because people in the small village do not have an alternative place to stay, a way to escape their abuser, access to or knowledge of resources available, and in part due to the size of the communities, privacy is often an issue."
Along with regional barriers, advocates also expressed the need for community support and self-care— practical resiliency tools challenged by the intensified isolation experienced during the height of COVID-19.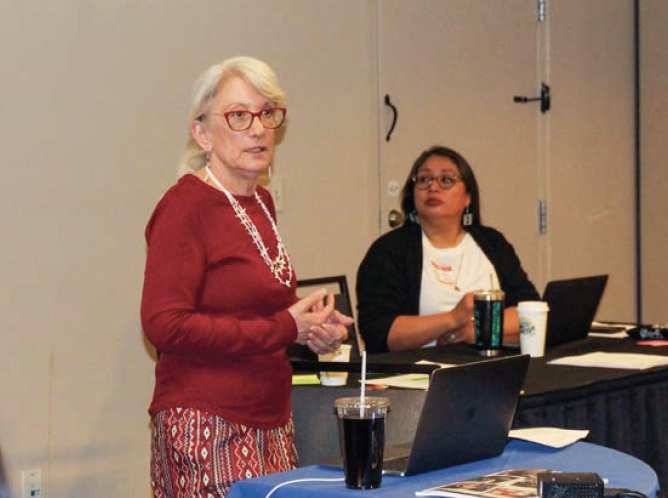 Making the hybrid workshop informative, accessible, and safe was of the utmost importance to NWRC, knowing the importance of community and support advocates themselves need. Despite difficulties imposed by the pandemic, a spirit of resiliency thrived throughout the workshop.
"Missing the continued trainings [due to the pandemic] on advocacy trainings is so significant to the work that we do for our community," said James—attendee of NIWRC's events for the past 10 years. "Advocacy for Indigenous women is ingrained in the core of my spirit, hoping my advocacy skills are helping our dear sisters, our daughters, our mothers, our aunts and grandmothers."
"When we heal ourselves, we heal our Ancestors."
––Rosemary Savage-Cook, Healthy Relationships Advocate for APIA (Healthy Relationships Team) Community Health Services
Giving support to each other was key for both the speakers and participants. Additional NIWRC staff attended in-person and provided technical support and outreach. Advocates themselves, expressed feeling re-invigorated after the workshop. NIWRC first hosted this workshop in-person in September 2021, and it was filled to capacity.
"One Inupiaq elder said: 'Our people have been waiting for this for a long time," Savage-Cook said. "It is important for our people to understand the history in order to heal from the trauma….'
Savage-Cook added, "And my mentor and grandma who is no longer with us, Rita Blumenstein, Tribal Doctor says: 'When we heal ourselves, we heal our Ancestors.'"