Honor Indigenous Strength and the Needs of Native Women Survivors for Domestic Violence Awareness Month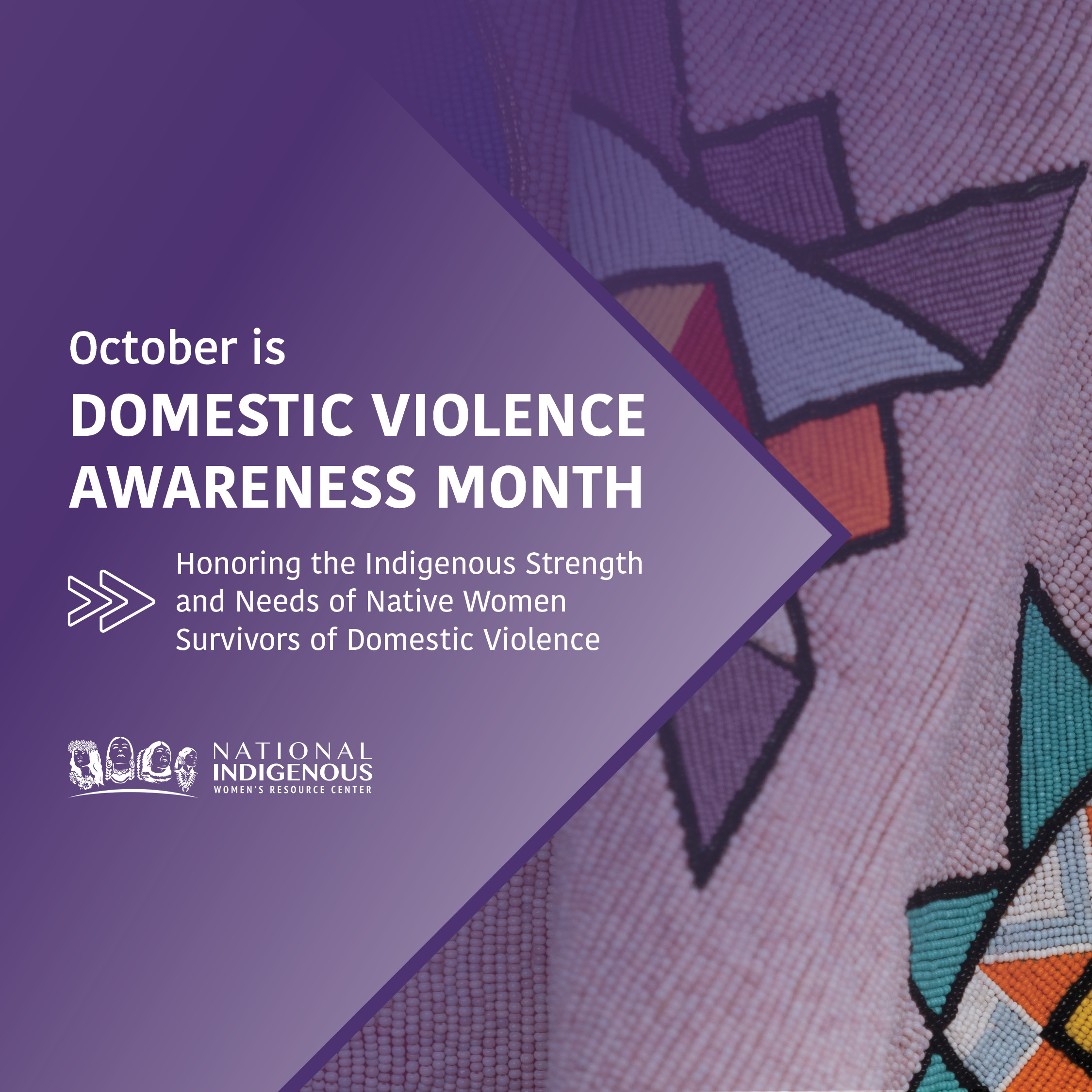 To recognize Domestic Violence Awareness Month (DVAM) this October, the National Indigenous Women's Resource Center (NIWRC) invites survivors of domestic violence, Tribal leaders, Tribal programs, grassroots advocates, and communities to participate in our DVAM campaign, Honoring the Indigenous Strength and Needs of Native Women Survivors of Domestic Violence, to raise awareness of this issue and its impacts on Native women and their children and to raise up Indigenous-based solutions to end the violence.
Domestic violence is not traditional to Indigenous cultures. Each of us has a responsibility as relatives to speak out against domestic violence and ensure the voices of Native survivors are honored and heard. Indigenous women face some of the highest rates of domestic violence, yet there is a distinct gap in the number of culturally-based services available for Native women.
As relatives, we also have shared a responsibility to ensure women are safe and respected. Our Indigenous values, reflected in our languages and teachings, remind us that women are sacred. Domestic violence ends when we reclaim our traditional values of respect and compassion and honor the sacredness of women. We must honor the needs of Native women survivors of domestic violence by listening to, believing, and supporting them on their journey to healing. Join us in honoring Native women this October for Domestic Violence Awareness Month and share your support using the hashtags #WomenAreSacred and #DVAM across all social media platforms!
Domestic Violence, Defined
Domestic violence (DV) is one or multiple types of abuse, such as physical, emotional/verbal, sexual, financial, cultural, spiritual, or digital abuse toward a relative. Intimate Partner Violence (IPV) is a form of domestic violence that happens when a current or former spouse or intimate partner (straight, cisgender, and 2SLGBTQ) engages in a repetitive, fear-inducing pattern of abuse toward their partner to maintain power and control in a relationship. This pattern of abuse can take place in relationships where couples are dating, married, living together, have a child together, or after the relationship has ended. While abuse can happen to anyone, the vast majority of victims of IPV are women with primarily male offenders. In Indigenous communities, violence is not traditional. The root cause of violence is colonization, as it imposes and promotes the domination and ownership of Native women by men and is reflected in violence against Indigenous women seen throughout history since contact. This reality has laid the foundation for present day violence against Native people.
Kick-Off DVAM with Tillie Black Bear Women Are Sacred Day, October 1
Our Unci Tillie Black Bear (Sicangu Lakota), Wa Wokiye Win (Woman Who Helps Everyone) gave hope and healing to generations of Native advocates and inspired allies by helping to lead the initial organizing of the Violence Against Women Movement on a national level through the creation of the National Coalition Against Domestic Violence (NCADV). Considered a grandmother of the grassroots movement for the safety of Native women, Tillie stressed the importance of Tribal cultures, stories and traditions to address violence in our communities. NIWRC asks for your help to declare October 1st as Tillie Black Bear Women Are Sacred Day by signing on here and joining our webinar to honor Tillie's legacy on October 1, at 1 p.m. MT.
Get Involved
We invite everyone to join the national organizing efforts to raise awareness of domestic violence and to help honor the needs of Native women survivors. Together, we can restore our Indigenous communities, which are grounded in our values and relationships as relatives. Given the ongoing COVID-19 pandemic, we strongly encourage getting vaccinated for COVID-19 and wearing masks for any in-person events.
Explore DVAM Resources:
Join Us for DVAM Events: