Leanne Guy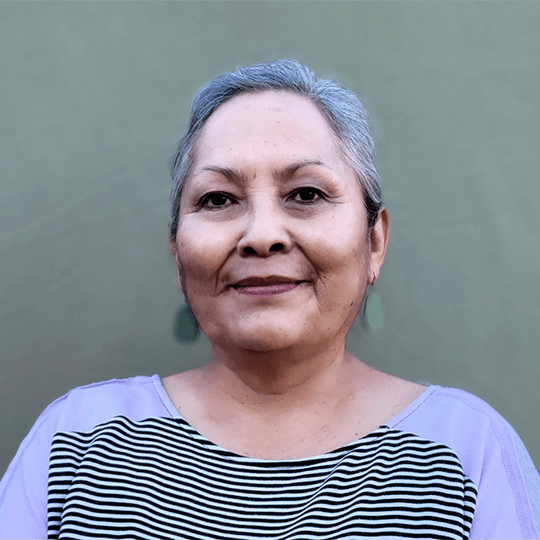 Board Secretary
Leanne Guy, Diné, is of the Tó' áhani (Near to water) clan and is born for the Tódichi'ii'nii (Bitter Water) clan. Her chei (maternal grandfather) is from the Tábaahí (Waters Edge) clan, and her nali (paternal grandfather) is from the Tachii'nii (Red Running into the Water) clan. This is who she is as a Diné woman. She is a mother, grandmother, sister, auntie, and works for the betterment of tribal communities.

Leanne has over 25 years of experience in tribal community health promotion, disease prevention, and public health and safety initiatives. She has worked to help increase the capacity of tribal programs to organize, develop and implement public health intervention and prevention strategies for increased wellness, healing, safety, and justice. She is a member of numerous national, state, and tribal boards, task forces, and committees including the Alliance of Tribal Coalitions to End Violence, National Indigenous Women's Resource Center, National Congress of American Indian's Violence Against Women Task Force and Arizona's Missing and Murdered Indigenous Women and Girls Study Committee.

Currently, Leanne is the founding executive director of the Southwest Indigenous Women's Coalition, Arizona's tribal domestic and sexual violence coalition. Prior to this, she was the executive director of a nonprofit, community-based domestic violence and sexual assault services program located on the Diné Nation. Leanne has also worked for the Inter-Tribal Council of Arizona, Inc. and the Indian Health Service in the area of HIV/AIDS, cancer prevention, and women's health. The many blessings Leanne has experienced in working with tribes is getting to know the people---hearing their stories, observing their customs, seeing their land, and sharing in laughter and in their food.